Bible Verses about Forgiveness
«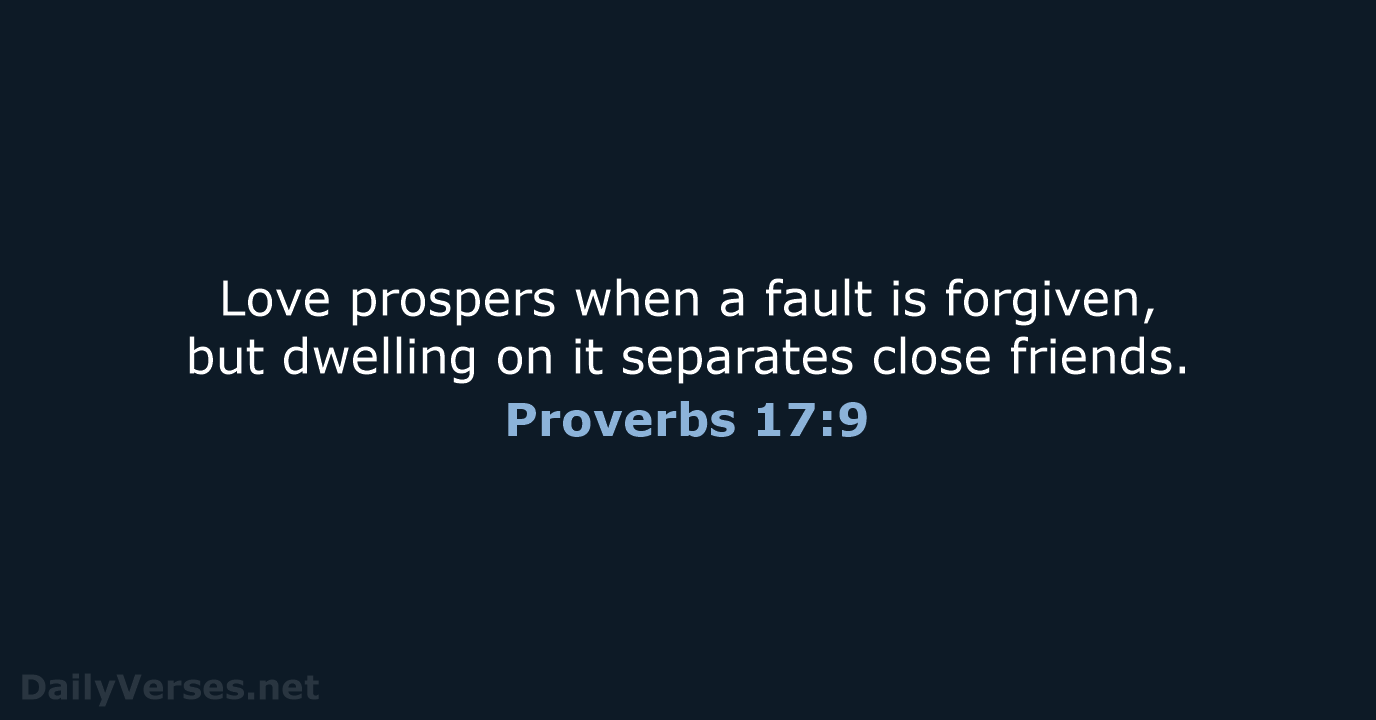 »
Love prospers when a fault is forgiven,
but dwelling on it separates close friends.

Instead, be kind to each other, tenderhearted, forgiving one another, just as God through Christ has forgiven you.

If you forgive those who sin against you, your heavenly Father will forgive you.

Make allowance for each other's faults, and forgive anyone who offends you. Remember, the Lord forgave you, so you must forgive others.

Then if my people who are called by my name will humble themselves and pray and seek my face and turn from their wicked ways, I will hear from heaven and will forgive their sins and restore their land.

Do not judge others, and you will not be judged. Do not condemn others, or it will all come back against you. Forgive others, and you will be forgiven.

Then Peter came to him and asked, "Lord, how often should I forgive someone who sins against me? Seven times?" "No, not seven times," Jesus replied, "but seventy times seven!"

People who conceal their sins will not prosper,
but if they confess and turn from them, they will receive mercy.
O Lord, you are so good, so ready to forgive,
so full of unfailing love for all who ask for your help.
Where is another God like you,
who pardons the guilt of the remnant,
overlooking the sins of his special people?
You will not stay angry with your people forever,
because you delight in showing unfailing love.

But when you are praying, first forgive anyone you are holding a grudge against, so that your Father in heaven will forgive your sins, too.

Brothers, listen! We are here to proclaim that through this man Jesus there is forgiveness for your sins. Everyone who believes in him is made right in God's sight—something the law of Moses could never do.

He himself is the sacrifice that atones for our sins—and not only our sins but the sins of all the world.

For the L

ord

your God is gracious and merciful. If you return to him, he will not continue to turn his face from you.
Finally, I confessed all my sins to you
and stopped trying to hide my guilt.
I said to myself, "I will confess my rebellion to the L

ord

."
And you forgave me! All my guilt is gone.

He is so rich in kindness and grace that he purchased our freedom with the blood of his Son and forgave our sins.

"Don't tear your clothing in your grief,
but tear your hearts instead."
Return to the L

ord

your God,
for he is merciful and compassionate,
slow to get angry and filled with unfailing love.
He is eager to relent and not punish.
And forgive us our sins,
as we have forgiven those who sin against us.

Now repent of your sins and turn to God, so that your sins may be wiped away.

Peter replied, "Each of you must repent of your sins and turn to God, and be baptized in the name of Jesus Christ for the forgiveness of your sins. Then you will receive the gift of the Holy Spirit."

Are any of you sick? You should call for the elders of the church to come and pray over you, anointing you with oil in the name of the Lord. Such a prayer offered in faith will heal the sick, and the Lord will make you well. And if you have committed any sins, you will be forgiven.

Let the wicked change their ways
and banish the very thought of doing wrong.
Let them turn to the L

ord

that he may have mercy on them.
Yes, turn to our God, for he will forgive generously.

God overlooked people's ignorance about these things in earlier times, but now he commands everyone everywhere to repent of their sins and turn to him.

O Israel, my faithless people,
come home to me again,
for I am merciful.
I will not be angry with you forever.

But in your great mercy, you did not destroy them completely or abandon them forever. What a gracious and merciful God you are!
Dear brothers and sisters, I close my letter with these last words: Be joyful. Grow to maturity. Encourage each other. Live in harmony and peace. Then the God of love and peace will be with you.
Personal Bible reading plan
Create an account to configure your Bible reading plan and you will see your progress and the next chapter to read here!
Read more...