Bible Verses about Materialism
«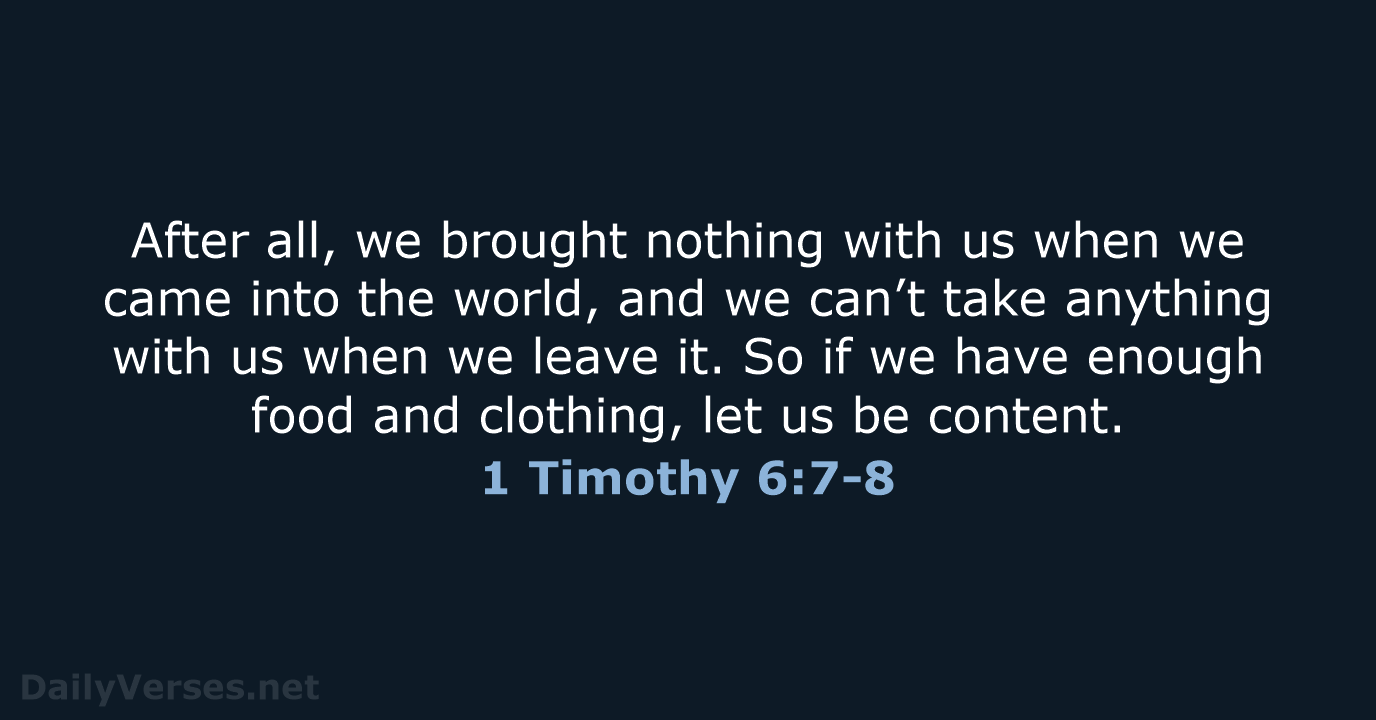 »
After all, we brought nothing with us when we came into the world, and we can't take anything with us when we leave it. So if we have enough food and clothing, let us be content.

Those who love money will never have enough. How meaningless to think that wealth brings true happiness!

Don't store up treasures here on earth, where moths eat them and rust destroys them, and where thieves break in and steal. Store your treasures in heaven, where moths and rust cannot destroy, and thieves do not break in and steal.

And what do you benefit if you gain the whole world but lose your own soul?

Then he said, "Beware! Guard against every kind of greed. Life is not measured by how much you own."

Don't love money; be satisfied with what you have. For God has said,
"I will never fail you.
I will never abandon you."

So we don't look at the troubles we can see now; rather, we fix our gaze on things that cannot be seen. For the things we see now will soon be gone, but the things we cannot see will last forever.

But people who long to be rich fall into temptation and are trapped by many foolish and harmful desires that plunge them into ruin and destruction.

Better to have little, with fear for the L

ord

,
than to have great treasure and inner turmoil.

We all come to the end of our lives as naked and empty-handed as on the day we were born. We can't take our riches with us.

Wherever your treasure is, there the desires of your heart will also be.

How much better to get wisdom than gold,
and good judgment than silver!

Jesus told him, "If you want to be perfect, go and sell all your possessions and give the money to the poor, and you will have treasure in heaven. Then come, follow me."

Teach those who are rich in this world not to be proud and not to trust in their money, which is so unreliable. Their trust should be in God, who richly gives us all we need for our enjoyment.

And I want women to be modest in their appearance. They should wear decent and appropriate clothing and not draw attention to themselves by the way they fix their hair or by wearing gold or pearls or expensive clothes. For women who claim to be devoted to God should make themselves attractive by the good things they do.

So put to death the sinful, earthly things lurking within you. Have nothing to do with sexual immorality, impurity, lust, and evil desires. Don't be greedy, for a greedy person is an idolater, worshiping the things of this world.

First, help me never to tell a lie.
Second, give me neither poverty nor riches!
Give me just enough to satisfy my needs.

And what do you benefit if you gain the whole world but lose your own soul? Is anything worth more than your soul?

Yet true godliness with contentment is itself great wealth.

Choose a good reputation over great riches;
being held in high esteem is better than silver or gold.
Some people are always greedy for more,
but the godly love to give!
Riches won't help on the day of judgment,
but right living can save you from death.
In the blink of an eye wealth disappears,
for it will sprout wings
and fly away like an eagle.

All the believers were united in heart and mind. And they felt that what they owned was not their own, so they shared everything they had.

The rich think of their wealth as a strong defense;
they imagine it to be a high wall of safety.
I will sing to the Lord as long as I live. I will praise my God to my last breath!
Personal Bible reading plan
Create an account to configure your Bible reading plan and you will see your progress and the next chapter to read here!
Read more...