Bible Verses about Eternal Life
«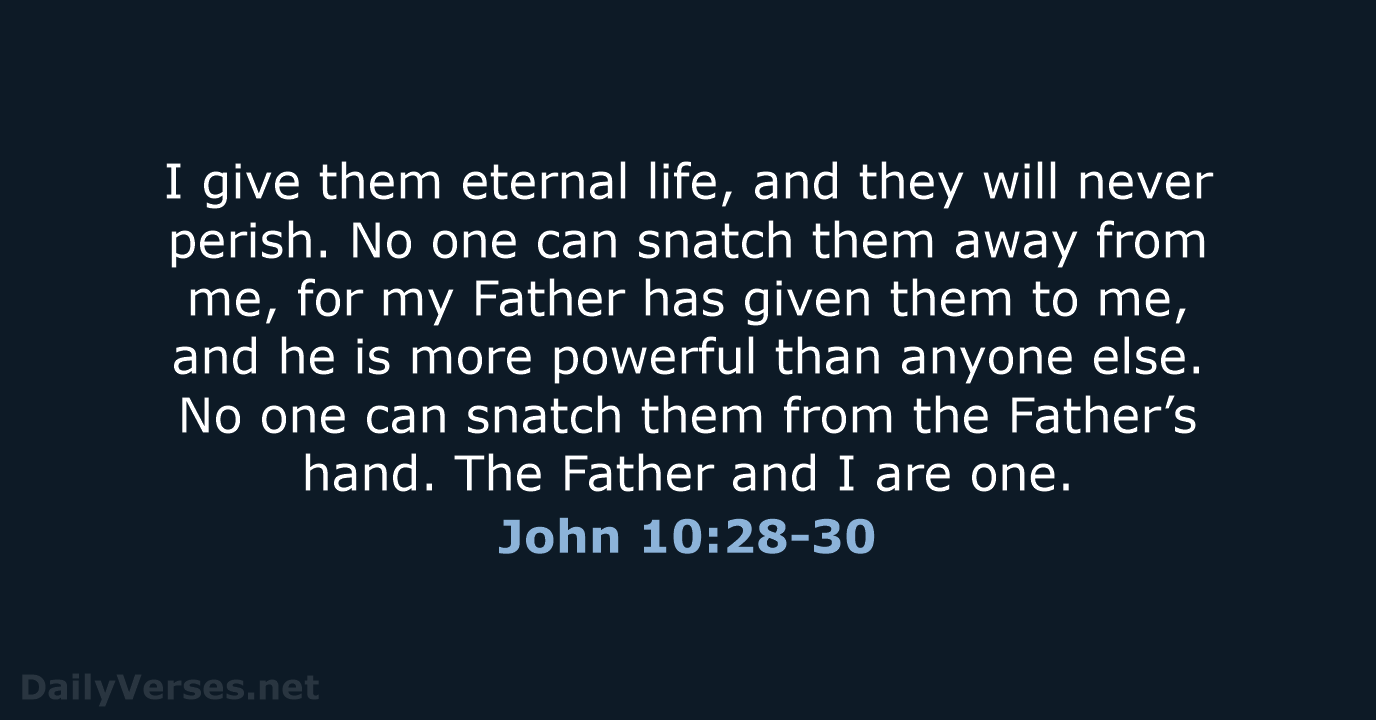 »
I give them eternal life, and they will never perish. No one can snatch them away from me, for my Father has given them to me, and he is more powerful than anyone else. No one can snatch them from the Father's hand. The Father and I are one.

For whoever finds me finds life
and receives favor from the L

ord

.

In his kindness God called you to share in his eternal glory by means of Christ Jesus. So after you have suffered a little while, he will restore, support, and strengthen you, and he will place you on a firm foundation.

And this world is fading away, along with everything that people crave. But anyone who does what pleases God will live forever.

So we don't look at the troubles we can see now; rather, we fix our gaze on things that cannot be seen. For the things we see now will soon be gone, but the things we cannot see will last forever.

And this is what God has testified: He has given us eternal life, and this life is in his Son.

For this is how God loved the world: He gave his one and only Son, so that everyone who believes in him will not perish but have eternal life.

For our present troubles are small and won't last very long. Yet they produce for us a glory that vastly outweighs them and will last forever!

I have written this to you who believe in the name of the Son of God, so that you may know you have eternal life.

Search me, O God, and know my heart;
test me and know my anxious thoughts.
Point out anything in me that offends you,
and lead me along the path of everlasting life.

And this is the way to have eternal life—to know you, the only true God, and Jesus Christ, the one you sent to earth.

For the wages of sin is death, but the free gift of God is eternal life through Christ Jesus our Lord.

I heard a loud shout from the throne, saying, "Look, God's home is now among his people! He will live with them, and they will be his people. God himself will be with them. He will wipe every tear from their eyes, and there will be no more death or sorrow or crying or pain. All these things are gone forever."

And anyone who believes in God's Son has eternal life. Anyone who doesn't obey the Son will never experience eternal life but remains under God's angry judgment.

Fight the good fight for the true faith. Hold tightly to the eternal life to which God has called you, which you have declared so well before many witnesses.

You can enter God's Kingdom only through the narrow gate. The highway to hell is broad, and its gate is wide for the many who choose that way. But the gateway to life is very narrow and the road is difficult, and only a few ever find it.

Yet what we suffer now is nothing compared to the glory he will reveal to us later.

But those who drink the water I give will never be thirsty again. It becomes a fresh, bubbling spring within them, giving them eternal life.

If you cling to your life, you will lose it; but if you give up your life for me, you will find it.

"I am the Alpha and the Omega—the beginning and the end," says the Lord God. "I am the one who is, who always was, and who is still to come—the Almighty One."

Those who live only to satisfy their own sinful nature will harvest decay and death from that sinful nature. But those who live to please the Spirit will harvest everlasting life from the Spirit.

But God had mercy on me so that Christ Jesus could use me as a prime example of his great patience with even the worst sinners. Then others will realize that they, too, can believe in him and receive eternal life.

Therefore he is able, once and forever, to save those who come to God through him. He lives forever to intercede with God on their behalf.

So just as sin ruled over all people and brought them to death, now God's wonderful grace rules instead, giving us right standing with God and resulting in eternal life through Jesus Christ our Lord.

For the L

ord

loves justice,
and he will never abandon the godly.
He will keep them safe forever,
but the children of the wicked will die.
I will sing to the Lord as long as I live. I will praise my God to my last breath!
Personal Bible reading plan
Create an account to configure your Bible reading plan and you will see your progress and the next chapter to read here!
Read more...