Bible Verses about Light
«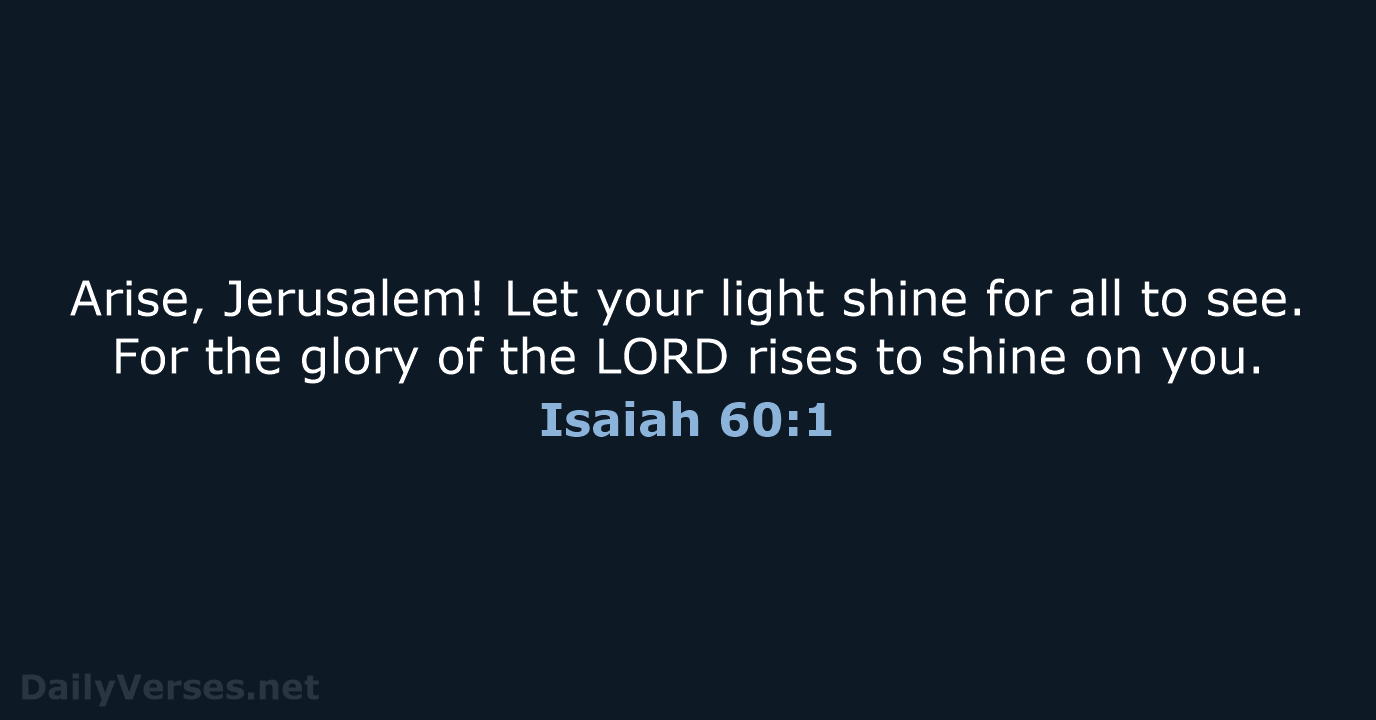 »
Arise, Jerusalem! Let your light shine for all to see.
For the glory of the L

ord

rises to shine on you.
Your word is a lamp to guide my feet
and a light for my path.

Jesus spoke to the people once more and said, "I am the light of the world. If you follow me, you won't have to walk in darkness, because you will have the light that leads to life."

The light shines in the darkness,
and the darkness can never extinguish it.

You are the light of the world—like a city on a hilltop that cannot be hidden.

May the L

ord

bless you
and protect you.
May the L

ord

smile on you
and be gracious to you.
May the L

ord

show you his favor
and give you his peace.
The L

ord

is my light and my salvation—
so why should I be afraid?
The L

ord

is my fortress, protecting me from danger,
so why should I tremble?
For the Lord gave us this command when he said,
'I have made you a light to the Gentiles,
to bring salvation to the farthest corners of the earth.'

No one lights a lamp and then puts it under a basket. Instead, a lamp is placed on a stand, where it gives light to everyone in the house. In the same way, let your good deeds shine out for all to see, so that everyone will praise your heavenly Father.

The teaching of your word gives light,
so even the simple can understand.
He reveals deep and mysterious things
and knows what lies hidden in darkness,
though he is surrounded by light.
Commit everything you do to the L

ord

.
Trust him, and he will help you.
He will make your innocence radiate like the dawn,
and the justice of your cause will shine like the noonday sun.

This is the message we heard from Jesus and now declare to you: God is light, and there is no darkness in him at all.

But if we are living in the light, as God is in the light, then we have fellowship with each other, and the blood of Jesus, his Son, cleanses us from all sin.

Then God said, "Let there be light," and there was light.

I pray that your hearts will be flooded with light so that you can understand the confident hope he has given to those he called—his holy people who are his rich and glorious inheritance.

But you are not like that, for you are a chosen people. You are royal priests, a holy nation, God's very own possession. As a result, you can show others the goodness of God, for he called you out of the darkness into his wonderful light.

No one lights a lamp and then covers it with a bowl or hides it under a bed. A lamp is placed on a stand, where its light can be seen by all who enter the house.

Don't team up with those who are unbelievers. How can righteousness be a partner with wickedness? How can light live with darkness?

Whatever is good and perfect is a gift coming down to us from God our Father, who created all the lights in the heavens. He never changes or casts a shifting shadow.

Whatever you have said in the dark will be heard in the light, and what you have whispered behind closed doors will be shouted from the housetops for all to hear!

Turn us again to yourself, O L

ord

God of Heaven's Armies.
Make your face shine down upon us.
Only then will we be saved.
Let your favor shine on your servant.
In your unfailing love, rescue me.

But God has protected me right up to this present time so I can testify to everyone, from the least to the greatest. I teach nothing except what the prophets and Moses said would happen— that the Messiah would suffer and be the first to rise from the dead, and in this way announce God's light to Jews and Gentiles alike.

They did not conquer the land with their swords;
it was not their own strong arm that gave them victory.
It was your right hand and strong arm
and the blinding light from your face that helped them,
for you loved them.
But anyone who does not love does not know God, for God is love.
Personal Bible reading plan
Create an account to configure your Bible reading plan and you will see your progress and the next chapter to read here!
Read more...