Bible Verses about Poverty
«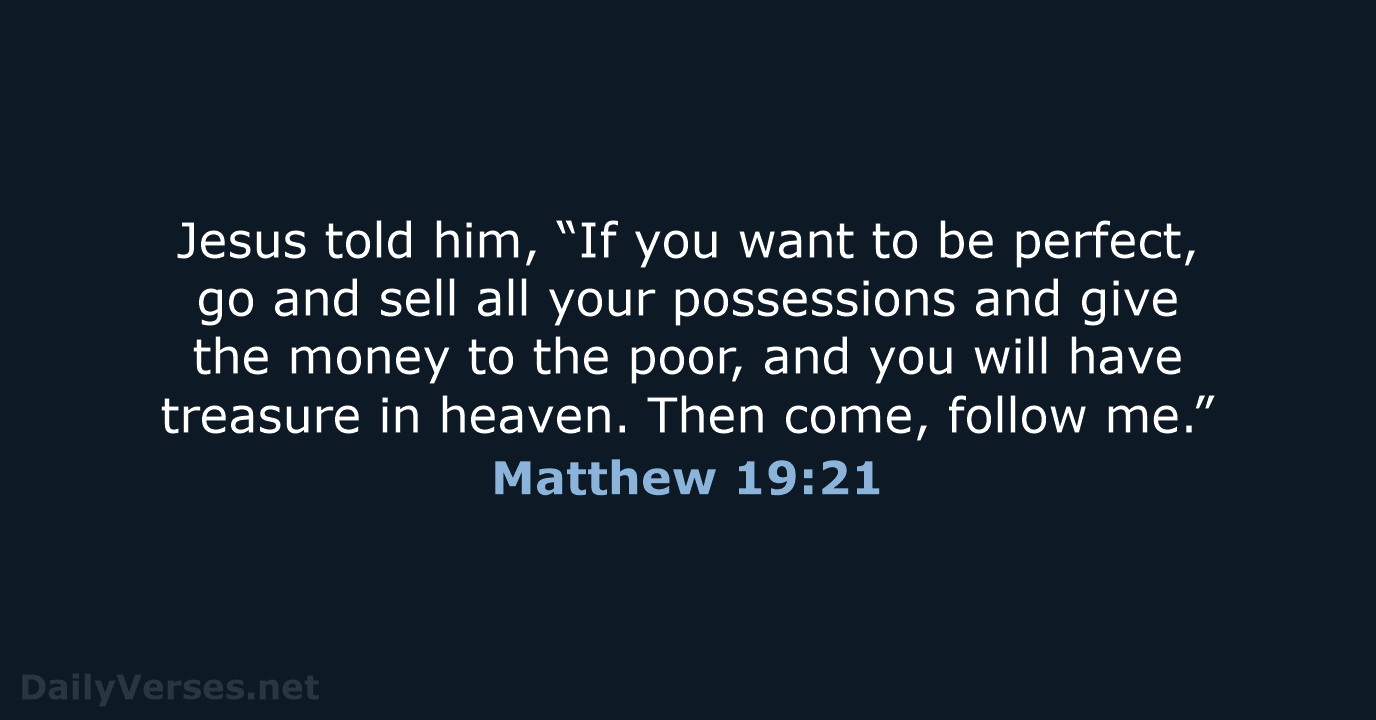 »
Jesus told him, "If you want to be perfect, go and sell all your possessions and give the money to the poor, and you will have treasure in heaven. Then come, follow me."

I know how to live on almost nothing or with everything. I have learned the secret of living in every situation, whether it is with a full stomach or empty, with plenty or little.

Yes, speak up for the poor and helpless,
and see that they get justice.
Work brings profit,
but mere talk leads to poverty!
Give justice to the poor and the orphan;
uphold the rights of the oppressed and the destitute.

Our hearts ache, but we always have joy. We are poor, but we give spiritual riches to others. We own nothing, and yet we have everything.

This is what the L

ord

of Heaven's Armies says: Judge fairly, and show mercy and kindness to one another. Do not oppress widows, orphans, foreigners, and the poor. And do not scheme against each other.
The L

ord

makes some poor and others rich;
he brings some down and lifts others up.
Just as the rich rule the poor,
so the borrower is servant to the lender.

Can anything ever separate us from Christ's love? Does it mean he no longer loves us if we have trouble or calamity, or are persecuted, or hungry, or destitute, or in danger, or threatened with death?

John replied, "If you have two shirts, give one to the poor. If you have food, share it with those who are hungry."

In my desperation I prayed, and the L

ord

listened;
he saved me from all my troubles.
First, help me never to tell a lie.
Second, give me neither poverty nor riches!
Give me just enough to satisfy my needs.

If I gave everything I have to the poor and even sacrificed my body, I could boast about it; but if I didn't love others, I would have gained nothing.

The Spirit of the Lord is upon me,
for he has anointed me to bring Good News to the poor.
He has sent me to proclaim that captives will be released,
that the blind will see,
that the oppressed will be set free.
Loyalty makes a person attractive.
It is better to be poor than dishonest.
The rich can pay a ransom for their lives,
but the poor won't even get threatened.
For I assisted the poor in their need
and the orphans who required help.
I helped those without hope, and they blessed me.
And I caused the widows' hearts to sing for joy.
The Spirit of the Sovereign L

ord

is upon me,
for the L

ord

has anointed me
to bring good news to the poor.
He has sent me to comfort the brokenhearted
and to proclaim that captives will be released
and prisoners will be freed.
If you need wisdom, ask our generous God, and he will give it to you. He will not rebuke you for asking.
Personal Bible reading plan
Create an account to configure your Bible reading plan and you will see your progress and the next chapter to read here!
Read more...