Bible Verses about Self-control
«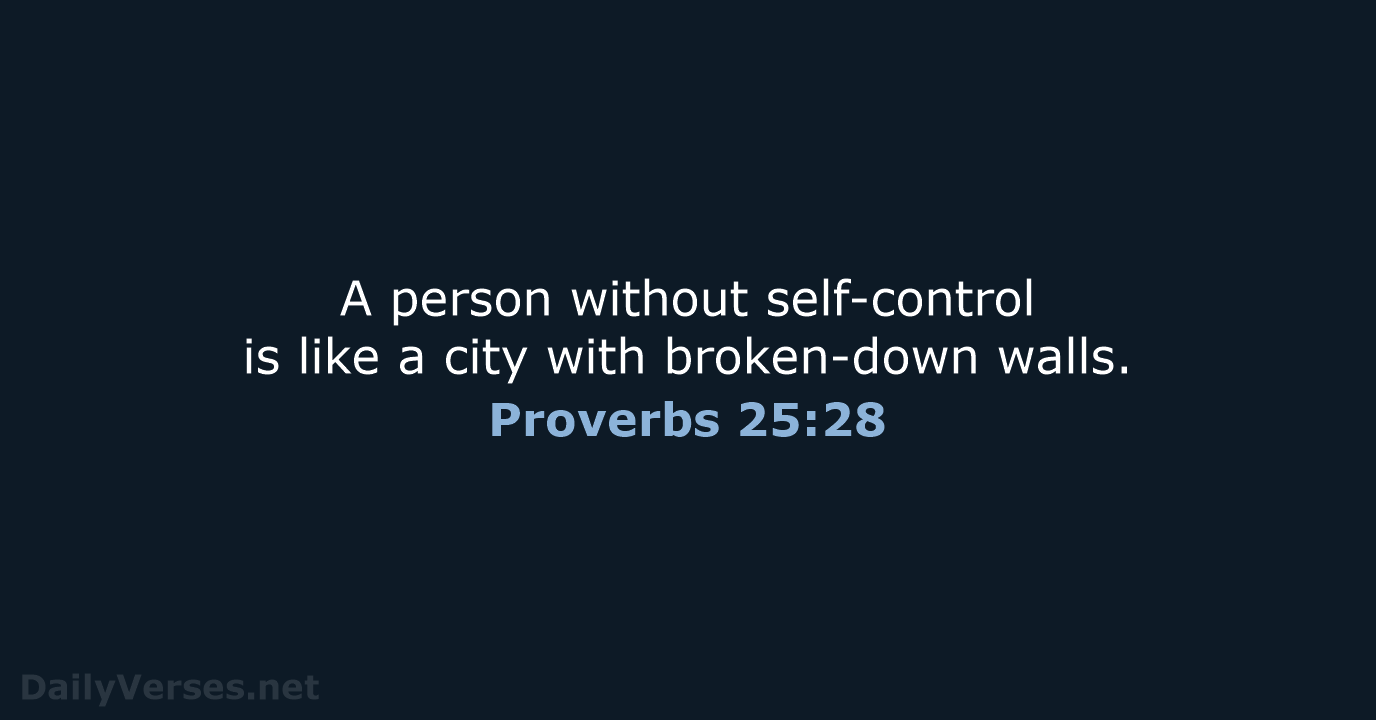 »
A person without self-control
is like a city with broken-down walls.

For God has not given us a spirit of fear and timidity, but of power, love, and self-discipline.

In view of all this, make every effort to respond to God's promises. Supplement your faith with a generous provision of moral excellence, and moral excellence with knowledge, and knowledge with self-control, and self-control with patient endurance, and patient endurance with godliness, and godliness with brotherly affection, and brotherly affection with love for everyone.

Better to be patient than powerful;
better to have self-control than to conquer a city.

But the Holy Spirit produces this kind of fruit in our lives: love, joy, peace, patience, kindness, goodness, faithfulness, gentleness, and self-control. There is no law against these things!

The tongue can bring death or life;
those who love to talk will reap the consequences.

Understand this, my dear brothers and sisters: You must all be quick to listen, slow to speak, and slow to get angry.

The temptations in your life are no different from what others experience. And God is faithful. He will not allow the temptation to be more than you can stand. When you are tempted, he will show you a way out so that you can endure.

So be on your guard, not asleep like the others. Stay alert and be clearheaded.

A fool is quick-tempered,
but a wise person stays calm when insulted.

For the grace of God has been revealed, bringing salvation to all people. And we are instructed to turn from godless living and sinful pleasures. We should live in this evil world with wisdom, righteousness, and devotion to God.

I discipline my body like an athlete, training it to do what it should. Otherwise, I fear that after preaching to others I myself might be disqualified.

Fools vent their anger,
but the wise quietly hold it back.

Don't copy the behavior and customs of this world, but let God transform you into a new person by changing the way you think. Then you will learn to know God's will for you, which is good and pleasing and perfect.

All athletes are disciplined in their training. They do it to win a prize that will fade away, but we do it for an eternal prize.

For we are not fighting against flesh-and-blood enemies, but against evil rulers and authorities of the unseen world, against mighty powers in this dark world, and against evil spirits in the heavenly places.

I made a covenant with my eyes
not to look with lust at a young woman.
Don't get sidetracked;
keep your feet from following evil.

Watch out that you do not lose what we have worked so hard to achieve. Be diligent so that you receive your full reward.

Do not deprive each other of sexual relations, unless you both agree to refrain from sexual intimacy for a limited time so you can give yourselves more completely to prayer. Afterward, you should come together again so that Satan won't be able to tempt you because of your lack of self-control.
Dear brothers and sisters, I close my letter with these last words: Be joyful. Grow to maturity. Encourage each other. Live in harmony and peace. Then the God of love and peace will be with you.
Personal Bible reading plan
Create an account to configure your Bible reading plan and you will see your progress and the next chapter to read here!
Read more...