Bible Verses about Anger
«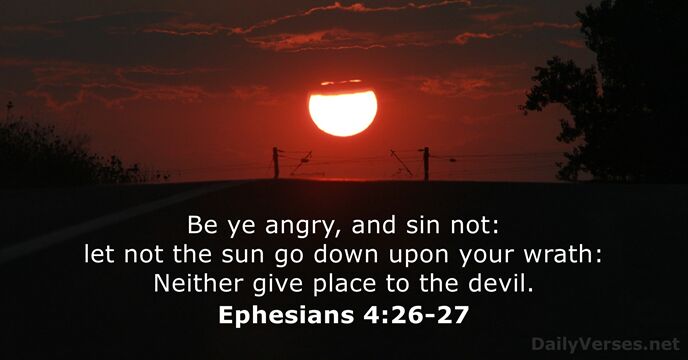 »
Be ye angry, and sin not: let not the sun go down upon your wrath: Neither give place to the devil.

And "don't sin by letting anger control you." Don't let the sun go down while you are still angry, for anger gives a foothold to the devil.

Charity suffereth long, and is kind; charity envieth not; charity vaunteth not itself, is not puffed up, Doth not behave itself unseemly, seeketh not her own, is not easily provoked, thinketh no evil.

Love is patient and kind. Love is not jealous or boastful or proud or rude. It does not demand its own way. It is not irritable, and it keeps no record of being wronged.

Thou shalt not hate thy brother in thine heart: thou shalt in any wise rebuke thy neighbour, and not suffer sin upon him. Thou shalt not avenge, nor bear any grudge against the children of thy people, but thou shalt love thy neighbour as thyself: I am the L

ord

.
Do not nurse hatred in your heart for any of your relatives. Confront people directly so you will not be held guilty for their sin. Do not seek revenge or bear a grudge against a fellow Israelite, but love your neighbor as yourself. I am the L

ord

.

Hatred stirreth up strifes: but love covereth all sins.

Hatred stirs up quarrels, but love makes up for all offenses.

Wherefore, my beloved brethren, let every man be swift to hear, slow to speak, slow to wrath.

Understand this, my dear brothers and sisters: You must all be quick to listen, slow to speak, and slow to get angry.

A soft answer turneth away wrath: but grievous words stir up anger.

A gentle answer deflects anger, but harsh words make tempers flare.

He that is slow to wrath is of great understanding: but he that is hasty of spirit exalteth folly.

People with understanding control their anger; a hot temper shows great foolishness.

And he said, That which cometh out of the man, that defileth the man. For from within, out of the heart of men, proceed evil thoughts, adulteries, fornications, murders, Thefts, covetousness, wickedness, deceit, lasciviousness, an evil eye, blasphemy, pride, foolishness: All these evil things come from within, and defile the man.

And then he added, "It is what comes from inside that defiles you. For from within, out of a person's heart, come evil thoughts, sexual immorality, theft, murder, adultery, greed, wickedness, deceit, lustful desires, envy, slander, pride, and foolishness. All these vile things come from within; they are what defile you."

A fool uttereth all his mind: but a wise man keepeth it in till afterwards.

Fools vent their anger, but the wise quietly hold it back.

A fool's wrath is presently known: but a prudent man covereth shame.

A fool is quick-tempered, but a wise person stays calm when insulted.

Only by pride cometh contention: but with the well advised is wisdom.

Pride leads to conflict; those who take advice are wise.

It is an honour for a man to cease from strife: but every fool will be meddling.

Avoiding a fight is a mark of honor; only fools insist on quarreling.

Take heed, brethren, lest there be in any of you an evil heart of unbelief, in departing from the living God.

Be careful then, dear brothers and sisters. Make sure that your own hearts are not evil and unbelieving, turning you away from the living God.

Return, thou backsliding Israel, saith the L

ord

; and I will not cause mine anger to fall upon you: for I am merciful, saith the L

ord

, and I will not keep anger for ever.

O Israel, my faithless people, come home to me again, for I am merciful. I will not be angry with you forever.
Him that is weak in the faith receive ye, but not to doubtful disputations.
Personal Bible reading plan
Create an account to configure your Bible reading plan and you will see your progress and the next chapter to read here!
Read more...