Bible Verses about Baptism
«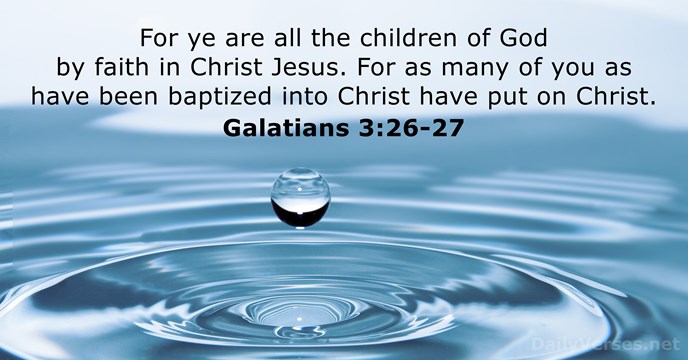 »
| | |
| --- | --- |
| For ye are all the children of God by faith in Christ Jesus. For as many of you as have been baptized into Christ have put on Christ. | Denn ihr seid alle durch den Glauben Gottes Kinder in Christus Jesus. Denn ihr alle, die ihr auf Christus getauft seid, habt Christus angezogen. |
| Go ye therefore, and teach all nations, baptizing them in the name of the Father, and of the Son, and of the Holy Ghost: Teaching them to observe all things whatsoever I have commanded you: and, lo, I am with you always, even unto the end of the world. Amen. | Darum gehet hin und lehret alle Völker: Taufet sie auf den Namen des Vaters und des Sohnes und des Heiligen Geistes und lehret sie halten alles, was ich euch befohlen habe. Und siehe, ich bin bei euch alle Tage bis an der Welt Ende. |
| The like figure whereunto even baptism doth also now save us (not the putting away of the filth of the flesh, but the answer of a good conscience toward God,) by the resurrection of Jesus Christ. | Das ist ein Vorbild der Taufe, die jetzt auch euch rettet. Denn in ihr wird nicht der Schmutz vom Leib abgewaschen, sondern wir bitten Gott um ein gutes Gewissen, durch die Auferstehung Jesu Christi. |
| Then Peter said unto them, Repent, and be baptized every one of you in the name of Jesus Christ for the remission of sins, and ye shall receive the gift of the Holy Ghost. | Petrus sprach zu ihnen: Tut Buße, und jeder von euch lasse sich taufen auf den Namen Jesu Christi zur Vergebung eurer Sünden, so werdet ihr empfangen die Gabe des Heiligen Geistes. |
| He that believeth and is baptized shall be saved; but he that believeth not shall be damned. | Wer da glaubt und getauft wird, der wird selig werden; wer aber nicht glaubt, der wird verdammt werden. |
| Jesus answered, Verily, verily, I say unto thee, Except a man be born of water and of the Spirit, he cannot enter into the kingdom of God. | Jesus antwortete: Wahrlich, wahrlich, ich sage dir: Wenn jemand nicht geboren wird aus Wasser und Geist, so kann er nicht in das Reich Gottes kommen. |
| And now why tarriest thou? arise, and be baptized, and wash away thy sins, calling on the name of the Lord. | Und nun, was zögerst du? Steh auf, lass dich taufen und deine Sünden abwaschen und rufe seinen Namen an. |
| Know ye not, that so many of us as were baptized into Jesus Christ were baptized into his death? | Oder wisst ihr nicht, dass alle, die wir auf Christus Jesus getauft sind, die sind in seinen Tod getauft? |
| Now when all the people were baptized, it came to pass, that Jesus also being baptized, and praying, the heaven was opened, And the Holy Ghost descended in a bodily shape like a dove upon him, and a voice came from heaven, which said, Thou art my beloved Son; in thee I am well pleased. | Und es begab sich, als alles Volk sich taufen ließ und Jesus auch getauft worden war und betete, da tat sich der Himmel auf, und der Heilige Geist fuhr hernieder auf ihn in leiblicher Gestalt wie eine Taube, und eine Stimme kam aus dem Himmel: Du bist mein lieber Sohn, an dir habe ich Wohlgefallen. |
| For by one Spirit are we all baptized into one body, whether we be Jews or Gentiles, whether we be bond or free; and have been all made to drink into one Spirit. | Denn wir sind durch einen Geist alle zu einem Leib getauft, wir seien Juden oder Griechen, Sklaven oder Freie, und sind alle mit einem Geist getränkt. |
| And I knew him not: but he that sent me to baptize with water, the same said unto me, Upon whom thou shalt see the Spirit descending, and remaining on him, the same is he which baptizeth with the Holy Ghost. | Und ich kannte ihn nicht. Aber der mich gesandt hat zu taufen mit Wasser, der sprach zu mir: Auf welchen du siehst den Geist herabfahren und auf ihm bleiben, der ist's, der mit dem Heiligen Geist tauft. |
| Can any man forbid water, that these should not be baptized, which have received the Holy Ghost as well as we? | Kann auch jemand denen das Wasser zur Taufe verwehren, die den Heiligen Geist empfangen haben ebenso wie wir? |
| Then said Paul, John verily baptized with the baptism of repentance, saying unto the people, that they should believe on him which should come after him, that is, on Christ Jesus. | Paulus aber sprach: Johannes hat getauft mit der Taufe der Buße und dem Volk gesagt, sie sollten an den glauben, der nach ihm kommen werde, nämlich an Jesus. |
| When they heard this, they were baptized in the name of the Lord Jesus. And when Paul had laid his hands upon them, the Holy Ghost came on them; and they spake with tongues, and prophesied. | Als sie das hörten, ließen sie sich taufen auf den Namen des Herrn Jesus. Und als Paulus ihnen die Hände auflegte, kam der Heilige Geist auf sie und sie redeten in Zungen und weissagten. |
| Then they that gladly received his word were baptized: and the same day there were added unto them about three thousand souls. | Die nun sein Wort annahmen, ließen sich taufen; und an diesem Tage wurden hinzugefügt etwa dreitausend Menschen. |
| Not by works of righteousness which we have done, but according to his mercy he saved us, by the washing of regeneration, and renewing of the Holy Ghost. | Machte er uns selig – nicht um der Werke willen, die wir in Gerechtigkeit getan hätten, sondern nach seiner Barmherzigkeit – durch das Bad der Wiedergeburt und Erneuerung im Heiligen Geist. |
But they that wait upon the Lord shall renew their strength; they shall mount up with wings as eagles; they shall run, and not be weary; and they shall walk, and not faint.
Personal Bible reading plan
Create an account to configure your Bible reading plan and you will see your progress and the next chapter to read here!
Read more...