Bible Verses about Blameless
«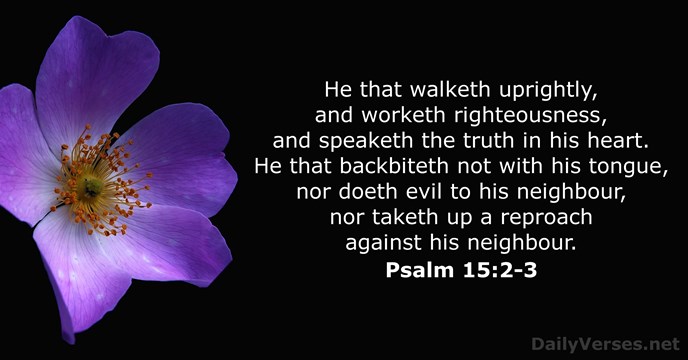 »
He that walketh uprightly, and worketh righteousness, and speaketh the truth in his heart. He that backbiteth not with his tongue, nor doeth evil to his neighbour, nor taketh up a reproach against his neighbour.

Se, joka on rehellinen ja tekee oikein, jonka sydän on vilpitön ja puheet totta. Se, joka ei panettele, joka ei tee lähimmäiselleen pahaa eikä saata naapuriaan huonoon huutoon.

For in many things we offend all. If any man offend not in word, the same is a perfect man, and able also to bridle the whole body.

Kaikkihan me hairahdumme monin tavoin. Täydellinen on se, joka ei hairahdu puheissaan: hän kykenee hallitsemaan koko ruumiinsa.

Do all things without murmurings and disputings: That ye may be blameless and harmless, the sons of God, without rebuke, in the midst of a crooked and perverse nation, among whom ye shine as lights in the world; Holding forth the word of life.

Tehkää kaikki nurisematta ja empimättä, jotta olisitte moitteettomia ja puhtaita, nuhteettomia Jumalan lapsia tämän kieroutuneen ja turmeltuneen sukukunnan keskellä. Te loistatte siinä kuin tähdet taivaalla, kun pidätte esillä elämän sanaa.

And be not conformed to this world: but be ye transformed by the renewing of your mind, that ye may prove what is that good, and acceptable, and perfect, will of God.

Älkää mukautuko tämän maailman menoon, vaan muuttukaa, uudistukaa mieleltänne, niin että osaatte arvioida, mikä on Jumalan tahto, mikä on hyvää, hänen mielensä mukaista ja täydellistä.

See that none render evil for evil unto any man; but ever follow that which is good, both among yourselves, and to all men.

Katsokaa, ettei kukaan maksa pahaa pahalla. Pyrkikää aina tekemään hyvää toisillenne ja kaikille ihmisille.

And above all these things put on charity, which is the bond of perfectness.

Mutta kaiken kruunuksi tulkoon rakkaus, sillä se tekee kaiken täydelliseksi.

As for God, his way is perfect: the word of the L

ord

is tried: he is a buckler to all those that trust in him.

Jumalan ohjeet ovat täydelliset, Herran sana on kirkas ja puhdas. Kuin kilpi hän suojaa niitä, jotka hakevat hänestä turvaa.

Now I beseech you, brethren, by the name of our Lord Jesus Christ, that ye all speak the same thing, and that there be no divisions among you; but that ye be perfectly joined together in the same mind and in the same judgment.

Veljet, Herramme Jeesuksen Kristuksen nimeen kehotan teitä kaikkia pitämään keskenänne yhtä, välttämään hajaannusta ja elämään yksimielisinä.

Blessed are the undefiled in the way, who walk in the law of the L

ord

.

Onnellisia ovat ne, joiden vaellus on nuhteetonta, ne, jotka seuraavat Herran lakia.

But he knoweth the way that I take: when he hath tried me, I shall come forth as gold. My foot hath held his steps, his way have I kept, and not declined.

Hän tietää kyllä, millainen on ollut minun vaellukseni. Koetelkoon minua niin kuin tulessa kultaa – minä kestän. Hänen jalanjälkiinsä olen sovittanut askeleni, hänen tietään olen seurannut. En ole siltä poikennut.

Hitherto have ye asked nothing in my name: ask, and ye shall receive, that your joy may be full.

Tähän asti te ette ole pyytäneet mitään minun nimessäni. Pyytäkää, niin te saatte, ja teidän ilonne on täydellinen.

Pure religion and undefiled before God and the Father is this, To visit the fatherless and widows in their affliction, and to keep himself unspotted from the world.

Puhdasta, Jumalan ja Isän silmissä tahratonta palvelusta on huolehtia orvoista ja leskistä, kun he ovat ahdingossa, ja varjella itsensä niin, ettei maailma saastuta.

He layeth up sound wisdom for the righteous: he is a buckler to them that walk uprightly.

Hän auttaa oikeamieliset menestykseen, kilven tavoin hän on vilpittömien suojana.

As for God, his way is perfect; the word of the L

ord

is tried: he is a buckler to all them that trust in him.

Jumalan ohjeet ovat täydelliset, Herran sana on kirkas ja puhdas. Kuin kilpi hän suojaa niitä, jotka hakevat hänestä turvaa.

Every good gift and every perfect gift is from above, and cometh down from the Father of lights, with whom is no variableness, neither shadow of turning.

Jokainen hyvä anti ja jokainen täydellinen lahja tulee ylhäältä, taivaan tähtien Isältä, jonka luona ei mikään muutu, ei valo vaihdu varjoksi.

Jesus said unto him, If thou wilt be perfect, go and sell that thou hast, and give to the poor, and thou shalt have treasure in heaven: and come and follow me.

Jeesus sanoi hänelle: »Jos tahdot olla täydellinen, niin mene ja myy kaikki, mitä sinulla on, ja anna rahat köyhille. Silloin sinulla on aarre taivaissa. Tule sitten ja seuraa minua.»

And being made perfect, he became the author of eternal salvation unto all them that obey him.

Kun hän oli saavuttanut täydellisyyden, hänestä tuli iankaikkisen pelastuksen tuoja, kaikkien niiden pelastaja, jotka ovat hänelle kuuliaisia.

These things have I spoken unto you, that my joy might remain in you, and that your joy might be full.

Olen puhunut teille tämän, jotta teillä olisi minun iloni sydämessänne ja teidän ilonne tulisi täydelliseksi.
But Jesus said, Suffer little children, and forbid them not, to come unto me: for of such is the kingdom of heaven.
Personal Bible reading plan
Create an account to configure your Bible reading plan and you will see your progress and the next chapter to read here!
Read more...