Bible Verses about Blood
«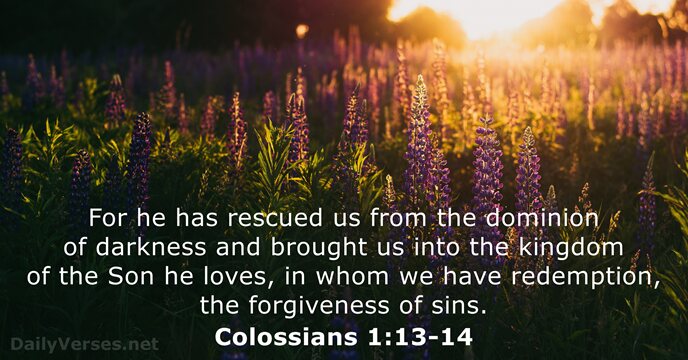 »
For he has rescued us from the dominion of darkness and brought us into the kingdom of the Son he loves, in whom we have redemption, the forgiveness of sins.

Hij heeft ons gered uit de macht van de duisternis. En Hij heeft ons overgeplaatst in het Koninkrijk van zijn Zoon, van wie Hij heel veel houdt. Hij heeft ons gered door de dood van zijn Zoon. Want dankzij zijn dood heeft God ons al onze ongehoorzaamheid kunnen vergeven.

In him we have redemption through his blood, the forgiveness of sins, in accordance with the riches of God's grace.

Want door het bloed van zijn Zoon heeft Hij ons gered. Door zijn bloed kon Hij ons vergeven dat we Hem ongehoorzaam waren. Hij deed dat niet omdat we dat verdiend hadden, maar omdat Hij zoveel van ons houdt.

But if we walk in the light, as he is in the light, we have fellowship with one another, and the blood of Jesus, his Son, purifies us from all sin.

Maar als we in het licht leven en Hem gehoorzaam willen zijn, net zoals Hij in het licht is, dan zijn we één met elkaar. Dan wast het bloed van zijn Zoon Jezus Christus ons schoon van al onze ongehoorzaamheid aan God.

Now may the God of peace, who through the blood of the eternal covenant brought back from the dead our Lord Jesus, that great Shepherd of the sheep, equip you with everything good for doing his will, and may he work in us what is pleasing to him, through Jesus Christ, to whom be glory for ever and ever. Amen.

God is de God van vrede. Hij heeft de Heer Jezus, de grote Herder van de schapen, uit de dood teruggeroepen. Hij deed dat vanwege het bloed waarmee Hij een eeuwig verbond sloot. Ik bid dat deze God jullie geschikt zal maken om alles te doen wat Hij van jullie vraagt. Hij zal door middel van Jezus Christus in jullie werken. Alle eer is voor Hem, voor eeuwig. Amen! Zo is het!

For you know that it was not with perishable things such as silver or gold that you were redeemed from the empty way of life handed down to you from your ancestors, but with the precious blood of Christ, a lamb without blemish or defect.

Hij heeft jullie vrijgekocht van de zinloze manier van leven die jullie van je voorouders hadden geleerd. Maar onthoud dat jullie niet met goud of zilver zijn vrijgekocht. Jullie zijn vrijgekocht met het kostbare bloed van Christus, het volmaakte Offerlam.

But now in Christ Jesus you who once were far away have been brought near by the blood of Christ.

Zo waren jullie vroeger ver weg van God. Maar nu zijn jullie in Jezus Christus dicht bij God gekomen, door het bloed van Christus.

Whoever eats my flesh and drinks my blood remains in me, and I in them.

Als jullie van mijn lichaam eten en van mijn bloed drinken, zijn jullie één met Mij en ben Ik één met jullie.

How much more, then, will the blood of Christ, who through the eternal Spirit offered himself unblemished to God, cleanse our consciences from acts that lead to death, so that we may serve the living God!

Nu heeft Christus door de eeuwige Geest zijn eigen bloed aan God geofferd. Omdat Hij God nooit ongehoorzaam was geweest, was zijn offer volmaakt. Het is dus duidelijk, dat zijn volmaakte offer ons nog veel méér zal vrijspreken van schuld. Want zijn bloed reinigt ons geweten van alle dingen waar God niets aan heeft. Daardoor kunnen we nu de levende God werkelijk dienen.

In the same way, after the supper he took the cup, saying, "This cup is the new covenant in my blood, which is poured out for you."

Hetzelfde deed Hij met de beker na de maaltijd, en zei: "Deze wijn is het bloed waarmee God een nieuw verbond sluit met de mensen. Het is mijn bloed dat voor jullie wordt uitgegoten."

"Come now, let us settle the matter," says the L

ord

. "Though your sins are like scarlet, they shall be as white as snow; though they are red as crimson, they shall be like wool."

Kom, laat Mij over jullie rechtspreken, zegt de Heer. Jullie daden zijn zo rood als bloed. Toch zullen ze zo wit worden als witte wol, als sneeuw.

If you really change your ways and your actions and deal with each other justly, if you do not oppress the foreigner, the fatherless or the widow and do not shed innocent blood in this place, and if you do not follow other gods to your own harm, then I will let you live in this place, in the land I gave your ancestors for ever and ever.

Maar Ik zal jullie alleen redden als jullie je leven veranderen en ophouden met het doen van slechte dingen. Als jullie weer rechtvaardig rechtspreken. Als jullie vreemdelingen, weeskinderen en weduwen niet langer slecht behandelen. Als jullie geen onschuldige mensen meer doden. Als jullie stoppen met het aanbidden van andere goden, want dat doet jullie alleen maar kwaad! Dán zal Ik jullie in deze stad laten wonen en in het land dat Ik aan jullie voorouders gegeven heb. Dán zullen jullie hier voor altijd blijven wonen.

Everything that lives and moves about will be food for you. Just as I gave you the green plants, I now give you everything. But you must not eat meat that has its lifeblood still in it.

Voortaan mogen jullie alles eten. Niet langer alleen de planten, maar ook de dieren. Jullie mogen alleen geen vlees eten waar het bloed nog in zit. Want in het bloed zit het leven.
Do not be wise in your own eyes; fear the Lord and shun evil. This will bring health to your body and nourishment to your bones.
Personal Bible reading plan
Create an account to configure your Bible reading plan and you will see your progress and the next chapter to read here!
Read more...