Bible Verses about Calling
«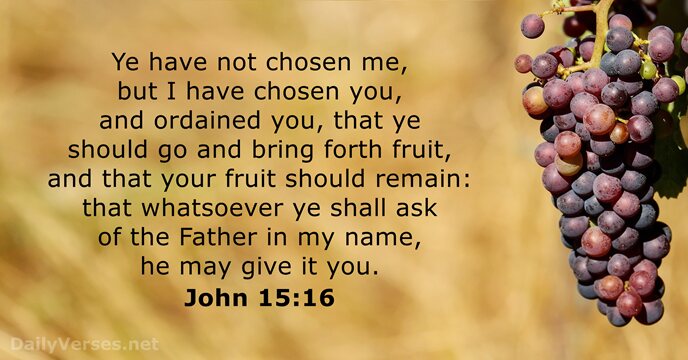 »
| | |
| --- | --- |
| Ye have not chosen me, but I have chosen you, and ordained you, that ye should go and bring forth fruit, and that your fruit should remain: that whatsoever ye shall ask of the Father in my name, he may give it you. | You did not choose me, but I chose you and appointed you that you should go and bear fruit and that your fruit should abide, so that whatever you ask the Father in my name, he may give it to you. |
| Faithful is he that calleth you, who also will do it. | He who calls you is faithful; he will surely do it. |
| And we know that all things work together for good to them that love God, to them who are the called according to his purpose. | And we know that for those who love God all things work together for good, for those who are called according to his purpose. |
| And base things of the world, and things which are despised, hath God chosen, yea, and things which are not, to bring to nought things that are: That no flesh should glory in his presence. | God chose what is low and despised in the world, even things that are not, to bring to nothing things that are, so that no human being might boast in the presence of God. |
| Whereunto he called you by our gospel, to the obtaining of the glory of our Lord Jesus Christ. | To this he called you through our gospel, so that you may obtain the glory of our Lord Jesus Christ. |
| For even hereunto were ye called: because Christ also suffered for us, leaving us an example, that ye should follow his steps. | For to this you have been called, because Christ also suffered for you, leaving you an example, so that you might follow in his steps. |
| I press toward the mark for the prize of the high calling of God in Christ Jesus. | I press on toward the goal for the prize of the upward call of God in Christ Jesus. |
| Who hath saved us, and called us with an holy calling, not according to our works, but according to his own purpose and grace, which was given us in Christ Jesus before the world began. | Who saved us and called us to a holy calling, not because of our works but because of his own purpose and grace, which he gave us in Christ Jesus before the ages began. |
| I am sought of them that asked not for me; I am found of them that sought me not: I said, Behold me, behold me, unto a nation that was not called by my name. | I was ready to be sought by those who did not ask for me; I was ready to be found by those who did not seek me. I said, "Here I am, here I am," to a nation that was not called by my name. |
| God is faithful, by whom ye were called unto the fellowship of his Son Jesus Christ our Lord. | God is faithful, by whom you were called into the fellowship of his Son, Jesus Christ our Lord. |
| There is one body, and one Spirit, even as ye are called in one hope of your calling. | There is one body and one Spirit—just as you were called to the one hope that belongs to your call. |
| But as he which hath called you is holy, so be ye holy in all manner of conversation; Because it is written, Be ye holy; for I am holy. | But as he who called you is holy, you also be holy in all your conduct, since it is written, "You shall be holy, for I am holy." |
| Not rendering evil for evil, or railing for railing: but contrariwise blessing; knowing that ye are thereunto called, that ye should inherit a blessing. | Do not repay evil for evil or reviling for reviling, but on the contrary, bless, for to this you were called, that you may obtain a blessing. |
| Wherefore the rather, brethren, give diligence to make your calling and election sure: for if ye do these things, ye shall never fall: For so an entrance shall be ministered unto you abundantly into the everlasting kingdom of our Lord and Saviour Jesus Christ. | Therefore, brothers, be all the more diligent to confirm your calling and election, for if you practice these qualities you will never fall. For in this way there will be richly provided for you an entrance into the eternal kingdom of our Lord and Savior Jesus Christ. |
| Then Peter said unto them, Repent, and be baptized every one of you in the name of Jesus Christ for the remission of sins, and ye shall receive the gift of the Holy Ghost. | And Peter said to them, "Repent and be baptized every one of you in the name of Jesus Christ for the forgiveness of your sins, and you will receive the gift of the Holy Spirit." |
Touching the Almighty, we cannot find him out: he is excellent in power, and in judgment, and in plenty of justice: he will not afflict.
Personal Bible reading plan
Create an account to configure your Bible reading plan and you will see your progress and the next chapter to read here!
Read more...