Versículos de la Biblia sobre el Castigo
«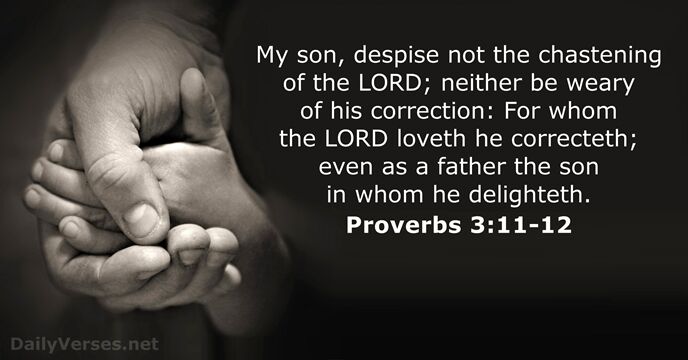 »
No menosprecies, hijo mío, el castigo de Jehová, no te canses de que él te corrija, porque Jehová al que ama castiga, como el padre al hijo a quien quiere.

My son, despise not the chastening of the L

ord

; neither be weary of his correction: For whom the L

ord

loveth he correcteth; even as a father the son in whom he delighteth.

El prudente ve el mal y se esconde, pero los incautos pasan y se llevan el daño.

A prudent man foreseeth the evil, and hideth himself; but the simple pass on, and are punished.

Yo reprendo y castigo a todos los que amo; sé, pues, celoso y arrepiéntete.

As many as I love, I rebuke and chasten: be zealous therefore, and repent.

Todos los que sin la Ley han pecado, sin la Ley también perecerán; y todos los que bajo la Ley han pecado, por la Ley serán juzgados.

For as many as have sinned without law shall also perish without law: and as many as have sinned in the law shall be judged by the law.

Es verdad que ninguna disciplina al presente parece ser causa de gozo, sino de tristeza; pero después da fruto apacible de justicia a los que por medio de ella han sido ejercitados.

Now no chastening for the present seemeth to be joyous, but grievous: nevertheless afterward it yieldeth the peaceable fruit of righteousness unto them which are exercised thereby.

Finalmente, si una persona peca, o hace alguna de todas aquellas cosas que por mandamiento de Jehová no se han de hacer, aun sin hacerlo a sabiendas, es culpable y llevará su pecado.

And if a soul sin, and commit any of these things which are forbidden to be done by the commandments of the L

ord

; though he wist it not, yet is he guilty, and shall bear his iniquity.

En el amor no hay temor, sino que el perfecto amor echa fuera el temor, porque el temor lleva en sí castigo. De donde el que teme, no ha sido perfeccionado en el amor.

There is no fear in love; but perfect love casteth out fear: because fear hath torment. He that feareth is not made perfect in love.

Pero el que sin conocerla hizo cosas dignas de azotes, será azotado poco, porque a todo aquel a quien se haya dado mucho, mucho se le demandará, y al que mucho se le haya confiado, más se le pedirá.

But he that knew not, and did commit things worthy of stripes, shall be beaten with few stripes. For unto whomsoever much is given, of him shall be much required: and to whom men have committed much, of him they will ask the more.

Convertíos y apartaos de todas vuestras transgresiones, y no os será la iniquidad causa de ruina.

Repent, and turn yourselves from all your transgressions; so iniquity shall not be your ruin.

El que crea y sea bautizado, será salvo; pero el que no crea, será condenado.

He that believeth and is baptized shall be saved; but he that believeth not shall be damned.

Bienaventurado es el hombre a quien Dios corrige; por tanto, no desprecies la reprensión del Todopoderoso.

Behold, happy is the man whom God correcteth: therefore despise not thou the chastening of the Almighty.

No tomarás el nombre de Jehová, tu Dios, en vano, porque Jehová no considerará inocente al que tome su nombre en vano.

Thou shalt not take the name of the L

ord

thy God in vain: for the L

ord

will not hold him guiltless that taketh his name in vain.

Sobre todo, hermanos míos, no juréis, ni por el cielo ni por la tierra ni por ningún otro juramento; sino que vuestro «sí» sea sí, y vuestro «no» sea no, para que no caigáis en condenación.

But above all things, my brethren, swear not, neither by heaven, neither by the earth, neither by any other oath: but let your yea be yea; and your nay, nay; lest ye fall into condemnation.

Reconoce asimismo en tu corazón, que, como castiga el hombre a su hijo, así Jehová, tu Dios, te castiga.

Thou shalt also consider in thine heart, that, as a man chasteneth his son, so the L

ord

thy God chasteneth thee.

Ahora, pues, ninguna condenación hay para los que están en Cristo Jesús, los que no andan conforme a la carne, sino conforme al Espíritu, porque la ley del Espíritu de vida en Cristo Jesús me ha librado de la ley del pecado y de la muerte.

There is therefore now no condemnation to them which are in Christ Jesus, who walk not after the flesh, but after the Spirit. For the law of the Spirit of life in Christ Jesus hath made me free from the law of sin and death.

El que anda entre sabios será sabio, pero el que se junta con necios saldrá mal parado.

He that walketh with wise men shall be wise: but a companion of fools shall be destroyed.

Que prediques la palabra y que instes a tiempo y fuera de tiempo. Redarguye, reprende, exhorta con toda paciencia y doctrina.

Preach the word; be instant in season, out of season; reprove, rebuke, exhort with all long suffering and doctrine.

Os digo: no, antes si no os arrepentís, todos pereceréis igualmente.

I tell you, Nay: but, except ye repent, ye shall all likewise perish.

Dios hace habitar en familia a los desamparados; saca a los cautivos a prosperidad; mas los rebeldes habitan en tierra árida.

God setteth the solitary in families: he bringeth out those which are bound with chains: but the rebellious dwell in a dry land.

El Señor sabe librar de tentación a los piadosos, y reservar a los injustos para ser castigados en el día del juicio.

The Lord knoweth how to deliver the godly out of temptations, and to reserve the unjust unto the day of judgment to be punished.

Pero el don no fue como la transgresión, porque si por la transgresión de aquel uno muchos murieron, la gracia y el don de Dios abundaron para muchos por la gracia de un solo hombre, Jesucristo.

But not as the offence, so also is the free gift. For if through the offence of one many be dead, much more the grace of God, and the gift by grace, which is by one man, Jesus Christ, hath abounded unto many.

Jehová guarda a los extranjeros; al huérfano y a la viuda sostiene, y el camino de los impíos trastorna.

The L

ord

preserveth the strangers; he relieveth the fatherless and widow: but the way of the wicked he turneth upside down.

De nada servirán las riquezas en el día de la ira, pero la justicia librará de muerte.

Riches profit not in the day of wrath: but righteousness delivereth from death.

Por tanto os digo: Todo pecado y blasfemia será perdonado a los hombres, pero la blasfemia contra el Espíritu no les será perdonada.

Wherefore I say unto you, All manner of sin and blasphemy shall be forgiven unto men: but the blasphemy against the Holy Ghost shall not be forgiven unto men.
Estad, pues, firmes en la libertad con que Cristo nos hizo libres y no estéis otra vez sujetos al yugo de esclavitud.
Plan de lectura de la Biblia
Registrar y configurar su plan de lectura de la Biblia que desea ver su progreso y el siguiente capítulo para leer aquí!