Versículos de la Biblia sobre la Escucha
«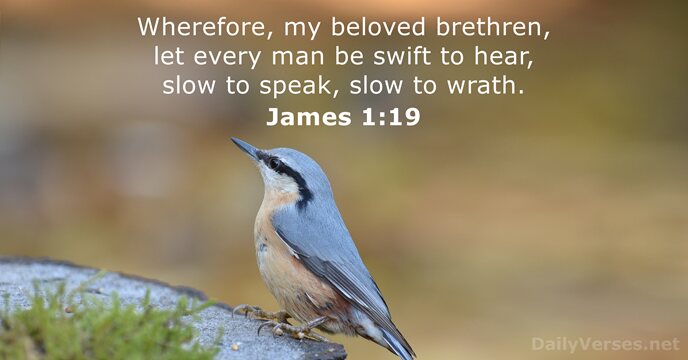 »
Por esto, mis amados hermanos, todo hombre sea pronto para oír, tardo para hablar, tardo para airarse.

Wherefore, my beloved brethren, let every man be swift to hear, slow to speak, slow to wrath.

Pero él dijo: —¡Antes bien, bienaventurados los que oyen la palabra de Dios y la obedecen!

But he said, Yea rather, blessed are they that hear the word of God, and keep it.

Clama a mí y yo te responderé, y te enseñaré cosas grandes y ocultas que tú no conoces.

Call unto me, and I will answer thee, and show thee great and mighty things, which thou knowest not.

Sed hacedores de la palabra y no tan solamente oidores, engañándoos a vosotros mismos.

But be ye doers of the word, and not hearers only, deceiving your own selves.

Ésta es la confianza que tenemos en él, que si pedimos alguna cosa conforme a su voluntad, él nos oye.

And this is the confidence that we have in him, that, if we ask any thing according to his will, he heareth us.

Entonces me invocaréis. Vendréis y oraréis a mí, y yo os escucharé.

Then shall ye call upon me, and ye shall go and pray unto me, and I will hearken unto you.

El entendido en la palabra hallará el bien; el que confía en Jehová es bienaventurado.

He that handleth a matter wisely shall find good: and whoso trusteth in the L

ord

, happy is he.

Amo a Jehová, pues ha oído mi voz y mis súplicas, porque ha inclinado a mí su oído; por tanto, lo invocaré en todos mis días.

I love the L

ord

, because he hath heard my voice and my supplications. Because he hath inclined his ear unto me, therefore will I call upon him as long as I live.

A cualquiera, pues, que me oye estas palabras y las pone en práctica, lo compararé a un hombre prudente que edificó su casa sobre la roca.

Therefore whosoever heareth these sayings of mine, and doeth them, I will liken him unto a wise man, which built his house upon a rock.

Lo que aprendisteis, recibisteis, oísteis y visteis en mí, esto haced; y el Dios de paz estará con vosotros.

Those things, which ye have both learned, and received, and heard, and seen in me, do: and the God of peace shall be with you.

Y si sabemos que él nos oye en cualquiera cosa que pidamos, sabemos que tenemos las peticiones que le hayamos hecho.

And if we know that he hear us, whatsoever we ask, we know that we have the petitions that we desired of him.

Yo estoy a la puerta y llamo; si alguno oye mi voz y abre la puerta, entraré a él y cenaré con él y él conmigo.

Behold, I stand at the door, and knock: if any man hear my voice, and open the door, I will come in to him, and will sup with him, and he with me.

En mi angustia invoqué a Jehová y clamé a mi Dios. Él oyó mi voz desde su Templo y mi clamor llegó hasta sus oídos.

In my distress I called upon the L

ord

, and cried unto my God: he heard my voice out of his temple, and my cry came before him, even into his ears.

Así que la fe es por el oír, y el oír, por la palabra de Dios.

So then faith cometh by hearing, and hearing by the word of God.

Guardar la instrucción es camino que lleva a la vida; el que rechaza la reprensión, yerra.

He is in the way of life that keepeth instruction: but he that refuseth reproof erreth.

Jehová, de mañana oirás mi voz; de mañana me presentaré delante de ti y esperaré.

My voice shalt thou hear in the morning, O L

ord

; in the morning will I direct my prayer unto thee, and will look up.

Si no escucháis y si no decidís de corazón dar gloria a mi nombre, ha dicho Jehová de los ejércitos, enviaré maldición sobre vosotros y maldeciré vuestras bendiciones; y ya las he maldecido, porque no os habéis decidido de corazón.

If ye will not hear, and if ye will not lay it to heart, to give glory unto my name, saith the L

ord

of hosts, I will even send a curse upon you, and I will curse your blessings: yea, I have cursed them already, because ye do not lay it to heart.

A Jehová, vuestro Dios, seguiréis y a él temeréis, guardaréis sus mandamientos y escucharéis su voz, a él serviréis y a él le seréis fieles.

Ye shall walk after the L

ord

your God, and fear him, and keep his commandments, and obey his voice, and ye shall serve him, and cleave unto him.

Los ojos de Jehová están sobre los justos y atentos sus oídos al clamor de ellos.

The eyes of the L

ord

are upon the righteous, and his ears are open unto their cry.

Pero a medianoche, orando Pablo y Silas, cantaban himnos a Dios; y los presos los oían.

And at midnight Paul and Silas prayed, and sang praises unto God: and the prisoners heard them.

Aquel, pues, que os da el Espíritu y hace maravillas entre vosotros, ¿lo hace por las obras de la Ley o por el oír con fe?

He therefore that ministereth to you the Spirit, and worketh miracles among you, doeth he it by the works of the law, or by the hearing of faith?

Por tanto, todo lo que habéis dicho en tinieblas, a la luz se oirá; y lo que habéis hablado al oído en los aposentos, se proclamará en las azoteas.

Therefore whatsoever ye have spoken in darkness shall be heard in the light; and that which ye have spoken in the ear in closets shall be proclaimed upon the housetops.

Guarda, hijo mío, el mandamiento de tu padre y no abandones la enseñanza de tu madre.

My son, keep thy father's commandment, and forsake not the law of thy mother.

Por tanto, si tu hermano peca contra ti, ve y repréndelo estando tú y él solos; si te oye, has ganado a tu hermano.

Moreover if thy brother shall trespass against thee, go and tell him his fault between thee and him alone: if he shall hear thee, thou hast gained thy brother.

Él respondió y dijo: —Escrito está: "No sólo de pan vivirá el hombre, sino de toda palabra que sale de la boca de Dios."

But he answered and said, It is written, Man shall not live by bread alone, but by every word that proceedeth out of the mouth of God.
Pero corra el juicio como las aguas y la justicia como arroyo impetuoso.
Plan de lectura de la Biblia
Registrar y configurar su plan de lectura de la Biblia que desea ver su progreso y el siguiente capítulo para leer aquí!