Versículos de la Biblia sobre la Misericordia
«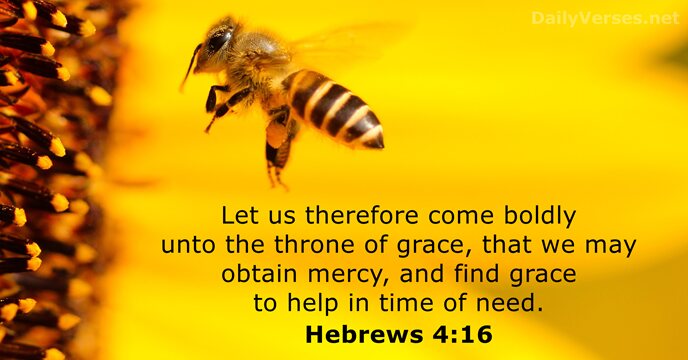 »
Acerquémonos, pues, confiadamente al trono de la gracia, para alcanzar misericordia y hallar gracia para el oportuno socorro.

Let us therefore come boldly unto the throne of grace, that we may obtain mercy, and find grace to help in time of need.

Id, pues, y aprended lo que significa: "Misericordia quiero y no sacrificios", porque no he venido a llamar a justos, sino a pecadores al arrepentimiento.

But go ye and learn what that meaneth, I will have mercy, and not sacrifice: for I am not come to call the righteous, but sinners to repentance.

Pero Dios, que es rico en misericordia, por su gran amor con que nos amó, aun estando nosotros muertos en pecados, nos dio vida juntamente con Cristo (por gracia sois salvos).

But God, who is rich in mercy, for his great love wherewith he loved us, Even when we were dead in sins, hath quickened us together with Christ, (by grace ye are saved).

Ten piedad de mí, Dios, conforme a tu misericordia; conforme a la multitud de tus piedades borra mis rebeliones. ¡Lávame más y más de mi maldad y límpiame de mi pecado!

Have mercy upon me, O God, according to thy lovingkindness: according unto the multitude of thy tender mercies blot out my transgressions. Wash me throughly from mine iniquity, and cleanse me from my sin.

¿Qué Dios hay como tú, que perdona la maldad y olvida el pecado del remanente de su heredad? No retuvo para siempre su enojo, porque se deleita en la misericordia.

Who is a God like unto thee, that pardoneth iniquity, and passeth by the transgression of the remnant of his heritage? he retaineth not his anger for ever, because he delighteth in mercy.

Sin embargo, Jehová esperará para tener piedad de vosotros. A pesar de todo, será exaltado y tendrá de vosotros misericordia, porque Jehová es Dios justo. ¡Bienaventurados todos los que confían en él!

And therefore will the L

ord

wait, that he may be gracious unto you, and therefore will he be exalted, that he may have mercy upon you: for the L

ord

is a God of judgment: blessed are all they that wait for him.

Por tanto, si perdonáis a los hombres sus ofensas, os perdonará también a vosotros vuestro Padre celestial.

For if ye forgive men their trespasses, your heavenly Father will also forgive you.

Porque Jehová, vuestro Dios, es clemente y misericordioso, y no apartará de vosotros su rostro, si vosotros os volvéis a él.

For the L

ord

your God is gracious and merciful, and will not turn away his face from you, if ye return unto him.

Acuérdate, Jehová, de tus piedades y de tus misericordias, que son perpetuas. De los pecados de mi juventud y de mis rebeliones no te acuerdes. Conforme a tu misericordia acuérdate, Jehová, de mí, por tu bondad.

Remember, O L

ord

, thy tender mercies and thy lovingkindnesses; for they have been ever of old. Remember not the sins of my youth, nor my transgressions: according to thy mercy remember thou me for thy goodness' sake, O L

ord

.

Por lo tanto, hermanos, os ruego por las misericordias de Dios que presentéis vuestros cuerpos como sacrificio vivo, santo, agradable a Dios, que es vuestro verdadero culto.

I beseech you therefore, brethren, by the mercies of God, that ye present your bodies a living sacrifice, holy, acceptable unto God, which is your reasonable service.

¿Qué, pues? ¿Pecaremos porque no estamos bajo la Ley, sino bajo la gracia? ¡De ninguna manera!

What then? shall we sin, because we are not under the law, but under grace? God forbid.

Sea la luz de Jehová, nuestro Dios, sobre nosotros. La obra de nuestras manos confirma sobre nosotros; sí, la obra de nuestras manos confirma.

And let the beauty of the L

ord

our God be upon us: and establish thou the work of our hands upon us; yea, the work of our hands establish thou it.

Ciertamente, el bien y la misericordia me seguirán todos los días de mi vida, y en la casa de Jehová moraré por largos días.

Surely goodness and mercy shall follow me all the days of my life: and I will dwell in the house of the L

ord

for ever.

El hombre de bien tiene misericordia y presta; gobierna sus asuntos con justicia.

A good man sheweth favour, and lendeth: he will guide his affairs with discretion.

De tal manera amó Dios al mundo, que ha dado a su Hijo unigénito, para que todo aquel que en él cree no se pierda, sino que tenga vida eterna.

For God so loved the world, that he gave his only begotten Son, that whosoever believeth in him should not perish, but have everlasting life.

Jehová, no apartes de mí tu misericordia; tu misericordia y tu verdad me guarden siempre.

Withhold not thou thy tender mercies from me, O L

ord

: let thy lovingkindness and thy truth continually preserve me.

De lo profundo, Jehová, a ti clamo. Señor, oye mi voz; estén atentos tus oídos a la voz de mi súplica.

Out of the depths have I cried unto thee, O L

ord

. Lord, hear my voice: let thine ears be attentive to the voice of my supplications.

Pero el don no fue como la transgresión, porque si por la transgresión de aquel uno muchos murieron, la gracia y el don de Dios abundaron para muchos por la gracia de un solo hombre, Jesucristo.

But not as the offence, so also is the free gift. For if through the offence of one many be dead, much more the grace of God, and the gift by grace, which is by one man, Jesus Christ, hath abounded unto many.

Mas por tus muchas misericordias no los consumiste ni los desamparaste; porque eres Dios clemente y misericordioso.

Nevertheless for thy great mercies' sake thou didst not utterly consume them, nor forsake them; for thou art a gracious and merciful God.

El que oculta sus pecados no prosperará, pero el que los confiesa y se aparta de ellos alcanzará misericordia.

He that covereth his sins shall not prosper: but whoso confesseth and forsaketh them shall have mercy.

Y me ha dicho: «Bástate mi gracia, porque mi poder se perfecciona en la debilidad.» Por tanto, de buena gana me gloriaré más bien en mis debilidades, para que repose sobre mí el poder de Cristo.

And he said unto me, My grace is sufficient for thee: for my strength is made perfect in weakness. Most gladly therefore will I rather glory in my infirmities, that the power of Christ may rest upon me.

Deje el impío su camino y el hombre inicuo sus pensamientos, y vuélvase a Jehová, el cual tendrá de él misericordia, al Dios nuestro, el cual será amplio en perdonar.

Let the wicked forsake his way, and the unrighteous man his thoughts: and let him return unto the L

ord

, and he will have mercy upon him; and to our God, for he will abundantly pardon.

Entonces se le acercó Pedro y le dijo: —Señor, ¿cuántas veces perdonaré a mi hermano que peque contra mí? ¿Hasta siete? Jesús le dijo: —No te digo hasta siete, sino aun hasta setenta veces siete.

Then came Peter to him, and said, Lord, how oft shall my brother sin against me, and I forgive him? till seven times? Jesus saith unto him, I say not unto thee, Until seven times: but, Until seventy times seven.

Vuélvete, rebelde Israel, dice Jehová; no haré caer mi ira sobre ti, porque misericordioso soy yo, dice Jehová; no guardaré para siempre el enojo.

Return, thou backsliding Israel, saith the L

ord

; and I will not cause mine anger to fall upon you: for I am merciful, saith the L

ord

, and I will not keep anger for ever.

A vosotros os es concedido a causa de Cristo, no sólo que creáis en él, sino también que padezcáis por él.

For unto you it is given in the behalf of Christ, not only to believe on him, but also to suffer for his sake.
El que guarda su boca guarda su vida, pero el que mucho abre sus labios acaba en desastre.
Plan de lectura de la Biblia
Registrar y configurar su plan de lectura de la Biblia que desea ver su progreso y el siguiente capítulo para leer aquí!