Versículos de la Biblia sobre la Salvación
«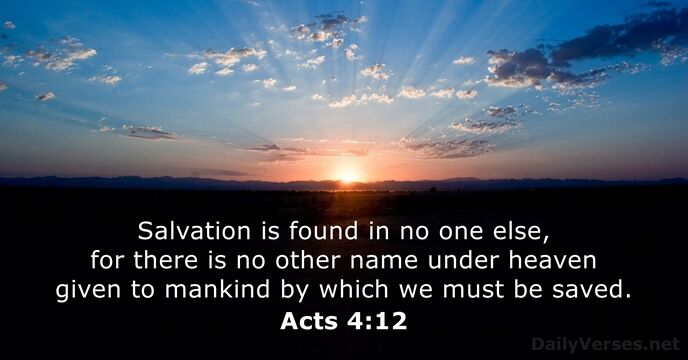 »
Y en ningún otro hay salvación, porque no hay otro nombre bajo el cielo, dado a los hombres, en que podamos ser salvos.

Salvation is found in no one else, for there is no other name under heaven given to mankind by which we must be saved.

Ellos dijeron: —Cree en el Señor Jesucristo, y serás salvo tú y tu casa.

They replied, "Believe in the Lord Jesus, and you will be saved—you and your household."

Él nos salvó y llamó con llamamiento santo, no conforme a nuestras obras, sino según el propósito suyo y la gracia que nos fue dada en Cristo Jesús antes de los tiempos de los siglos.

He has saved us and called us to a holy life—not because of anything we have done but because of his own purpose and grace. This grace was given us in Christ Jesus before the beginning of time.

En Dios solamente descansa mi alma; de él viene mi salvación.

Truly my soul finds rest in God; my salvation comes from him.

Y todo aquel que invoque el nombre del Señor, será salvo.

And everyone who calls on the name of the Lord will be saved.

¿No sabéis que los injustos no heredarán el reino de Dios? No os engañéis: ni los fornicarios, ni los idólatras, ni los adúlteros, ni los afeminados, ni los homosexuales, ni los ladrones, ni los avaros, ni los borrachos, ni los maldicientes, ni los estafadores, heredarán el reino de Dios.

Or do you not know that wrongdoers will not inherit the kingdom of God? Do not be deceived: Neither the sexually immoral nor idolaters nor adulterers nor men who have sex with men nor thieves nor the greedy nor drunkards nor slanderers nor swindlers will inherit the kingdom of God.

Porque con el corazón se cree para justicia, pero con la boca se confiesa para salvación.

For it is with your heart that you believe and are justified, and it is with your mouth that you profess your faith and are saved.

La gracia de Dios se ha manifestado para salvación a toda la humanidad, y nos enseña que, renunciando a la impiedad y a los deseos mundanos, vivamos en este siglo sobria, justa y piadosamente.

For the grace of God has appeared that offers salvation to all people. It teaches us to say "No" to ungodliness and worldly passions, and to live self-controlled, upright and godly lives in this present age.

Porque el Hijo del hombre vino a buscar y a salvar lo que se había perdido.

For the Son of Man came to seek and to save the lost.

El Señor no retarda su promesa, según algunos la tienen por tardanza, sino que es paciente para con nosotros, no queriendo que ninguno perezca, sino que todos procedan al arrepentimiento.

The Lord is not slow in keeping his promise, as some understand slowness. Instead he is patient with you, not wanting anyone to perish, but everyone to come to repentance.

Él les dijo: —Lo que es imposible para los hombres, es posible para Dios.

Jesus replied, "What is impossible with man is possible with God."

El que crea y sea bautizado, será salvo; pero el que no crea, será condenado.

Whoever believes and is baptized will be saved, but whoever does not believe will be condemned.

Entrad por la puerta angosta, porque ancha es la puerta y espacioso el camino que lleva a la perdición, y muchos son los que entran por ella; pero angosta es la puerta y angosto el camino que lleva a la vida, y pocos son los que la hallan.

Enter through the narrow gate. For wide is the gate and broad is the road that leads to destruction, and many enter through it. But small is the gate and narrow the road that leads to life, and only a few find it.

Vosotros, que lo amáis sin haberlo visto, creyendo en él aunque ahora no lo veáis, os alegráis con gozo inefable y glorioso, obteniendo el fin de vuestra fe, que es la salvación de vuestras almas.

Though you have not seen him, you love him; and even though you do not see him now, you believe in him and are filled with an inexpressible and glorious joy, for you are receiving the end result of your faith, the salvation of your souls.

Así también Cristo fue ofrecido una sola vez para llevar los pecados de muchos; y aparecerá por segunda vez, sin relación con el pecado, para salvar a los que lo esperan.

So Christ was sacrificed once to take away the sins of many; and he will appear a second time, not to bear sin, but to bring salvation to those who are waiting for him.

Porque así nos ha mandado el Señor, diciendo: "Te he puesto para luz de los gentiles, a fin de que seas para salvación hasta lo último de la tierra."

For this is what the Lord has commanded us: "I have made you a light for the Gentiles, that you may bring salvation to the ends of the earth."

No me avergüenzo del evangelio, porque es poder de Dios para salvación de todo aquel que cree, del judío primeramente y también del griego.

For I am not ashamed of the gospel, because it is the power of God that brings salvation to everyone who believes: first to the Jew, then to the Gentile.

Así como en Adán todos mueren, también en Cristo todos serán vivificados.

For as in Adam all die, so in Christ all will be made alive.

Entonces Jesús, mirándolos, dijo: —Para los hombres es imposible, pero no para Dios, porque todas las cosas son posibles para Dios.

Jesus looked at them and said, "With man this is impossible, but not with God; all things are possible with God."

Aunque la higuera no florezca ni en las vides haya frutos, aunque falte el producto del olivo y los labrados no den mantenimiento, aunque las ovejas sean quitadas de la majada y no haya vacas en los corrales, con todo, yo me alegraré en Jehová, me gozaré en el Dios de mi salvación.

Though the fig tree does not bud and there are no grapes on the vines, though the olive crop fails and the fields produce no food, though there are no sheep in the pen and no cattle in the stalls, yet I will rejoice in the L

ord

, I will be joyful in God my Savior.

Ciertamente, apenas morirá alguno por un justo; con todo, pudiera ser que alguien tuviera el valor de morir por el bueno. Pero Dios muestra su amor para con nosotros, en que siendo aún pecadores, Cristo murió por nosotros.

Very rarely will anyone die for a righteous person, though for a good person someone might possibly dare to die. But God demonstrates his own love for us in this: While we were still sinners, Christ died for us.

Jesús le dijo: —Vete, tu fe te ha salvado. Al instante recobró la vista, y seguía a Jesús por el camino.

"Go," said Jesus, "your faith has healed you." Immediately he received his sight and followed Jesus along the road.

Me diste asimismo el escudo de tu salvación; tu diestra me sustentó y tu benignidad me ha engrandecido. Ensanchaste mis pasos debajo de mí y mis pies no han resbalado.

You make your saving help my shield, and your right hand sustains me; your help has made me great. You provide a broad path for my feet, so that my ankles do not give way.

Porque, si siendo enemigos, fuimos reconciliados con Dios por la muerte de su Hijo, mucho más, estando reconciliados, seremos salvos por su vida.

For if, while we were God's enemies, we were reconciled to him through the death of his Son, how much more, having been reconciled, shall we be saved through his life!

Porque a mis ojos eres de gran estima, eres honorable y yo te he amado; daré, pues, hombres a cambio de ti y naciones a cambio de tu vida.

Since you are precious and honored in my sight, and because I love you, I will give people in exchange for you, nations in exchange for your life.
Cuando alguno es tentado no diga que es tentado de parte de Dios, porque Dios no puede ser tentado por el mal ni él tienta a nadie.
Pero a medianoche, orando Pablo y Silas, cantaban himnos a Dios; y los presos los oían.
Cuando alguno es tentado no diga que es tentado de parte de Dios, porque Dios no puede ser tentado por el mal ni él tienta a nadie.
Plan de lectura de la Biblia
Registrar y configurar su plan de lectura de la Biblia que desea ver su progreso y el siguiente capítulo para leer aquí!