Versículos de la Biblia sobre la Superación
«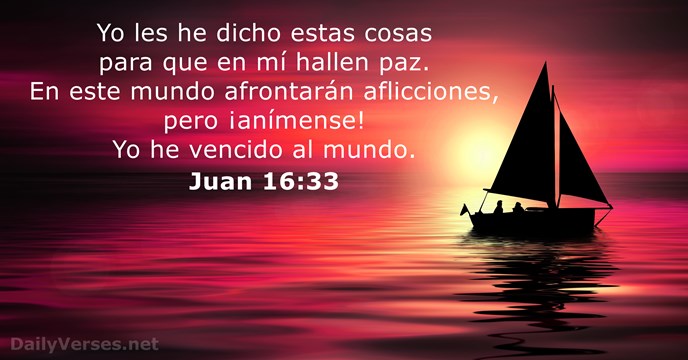 »
Yo les he dicho estas cosas para que en mí hallen paz. En este mundo afrontarán aflicciones, pero ¡anímense! Yo he vencido al mundo.

I have said these things to you, that in me you may have peace. In the world you will have tribulation. But take heart; I have overcome the world.

No te dejes vencer por el mal; al contrario, vence el mal con el bien.

Do not be overcome by evil, but overcome evil with good.

Porque para Dios no hay nada imposible.

For nothing will be impossible with God.

Porque todo el que ha nacido de Dios vence al mundo. Ésta es la victoria que vence al mundo: nuestra fe.

For everyone who has been born of God overcomes the world. And this is the victory that has overcome the world—our faith.

¡Pero gracias a Dios, que nos da la victoria por medio de nuestro Señor Jesucristo!

But thanks be to God, who gives us the victory through our Lord Jesus Christ.

Sin embargo, en todo esto somos más que vencedores por medio de aquel que nos amó.

No, in all these things we are more than conquerors through him who loved us.

Pero tú, S

eñor

, me rodeas cual escudo; tú eres mi gloria; ¡tú mantienes en alto mi cabeza!
But you, O L

ord

, are a shield about me, my glory, and the lifter of my head.

Por tanto, también nosotros, que estamos rodeados de una multitud tan grande de testigos, despojémonos del lastre que nos estorba, en especial del pecado que nos asedia, y corramos con perseverancia la carrera que tenemos por delante.

Therefore, since we are surrounded by so great a cloud of witnesses, let us also lay aside every weight, and sin which clings so closely, and let us run with endurance the race that is set before us.

Esta luz resplandece en las tinieblas, y las tinieblas no han podido extinguirla.

The light shines in the darkness, and the darkness has not overcome it.

Practiquen el dominio propio y manténganse alerta. Su enemigo el diablo ronda como león rugiente, buscando a quién devorar.

Be sober-minded; be watchful. Your adversary the devil prowls around like a roaring lion, seeking someone to devour.

Pelea la buena batalla de la fe; haz tuya la vida eterna, a la que fuiste llamado y por la cual hiciste aquella admirable declaración de fe delante de muchos testigos.

Fight the good fight of the faith. Take hold of the eternal life to which you were called and about which you made the good confession in the presence of many witnesses.

Ustedes, queridos hijos, son de Dios y han vencido a esos falsos profetas, porque el que está en ustedes es más poderoso que el que está en el mundo.

Little children, you are from God and have overcome them, for he who is in you is greater than he who is in the world.

¿Quién es el que vence al mundo sino el que cree que Jesús es el Hijo de Dios?

Who is it that overcomes the world except the one who believes that Jesus is the Son of God?

Al que salga vencedor le daré el derecho de sentarse conmigo en mi trono, como también yo vencí y me senté con mi Padre en su trono.

The one who conquers, I will grant him to sit with me on my throne, as I also conquered and sat down with my Father on his throne.

¡Alégrate mucho, hija de Sión! ¡Grita de alegría, hija de Jerusalén! Mira, tu rey viene hacia ti, justo, salvador y humilde. Viene montado en un asno, en un pollino, cría de asna.

Rejoice greatly, O daughter of Zion! Shout aloud, O daughter of Jerusalem! Behold, your king is coming to you; righteous and having salvation is he, humble and mounted on a donkey, on a colt, the foal of a donkey.

El que salga vencedor se vestirá de blanco. Jamás borraré su nombre del libro de la vida, sino que reconoceré su nombre delante de mi Padre y delante de sus ángeles.

The one who conquers will be clothed thus in white garments, and I will never blot his name out of the book of life. I will confess his name before my Father and before his angels.

S

eñor

, ¡danos la salvación! S

eñor

, ¡concédenos la victoria! Bendito el que viene en el nombre del S

eñor

. Desde la casa del S

eñor

los bendecimos.
Save us, we pray, O L

ord

! O L

ord

, we pray, give us success! Blessed is he who comes in the name of the L

ord

! We bless you from the house of the L

ord

.
En ti, S

eñor

, busco refugio;
jamás permitas que me avergüencen;
en tu justicia, líbrame.
El que perdona la ofensa cultiva el amor;
el que insiste en la ofensa divide a los amigos.
En ti, S

eñor

, busco refugio; jamás permitas que me avergüencen; en tu justicia, líbrame.
Plan de lectura de la Biblia
Registrar y configurar su plan de lectura de la Biblia que desea ver su progreso y el siguiente capítulo para leer aquí!