Versículos de la Biblia sobre el Trabajo
«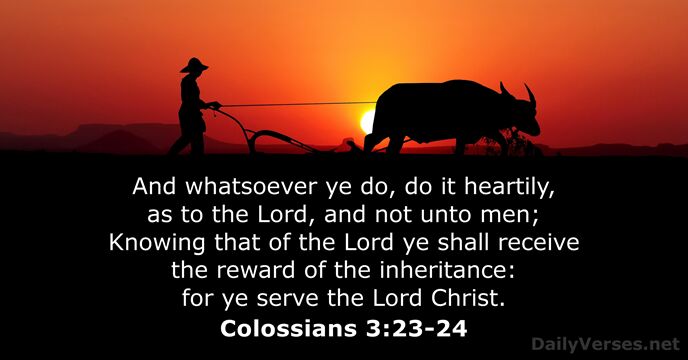 »
Y todo lo que hagáis, hacedlo de corazón, como para el Señor y no para los hombres, sabiendo que del Señor recibiréis la recompensa de la herencia, porque a Cristo el Señor servís.

And whatsoever ye do, do it heartily, as to the Lord, and not unto men; Knowing that of the Lord ye shall receive the reward of the inheritance: for ye serve the Lord Christ.

Encomienda a Jehová tus obras y tus pensamientos serán afirmados.

Commit thy works unto the L

ord

, and thy thoughts shall be established.

Todas vuestras cosas sean hechas con amor.

Let all your things be done with charity.

Así que, hermanos míos amados, estad firmes y constantes, creciendo en la obra del Señor siempre, sabiendo que vuestro trabajo en el Señor no es en vano.

Therefore, my beloved brethren, be ye stedfast, unmoveable, always abounding in the work of the Lord, forasmuch as ye know that your labour is not in vain in the Lord.

La bendición de Jehová es la que enriquece, y no añade tristeza con ella.

The blessing of the L

ord

, it maketh rich, and he addeth no sorrow with it.

La mano de los diligentes dominará, pero la negligencia será tributaria.

The hand of the diligent shall bear rule: but the slothful shall be under tribute.

Y todo lo que hacéis, sea de palabra o de hecho, hacedlo todo en el nombre del Señor Jesús, dando gracias a Dios Padre por medio de él.

And whatsoever ye do in word or deed, do all in the name of the Lord Jesus, giving thanks to God and the Father by him.

Las riquezas de vanidad disminuyen; el que recoge con mano laboriosa las aumenta.

Wealth gotten by vanity shall be diminished: but he that gathereth by labour shall increase.

Y poderoso es Dios para hacer que abunde en vosotros toda gracia, a fin de que, teniendo siempre en todas las cosas todo lo necesario, abundéis para toda buena obra.

And God is able to make all grace abound toward you; that ye, always having all sufficiency in all things, may abound to every good work.

Sea la luz de Jehová, nuestro Dios, sobre nosotros. La obra de nuestras manos confirma sobre nosotros; sí, la obra de nuestras manos confirma.

And let the beauty of the L

ord

our God be upon us: and establish thou the work of our hands upon us; yea, the work of our hands establish thou it.

Sé que no hay para el hombre cosa mejor que alegrarse y hacer bien en su vida, y también que es don de Dios que todo hombre coma y beba, y goce de los beneficios de toda su labor.

I know that there is no good in them, but for a man to rejoice, and to do good in his life. And also that every man should eat and drink, and enjoy the good of all his labour, it is the gift of God.

Mirad por vosotros mismos, para que no perdáis el fruto de vuestro trabajo, sino que recibáis la recompensa completa.

Look to yourselves, that we lose not those things which we have wrought, but that we receive a full reward.

Procura con diligencia presentarte a Dios aprobado, como obrero que no tiene de qué avergonzarse, que usa bien la palabra de verdad.

Study to shew thyself approved unto God, a workman that needeth not to be ashamed, rightly dividing the word of truth.

Mejor son dos que uno, pues reciben mejor paga por su trabajo.

Two are better than one; because they have a good reward for their labour.

Mirad las aves del cielo, que no siembran, ni siegan, ni recogen en graneros; y, sin embargo, vuestro Padre celestial las alimenta. ¿No valéis vosotros mucho más que ellas?

Behold the fowls of the air: for they sow not, neither do they reap, nor gather into barns; yet your heavenly Father feedeth them. Are ye not much better than they?

¿Quién es aquel que os podrá hacer daño, si vosotros seguís el bien?

And who is he that will harm you, if ye be followers of that which is good?

Asimismo, a todo hombre a quien Dios da bienes y riquezas, le da también facultad para que coma de ellas, tome su parte y goce de su trabajo. Esto es don de Dios.

Every man also to whom God hath given riches and wealth, and hath given him power to eat thereof, and to take his portion, and to rejoice in his labour; this is the gift of God.

He aquí, pues, el bien que he visto: que lo bueno es comer y beber, y gozar de los frutos de todo el trabajo con que uno se fatiga debajo del sol todos los días de la vida que Dios le ha dado, porque ésa es su recompensa.

Behold that which I have seen: it is good and comely for one to eat and to drink, and to enjoy the good of all his labour that he taketh under the sun all the days of his life, which God giveth him: for it is his portion.

Pero de ninguna cosa hago caso ni estimo preciosa mi vida para mí mismo, con tal que acabe mi carrera con gozo, y el ministerio que recibí del Señor Jesús, para dar testimonio del evangelio de la gracia de Dios.

But none of these things move me, neither count I my life dear unto myself, so that I might finish my course with joy, and the ministry, which I have received of the Lord Jesus, to testify the gospel of the grace of God.

He visto asimismo que toda obra bien hecha despierta la envidia del hombre contra su prójimo. También esto es vanidad y aflicción de espíritu.

Again, I considered all travail, and every right work, that for this a man is envied of his neighbour. This is also vanity and vexation of spirit.

Toda la Escritura es inspirada por Dios y útil para enseñar, para redargüir, para corregir, para instruir en justicia, a fin de que el hombre de Dios sea perfecto, enteramente preparado para toda buena obra.

All scripture is given by inspiration of God, and is profitable for doctrine, for reproof, for correction, for instruction in righteousness: That the man of God may be perfect, thoroughly furnished unto all good works.

Por tanto, queda un reposo para el pueblo de Dios, porque el que ha entrado en su reposo, también ha reposado de sus obras, como Dios de las suyas.

There remaineth therefore a rest to the people of God. For he that is entered into his rest, he also hath ceased from his own works, as God did from his.

De cierto, de cierto os digo: El que en mí cree, las obras que yo hago, él también las hará; y aun mayores hará, porque yo voy al Padre.

Verily, verily, I say unto you, He that believeth on me, the works that I do shall he do also; and greater works than these shall he do; because I go unto my Father.

Porque Dios no es injusto para olvidar vuestra obra y el trabajo de amor que habéis mostrado hacia su nombre, habiendo servido a los santos y sirviéndolos aún.

For God is not unrighteous to forget your work and labour of love, which ye have shewed toward his name, in that ye have ministered to the saints, and do minister.

Exhorta a los esclavos a que se sujeten a sus amos, que agraden en todo, que no sean respondones. Que no roben, sino que se muestren fieles en todo, para que en todo adornen la doctrina de Dios, nuestro Salvador.

Exhort servants to be obedient unto their own masters, and to please them well in all things; not answering again; Not purloining, but shewing all good fidelity; that they may adorn the doctrine of God our Saviour in all things.
Estad siempre gozosos. Orad sin cesar. Dad gracias en todo, porque ésta es la voluntad de Dios para con vosotros en Cristo Jesús.
Plan de lectura de la Biblia
Registrar y configurar su plan de lectura de la Biblia que desea ver su progreso y el siguiente capítulo para leer aquí!