Versículos de la Biblia sobre la Vida
«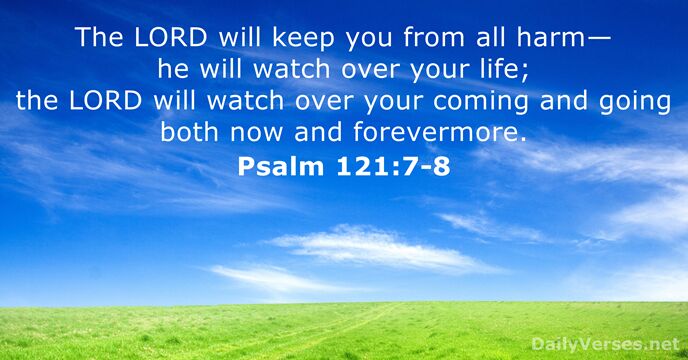 »
Jehová te guardará de todo mal, él guardará tu alma. Jehová guardará tu salida y tu entrada desde ahora y para siempre.

The L

ord

will keep you from all harm— he will watch over your life; the L

ord

will watch over your coming and going both now and forevermore.

Mirad, pues, con diligencia cómo andéis, no como necios sino como sabios, aprovechando bien el tiempo, porque los días son malos.

Be very careful, then, how you live—not as unwise but as wise, making the most of every opportunity, because the days are evil.

Como el rostro en el agua es reflejo del rostro, así el hombre se refleja en el corazón del hombre.

As water reflects the face, so one's life reflects the heart.

Porque por fe andamos, no por vista.

For we live by faith, not by sight.

Y todo lo que hagáis, hacedlo de corazón, como para el Señor y no para los hombres, sabiendo que del Señor recibiréis la recompensa de la herencia, porque a Cristo el Señor servís.

Whatever you do, work at it with all your heart, as working for the Lord, not for human masters, since you know that you will receive an inheritance from the Lord as a reward. It is the Lord Christ you are serving.

El que sigue la justicia y la misericordia hallará la vida, la justicia y el honor.

Whoever pursues righteousness and love finds life, prosperity and honor.

Porque ¿de qué le aprovechará al hombre ganar todo el mundo, si pierde su alma?

What good is it for someone to gain the whole world, yet forfeit their soul?

Mi carne y mi corazón desfallecen; mas la roca de mi corazón y mi porción es Dios para siempre.

My flesh and my heart may fail, but God is the strength of my heart and my portion forever.

Porque: «El que quiere amar la vida y ver días buenos, refrene su lengua de mal y sus labios no hablen engaño; apártese del mal y haga el bien; busque la paz y sígala.»

For, "Whoever would love life and see good days must keep their tongue from evil and their lips from deceitful speech. They must turn from evil and do good; they must seek peace and pursue it."

Tú eres mi roca y mi castillo; por tu nombre me guiarás y me encaminarás.

Since you are my rock and my fortress, for the sake of your name lead and guide me.

Sobre toda cosa que guardes, guarda tu corazón, porque de él mana la vida.

Above all else, guard your heart, for everything you do flows from it.

Todo tiene su tiempo, y todo lo que se quiere debajo del cielo tiene su hora.

There is a time for everything, and a season for every activity under the heavens.

Muéstrame, Jehová, tus caminos; enséñame tus sendas.

Show me your ways, L

ord

, teach me your paths.

No os conforméis a este mundo, sino transformaos por medio de la renovación de vuestro entendimiento, para que comprobéis cuál es la buena voluntad de Dios, agradable y perfecta.

Do not conform to the pattern of this world, but be transformed by the renewing of your mind. Then you will be able to test and approve what God's will is—his good, pleasing and perfect will.

Jesús les respondió: —Yo soy el pan de vida. El que a mí viene nunca tendrá hambre, y el que en mí cree no tendrá sed jamás.

Then Jesus declared, "I am the bread of life. Whoever comes to me will never go hungry, and whoever believes in me will never be thirsty."

Guarda silencio ante Jehová y espera en él. No te alteres con motivo del que prospera en su camino, por el hombre que hace lo malo.

Be still before the L

ord

and wait patiently for him; do not fret when people succeed in their ways, when they carry out their wicked schemes.

El que guarda su boca guarda su vida, pero el que mucho abre sus labios acaba en desastre.

Those who guard their lips preserve their lives, but those who speak rashly will come to ruin.

Ciertamente, el bien y la misericordia me seguirán todos los días de mi vida, y en la casa de Jehová moraré por largos días.

Surely your goodness and love will follow me all the days of my life, and I will dwell in the house of the L

ord

forever.

Porque yo te mando hoy que ames a Jehová, tu Dios, que andes en sus caminos y guardes sus mandamientos, sus estatutos y sus decretos, para que vivas y seas multiplicado, y Jehová, tu Dios, te bendiga en la tierra a la cual vas a entrar para tomarla en posesión.

For I command you today to love the L

ord

your God, to walk in obedience to him, and to keep his commands, decrees and laws; then you will live and increase, and the L

ord

your God will bless you in the land you are entering to possess.

El que cree en mí, como dice la Escritura, de su interior brotarán ríos de agua viva.

Whoever believes in me, as Scripture has said, rivers of living water will flow from within them.

Con Cristo estoy juntamente crucificado, y ya no vivo yo, mas vive Cristo en mí; y lo que ahora vivo en la carne, lo vivo en la fe del Hijo de Dios, el cual me amó y se entregó a sí mismo por mí.

I have been crucified with Christ and I no longer live, but Christ lives in me. The life I now live in the body, I live by faith in the Son of God, who loved me and gave himself for me.

El que posee entendimiento ama su alma; el que cuida la inteligencia hallará el bien.

The one who gets wisdom loves life; the one who cherishes understanding will soon prosper.

Seguid la paz con todos y la santidad, sin la cual nadie verá al Señor.

Make every effort to live in peace with everyone and to be holy; without holiness no one will see the Lord.

Guardar la instrucción es camino que lleva a la vida; el que rechaza la reprensión, yerra.

Whoever heeds discipline shows the way to life, but whoever ignores correction leads others astray.

¿Quién es sabio y entendido entre vosotros? Muestre por la buena conducta sus obras en sabia mansedumbre.

Who is wise and understanding among you? Let them show it by their good life, by deeds done in the humility that comes from wisdom.
Ésta es la confianza que tenemos en él, que si pedimos alguna cosa conforme a su voluntad, él nos oye.
Plan de lectura de la Biblia
Registrar y configurar su plan de lectura de la Biblia que desea ver su progreso y el siguiente capítulo para leer aquí!