Bible Verses about Food
«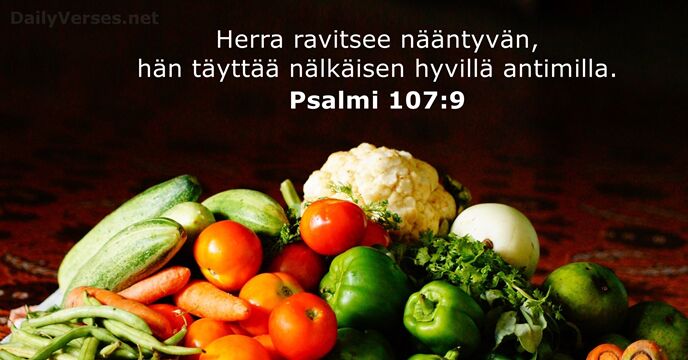 »
For He satisfies the longing soul, And fills the hungry soul with goodness.

Herra ravitsee nääntyvän, hän täyttää nälkäisen hyvillä antimilla.

And Jesus said to them, "I am the bread of life. He who comes to Me shall never hunger, and he who believes in Me shall never thirst."

Jeesus sanoi: »Minä olen elämän leipä. Joka tulee minun luokseni, ei koskaan ole nälissään, ja joka uskoo minuun, ei enää koskaan ole janoissaan.»

Therefore, whether you eat or drink, or whatever you do, do all to the glory of God.

Syöttepä siis tai juotte tai teettepä mitä tahansa, tehkää kaikki Jumalan kunniaksi.

Let not him who eats despise him who does not eat, and let not him who does not eat judge him who eats; for God has received him.

Joka syö kaikkea, älköön halveksiko sitä joka ei syö, ja joka taas ei syö kaikkea, älköön tuomitko sitä joka syö. Onhan Jumala ottanut omakseen hänetkin.

These you may eat of all that are in the waters: you may eat all that have fins and scales. And whatever does not have fins and scales you shall not eat; it is unclean for you.

Saatte syödä kaikkia vesieläimiä, joilla on evät ja suomut, mutta ette sellaisia, joilla ei ole eviä eikä suomuja; ne ovat saastaisia.

And God said, "See, I have given you every herb that yields seed which is on the face of all the earth, and every tree whose fruit yields seed; to you it shall be for food."

Jumala sanoi vielä: »Minä annan teille kaikki siementä tekevät kasvit, joita maan päällä on, ja kaikki puut, joissa on siementä kantavat hedelmät. Olkoot ne teidän ravintonanne.»

The generous soul will be made rich, And he who waters will also be watered himself.

Joka toisia ruokkii, syö itse kyllin, joka tarjoaa vettä, saa itse juoda.

But He answered and said, "It is written, 'Man shall not live by bread alone, but by every word that proceeds from the mouth of God.' "

Mutta Jeesus vastasi: »On kirjoitettu: 'Ei ihminen elä ainoastaan leivästä, vaan jokaisesta sanasta, joka lähtee Jumalan suusta.'»

Every moving thing that lives shall be food for you. I have given you all things, even as the green herbs. But you shall not eat flesh with its life, that is, its blood.

Teidän ravintonanne olkoot kaikki olennot, jotka elävät ja liikkuvat. Ne kaikki minä annan nyt teille, niin kuin annoin teille vihreät kasvit. Mutta lihaa, jossa vielä on jäljellä sen elämänvoima, veri, te ette saa syödä.

For we brought nothing into this world, and it is certain we can carry nothing out. And having food and clothing, with these we shall be content.

Emme me ole tuoneet mitään mukanamme maailmaan emmekä voi viedä mitään täältä pois. Kun meillä on ruoka ja vaatteet, saamme olla tyytyväisiä.

Therefore I say to you, do not worry about your life, what you will eat or what you will drink; nor about your body, what you will put on. Is not life more than food and the body more than clothing?

Sen tähden minä sanon teille: älkää huolehtiko hengestänne, siitä mitä söisitte tai joisitte, älkää ruumiistanne, siitä millä sen vaatettaisitte. Eikö henki ole enemmän kuin ruoka ja ruumis enemmän kuin vaatteet?

Then He took the five loaves and the two fish, and looking up to heaven, He blessed and broke them, and gave them to the disciples to set before the multitude. So they all ate and were filled, and twelve baskets of the leftover fragments were taken up by them.

Sitten Jeesus otti ne viisi leipää ja kaksi kalaa, katsoi ylös taivaaseen ja lausui niistä kiitoksen. Hän mursi leivät ja antoi palat opetuslapsilleen kansalle tarjottaviksi. Kaikki söivät kyllikseen, ja tähteeksi jääneitä paloja kerättiin kaksitoista korillista.

So let no one judge you in food or in drink, or regarding a festival or a new moon or sabbaths, which are a shadow of things to come, but the substance is of Christ.

Kukaan ei siis saa tuomita teitä siitä, mitä syötte tai juotte tai miten noudatatte juhla-aikoja ja uudenkuun ja sapatin päiviä. Ne ovat vain sen varjoa, mikä on tulossa; todellista on Kristuksen ruumis.

Behold, I stand at the door and knock. If anyone hears My voice and opens the door, I will come in to him and dine with him, and he with Me.

Minä seison ovella ja kolkutan. Jos joku kuulee minun ääneni ja avaa oven, minä tulen hänen luokseen, ja me aterioimme yhdessä, minä ja hän.

Then he said to them, "Go your way, eat the fat, drink the sweet, and send portions to those for whom nothing is prepared; for this day is holy to our Lord. Do not sorrow, for the joy of the L

ord

is your strength."

Ja Esra jatkoi: »Menkää koteihinne, nauttikaa hyviä ruokia ja juomia ja lähettäkää maistiaisia niille, joilla ei itsellään ole mitään. Tämä päivä on pyhitetty meidän Herrallemme! Älkää siis olko murheellisia, vaan iloitkaa, sillä Herra on teidän voimanne.»

Do not labor for the food which perishes, but for the food which endures to everlasting life, which the Son of Man will give you, because God the Father has set His seal on Him.

Älkää tavoitelko katoavaa ruokaa, vaan katoamatonta, sitä, joka antaa ikuisen elämän. Sitä teille antaa Ihmisen Poika, sillä Isä, Jumala itse, on merkinnyt hänet sinetillään.

Pleasant words are like a honeycomb, Sweetness to the soul and health to the bones.

Ystävän sanat ovat nuorta hunajaa: makeat mielelle, virvoittavat ruumiille.

So continuing daily with one accord in the temple, and breaking bread from house to house, they ate their food with gladness and simplicity of heart, praising God and having favor with all the people. And the Lord added to the church daily those who were being saved.

Joka päivä he uskollisesti kokoontuivat temppeliin, ja kodeissaan he yhdessä mursivat leipää ja aterioivat riemullisin ja vilpittömin mielin. He ylistivät Jumalaa ja olivat koko kansan suosiossa, ja päivä päivältä Herra liitti heidän joukkoonsa niitä jotka pelastuivat.

Go, eat your bread with joy, And drink your wine with a merry heart; For God has already accepted your works.

Syö siis leipäsi iloiten ja juo viinisi hyvillä mielin, sillä jo kauan sitten Jumala on hyväksynyt nuo tekosi.

Now may He who supplies seed to the sower, and bread for food, supply and multiply the seed you have sown and increase the fruits of your righteousness.

Hän, joka antaa kylväjälle siemenen ja suo ravinnoksi leivän, antaa teillekin siemenen ja moninkertaistaa sen, ja hän sallii teidän hyvyytenne sadon karttua.

I ate no pleasant food, no meat or wine came into my mouth, nor did I anoint myself at all, till three whole weeks were fulfilled.

Kolmeen viikkoon en syönyt tuoretta leipää, en pannut suuhuni lihaa enkä viiniä enkä voidellut itseäni öljyllä.

Blessed are those who hunger and thirst for righteousness, For they shall be filled.

Autuaita ne, joilla on vanhurskauden nälkä ja jano: heidät ravitaan.

As newborn babes, desire the pure milk of the word, that you may grow thereby.

Niin kuin vastasyntyneet lapset tavoitelkaa puhdasta sanan maitoa, jotta sen ravitsemina kasvaisitte pelastukseen.

So He humbled you, allowed you to hunger, and fed you with manna which you did not know nor did your fathers know, that He might make you know that man shall not live by bread alone; but man lives by every word that proceeds from the mouth of the L

ord

.

Tehdäkseen teidät nöyriksi hän piti teitä nälässä ja ruokki teitä sitten mannalla, jota ette olleet ennen maistaneet, eivät myöskään teidän isänne. Hän halusi osoittaa teille, ettei ihminen elä ainoastaan leivästä, vaan kaikesta mitä Herra sanoo.

But seek first the kingdom of God and His righteousness, and all these things shall be added to you.

Etsikää ennen kaikkea Jumalan valtakuntaa ja hänen vanhurskasta tahtoaan, niin teille annetaan kaikki tämäkin.
If any of you lacks wisdom, let him ask of God, who gives to all liberally and without reproach, and it will be given to him.
Personal Bible reading plan
Create an account to configure your Bible reading plan and you will see your progress and the next chapter to read here!
Read more...