«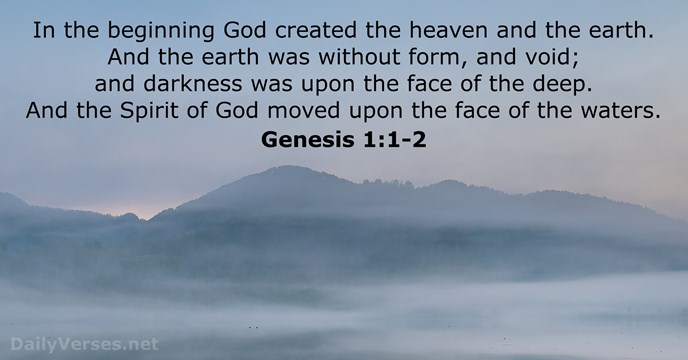 »
In the beginning God created the heaven and the earth. And the earth was without form, and void; and darkness was upon the face of the deep. And the Spirit of God moved upon the face of the waters.

Im Anfang schuf Gott Himmel und Erde. Die Erde war formlos und leer. Finsternis lag über der Tiefe, und der Geist Gottes schwebte über dem Wasser.

And God blessed the seventh day, and sanctified it: because that in it he had rested from all his work which God created and made.

Am siebten Tag hatte Gott sein ganzes Werk vollendet und ruhte von all seiner Arbeit. Gott segnete diesen Tag und machte ihn zu etwas Besonderem, denn an diesem Tag ruhte Gott, nachdem er sein Schöpfungswerk vollendet hatte.

And the L

ord

God said, It is not good that the man should be alone; I will make him an help meet for him.

Dann sagte Jahwe-Gott: "Es ist nicht gut, dass der Mensch so allein ist. Ich will ihm eine Hilfe machen, die ihm genau entspricht."

And the rib, which the L

ord

God had taken from man, made he a woman, and brought her unto the man. And Adam said, This is now bone of my bones, and flesh of my flesh: she shall be called Woman, because she was taken out of Man. Therefore shall a man leave his father and his mother, and shall cleave unto his wife: and they shall be one flesh.

Aus dem herausgenommenen Seitenstück baute Jahwe-Gott eine Frau und brachte sie zum Menschen. Da rief der Mensch: "Diesmal ist sie es! Sie ist genau wie ich, und sie gehört zu mir, sie ist ein Stück von mir! Sie soll Isch-scha heißen, Frau, denn sie kam vom Isch, dem Mann." Aus diesem Grund verlässt ein Mann seinen Vater und seine Mutter, verbindet sich mit seiner Frau und wird völlig eins mit ihr.

And God said, Behold, I have given you every herb bearing seed, which is upon the face of all the earth, and every tree, in the which is the fruit of a tree yielding seed; to you it shall be for meat.

Gott sagte: "Zur Nahrung gebe ich euch alle samentragenden Pflanzen und alle samenhaltigen Früchte von Bäumen - überall auf der Erde."

So God created man in his own image, in the image of God created he him; male and female created he them.

Da schuf Gott den Menschen nach seinem Bild, er schuf ihn als sein Ebenbild, als Mann und Frau schuf er sie.

I do set my bow in the cloud, and it shall be for a token of a covenant between me and the earth.

Dieser Bund zwischen mir und euch gilt jeder kommenden Generation und jedem Lebewesen bei euch. Und als Zeichen dafür setze ich meinen Bogen in die Wolken.

Every moving thing that liveth shall be meat for you; even as the green herb have I given you all things. But flesh with the life thereof, which is the blood thereof, shall ye not eat.

Und alles, was da lebt und sich regt, soll euch wie die Pflanzen zur Nahrung dienen. Nur das Fleisch, das sein Lebensblut noch in sich hat, dürft ihr nicht essen.

And God said, Let us make man in our image, after our likeness: and let them have dominion over the fish of the sea, and over the fowl of the air, and over the cattle, and over all the earth, and over every creeping thing that creepeth upon the earth.

Dann sprach Gott: "Lasst uns Menschen machen als Abbild von uns, uns ähnlich. Sie sollen über die Fische im Meer herrschen, über die Vögel am Himmel und über die Landtiere, über die ganze Erde und alles, was auf ihr kriecht!"

But as for you, ye thought evil against me; but God meant it unto good, to bring to pass, as it is this day, to save much people alive.

Ihr hattet zwar Böses mit mir vor, aber Gott hat es zum Guten gewendet, um zu erreichen, was heute geschieht: ein großes Volk am Leben zu erhalten.
He that keepeth his mouth keepeth his life: but he that openeth wide his lips shall have destruction.
Personal Bible reading plan
Create an account to configure your Bible reading plan and you will see your progress and the next chapter to read here!
Read more...