21 Bible Verses about Healing
«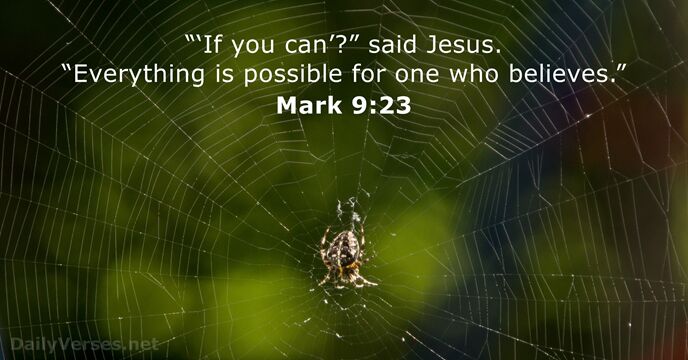 »
"'If you can'?" said Jesus. "Everything is possible for one who believes."

Jezus zei: 'Je vraagt of ik iets kan doen? Als je gelooft, kan alles!'

Hearing this, Jesus said to Jairus, "Don't be afraid; just believe, and she will be healed."

Jezus hoorde dat en zei tegen Jaïrus: 'Wees niet bang! Blijf geloven, dan zal je dochter gered worden.'

He heals the brokenhearted and binds up their wounds.

Hij geeft mensen weer hoop, hij neemt hun pijn weg.

Is anyone among you sick? Let them call the elders of the church to pray over them and anoint them with oil in the name of the Lord. And the prayer offered in faith will make the sick person well; the Lord will raise them up. If they have sinned, they will be forgiven.

Als je ziek bent, roep dan de leiders van de kerk bij je. Zij moeten voor je bidden, en wat olie over je heen gieten. Daarbij moeten ze de naam van onze Heer Jezus Christus uitspreken. Dankzij hun geloof en hun gebed zul je gered worden. De Heer zal je beter maken. En als je verkeerde dingen gedaan hebt, zal God je vergeven.

"Go," said Jesus, "your faith has healed you." Immediately he received his sight and followed Jesus along the road.

Jezus zei: 'Dat is goed. Je bent beter geworden dankzij je geloof.' Op datzelfde moment kon de man weer zien. Hij ging met Jezus mee, op weg naar Jeruzalem.

Heal the sick, raise the dead, cleanse those who have leprosy, drive out demons. Freely you have received; freely give.

Maak zieke mensen beter en maak dode mensen weer levend. Maak mensen met een huidziekte beter en jaag kwade geesten weg. Jullie krijgen die macht van God. Help daarmee andere mensen en vraag er niets voor terug.

A cheerful heart is good medicine, but a crushed spirit dries up the bones.

Vrolijke gedachten houden je gezond, maar sombere gedachten maken je ziek.

Therefore confess your sins to each other and pray for each other so that you may be healed. The prayer of a righteous person is powerful and effective.

In de heilige boeken staat: «God heeft ons het leven gegeven. Daarom moeten we hem trouw blijven, anders wordt hij jaloers.» En dat staat er echt niet voor niets!

If my people, who are called by my name, will humble themselves and pray and seek my face and turn from their wicked ways, then I will hear from heaven, and I will forgive their sin and will heal their land.

Als de mensen van mijn volk dan laten zien dat ze spijt hebben, dan zal ik vanuit de hemel naar hen luisteren. Ik zal naar hen luisteren als ze tot mij bidden en mij zoeken. Als ze weer gaan leven zoals ik het wil. Dan zal ik hun zonden vergeven en hun land weer vruchtbaar maken.

But he was pierced for our transgressions, he was crushed for our iniquities; the punishment that brought us peace was on him, and by his wounds we are healed.

Maar God heeft hem gestraft voor ons. Gods dienaar is mishandeld voor onze fouten, hij is gedood voor onze zonden. Want wij luisterden niet meer naar God, we leken wel verdwaalde schapen. En Gods dienaar moest onze schuld dragen. Omdat hij gestraft werd, hebben wij nu vrede. Omdat hij geslagen is, zijn wij genezen.

But for you who revere my name, the sun of righteousness will rise with healing in its rays. And you will go out and frolic like well-fed calves.

Maar jullie hebben eerbied voor mij. Voor jullie zal op die dag de zon opgaan. En die zon zal geluk en vrede brengen. Jullie zullen net zo vrolijk zijn als kalveren die losgelaten worden uit de stal.

"He himself bore our sins" in his body on the cross, so that we might die to sins and live for righteousness; "by his wounds you have been healed."

Dankzij Jezus Christus zijn onze zonden vergeven. Hij heeft onze zonden gedragen toen hij stierf aan het kruis. Nu kunnen wij leven zoals God het wil. Want door het lijden van Christus zijn wij bevrijd.

Go back and tell Hezekiah, the ruler of my people, 'This is what the L

ord

, the God of your father David, says: I have heard your prayer and seen your tears; I will heal you. On the third day from now you will go up to the temple of the L

ord

.'

Jesaja wilde weggaan. Maar al voordat hij het paleis uit was, stuurde de Heer hem terug naar Hizkia, met deze boodschap: 'Hizkia, jij bent de koning van mijn volk. Ik ben de Heer, de God van je voorvader David. Ik heb je gebed gehoord en ik heb je tranen gezien. Ik zal zorgen dat je beter wordt. Over twee dagen zul je weer naar mijn tempel kunnen gaan.'

Heal the sick who are there and tell them, 'The kingdom of God has come near to you.'

Maak daar de zieke mensen beter en zeg tegen hen: 'Gods nieuwe wereld is dichtbij.'

On hearing this, Jesus said, "It is not the healthy who need a doctor, but the sick."

Toen Jezus dat hoorde, zei hij: 'Een dokter is er niet voor gezonde mensen, maar voor zieke mensen.'

"If you listen carefully to the L

ord

your God and do what is right in his eyes, if you pay attention to his commands and keep all his decrees, I will not bring on you any of the diseases I brought on the Egyptians, for I am the L

ord

, who heals you."

'Jullie moeten goed naar mij luisteren, want ik ben de Heer, jullie God. Jullie moeten doen wat ik wil. Jullie moeten je houden aan mijn wetten en regels. Dan zullen jullie niet de ziektes krijgen die ik naar de Egyptenaren gestuurd heb. Ik ben de Heer. Ik zorg ervoor dat jullie gezond blijven.'

On a Sabbath Jesus was teaching in one of the synagogues, and a woman was there who had been crippled by a spirit for eighteen years. She was bent over and could not straighten up at all. When Jesus saw her, he called her forward and said to her, "Woman, you are set free from your infirmity." Then he put his hands on her, and immediately she straightened up and praised God. Indignant because Jesus had healed on the Sabbath, the synagogue leader said to the people, "There are six days for work. So come and be healed on those days, not on the Sabbath." The Lord answered him, "You hypocrites! Doesn't each of you on the Sabbath untie your ox or donkey from the stall and lead it out to give it water? Then should not this woman, a daughter of Abraham, whom Satan has kept bound for eighteen long years, be set free on the Sabbath day from what bound her?" When he said this, all his opponents were humiliated, but the people were delighted with all the wonderful things he was doing.

Op een sabbat gaf Jezus in de synagoge uitleg over God. Daar was ook een vrouw die een kwade geest in zich had. Die geest maakte haar al achttien jaar ziek. De vrouw was helemaal krom, ze kon niet meer rechtop staan. Toen Jezus haar zag, riep hij haar bij zich en zei: 'Je bent bevrijd van je ziekte.' Toen legde hij zijn handen op de vrouw, en meteen kon ze weer rechtop staan. En de vrouw dankte God. Maar de leider van de synagoge was kwaad, omdat Jezus de vrouw beter gemaakt had op sabbat. De leider zei tegen de mensen: 'Er zijn zes dagen waarop we moeten werken. Op die dagen mag je komen om te worden genezen. Maar niet op sabbat.' Maar de Heer antwoordde: 'Wat zijn jullie schijnheilig! Als je koe of je ezel wil drinken, dan geven jullie hem te drinken. Ook al is het sabbat. Maar jullie willen niet dat deze vrouw op sabbat geholpen wordt. Terwijl ze bij het volk van Abraham hoort, en al achttien jaar in de macht van Satan was.' Toen Jezus dat zei, schaamden zijn tegenstanders zich. En alle andere mensen waren blij met de geweldige dingen die hij deed.

The Spirit of the Lord is on me, because he has anointed me to proclaim good news to the poor. He has sent me to proclaim freedom for the prisoners and recovery of sight for the blind, to set the oppressed free.

God heeft mij uitgekozen. Daarom is zijn Geest bij mij. God heeft mij gestuurd om aan arme mensen het goede nieuws te vertellen. En om tegen gevangenen te zeggen dat ze weer vrij zijn. Om blinden te vertellen dat ze weer zullen zien. En om mensen die het moeilijk hebben, te helpen.

Heal me, L

ord

, and I will be healed; save me and I will be saved, for you are the one I praise.

Heer, maak mij beter, zodat ik weer gezond ben. Red mij, zodat ik veilig ben. Dan kan ik u danken.

The L

ord

gives sight to the blind, the L

ord

lifts up those who are bowed down, the L

ord

loves the righteous.

De Heer laat blinden weer zien. Mensen die gevallen zijn, helpt hij overeind. De Heer heeft goede mensen lief.

He sent out his word and healed them; he rescued them from the grave.

Toen de Heer sprak, werden ze beter. Hij redde hen van de dood.
Why, my soul, are you downcast?
Why so disturbed within me?
Put your hope in God,
for I will yet praise him,
my Savior and my God.
Above all, love each other deeply, because love covers over a multitude of sins.
Read more
Why, my soul, are you downcast? Why so disturbed within me? Put your hope in God, for I will yet praise him, my Savior and my God.
Personal Bible reading plan
Create an account to configure your Bible reading plan and you will see your progress and the next chapter to read here!
Read more...