Bible Verses about Judgment
«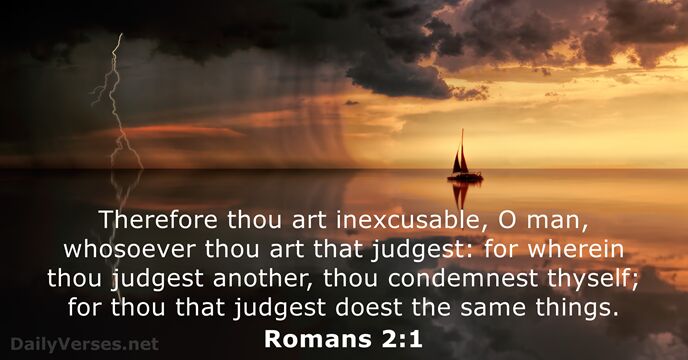 »
Therefore thou art inexcusable, O man, whosoever thou art that judgest: for wherein thou judgest another, thou condemnest thyself; for thou that judgest doest the same things.

Deshalb bist du nicht zu entschuldigen, lieber Mensch, wer immer du auch bist und dich zum Richter machst. Du verurteilst zwar den anderen, doch damit richtest du dich selbst, weil du selber tust, was du verdammst.

Judge not, that ye be not judged.

Richtet nicht, damit ihr nicht gerichtet werdet!

Every way of a man is right in his own eyes: but the L

ord

pondereth the hearts.

Der Mensch hält alles, was er tut, für gut, doch Jahwe prüft, was er im Herzen hat.

Let us not therefore judge one another any more: but judge this rather, that no man put a stumblingblock or an occasion to fall in his brother's way.

Hören wir doch auf, uns gegenseitig zu verurteilen! Achten wir vielmehr darauf, dass wir unserem Bruder kein Hindernis in den Weg legen und ihn zu Fall bringen!

But I say unto you, That every idle word that men shall speak, they shall give account thereof in the day of judgment.

Ich sage euch: Am Tag des Gerichts werden die Menschen Rechenschaft über jedes nutzlose Wort ablegen müssen, das sie gesagt haben.

And why beholdest thou the mote that is in thy brother's eye, but considerest not the beam that is in thine own eye?

Weshalb siehst du den Splitter im Auge deines Bruders, bemerkst aber den Balken in deinem eigenen Auge nicht?

Judge not, and ye shall not be judged: condemn not, and ye shall not be condemned: forgive, and ye shall be forgiven.

Richtet nicht, dann werdet auch ihr nicht gerichtet werden! Verurteilt niemand, dann werdet auch ihr nicht verurteilt! Vergebt, dann wird auch euch vergeben werden!

Who art thou that judgest another man's servant? to his own master he standeth or falleth. Yea, he shall be holden up: for God is able to make him stand.

Wie kommst du denn dazu, den Diener eines anderen zur Rechenschaft zu ziehen? Ob er mit seinem Tun bestehen kann oder nicht, geht nur seinen Herrn etwas an. Und er wird bestehen, denn sein Herr ist in der Lage, dafür zu sorgen.
No weapon that is formed against thee shall prosper; and every tongue that shall rise against thee in judgment thou shalt condemn. This is the heritage of the servants of the L

ord

, and their righteousness is of me, saith the L

ord

.

"Deshalb wird dir keine Waffe etwas tun, die gegen dich geschmiedet ist. Und jeder, der dich vor Gericht anklagt, wird von dir als Schuldiger entlarvt. Das ist das Vorrecht der Diener Jahwes, so sieht ihre Gerechtigkeit aus!", spricht Jahwe.

For as many as have sinned without law shall also perish without law: and as many as have sinned in the law shall be judged by the law.

Alle Menschen, die sündigen und keine Beziehung zum Gesetz Gottes haben, werden auch ohne Gesetz ins Verderben gehen. Und alle, die trotz des Gesetzes sündigen, werden durch dieses Gesetz verurteilt werden.

Marriage is honourable in all, and the bed undefiled: but whoremongers and adulterers God will judge.

Haltet die Ehe in Ehren und bleibt einander treu! Denn Menschen, die in sexueller Unmoral und fortwährendem Ehebruch leben, wird Gott richten.

For God sent not his Son into the world to condemn the world; but that the world through him might be saved.

Gott hat seinen Sohn ja nicht in die Welt geschickt, um sie zu verurteilen, sondern um sie durch ihn zu retten.

Let no man therefore judge you in meat, or in drink, or in respect of an holyday, or of the new moon, or of the sabbath days: Which are a shadow of things to come; but the body is of Christ.

Lasst euch deshalb von niemand verurteilen, nur weil ihr bestimmte Dinge esst oder trinkt oder weil ihr bestimmte Feste oder Feiertage oder Sabbate nicht beachtet. Das sind ja nur Schatten auf Kommendes hin, was aber in Christus schon leibhaftige Wirklichkeit ist.

There is one lawgiver, who is able to save and to destroy: who art thou that judgest another?

Es gibt aber nur einen Gesetzgeber und Richter. Nur er kann freisprechen oder verurteilen. Wer bist du eigentlich, der sich da zum Richter über seinen Nächsten aufspielt?

Let not him that eateth despise him that eateth not; and let not him which eateth not judge him that eateth: for God hath received him.

Wer alles isst, soll den nicht verachten, der nicht alles isst! Und wer nicht alles isst, soll den nicht verurteilen, der alles isst, denn Gott hat ihn ja angenommen.

There is therefore now no condemnation to them which are in Christ Jesus, who walk not after the flesh, but after the Spirit. For the law of the Spirit of life in Christ Jesus hath made me free from the law of sin and death.

Es gibt jetzt also kein Verdammungsurteil mehr für die, die ganz mit Jesus Christus verbunden sind. Denn das Gesetz des Geistes, das dich mit Jesus Christus zum Leben führt, hat dich von dem Gesetz befreit, das nur Sünde und Tod bringt.

And I saw the dead, small and great, stand before God; and the books were opened: and another book was opened, which is the book of life: and the dead were judged out of those things which were written in the books, according to their works. And the sea gave up the dead which were in it; and death and hell delivered up the dead which were in them: and they were judged every man according to their works.

Vor dem Thron aber sah ich die Toten stehen, vom Größten bis zum Kleinsten. Es wurden Bücher aufgeschlagen, in denen alle Taten aufgeschrieben sind, und dann noch ein anderes Buch: das Buch des Lebens. Anschließend wurde Gericht über die Toten gehalten. Jeder bekam das Urteil, das seinen Taten entsprach. Auch das Meer gab seine Toten heraus, ebenso der Tod und sein Reich. Jeder von diesen Toten bekam das Urteil, das seinen Taten entsprach.

But I keep under my body, and bring it into subjection: lest that by any means, when I have preached to others, I myself should be a castaway.

Sondern ich treffe mit meinen Schlägen den eigenen Körper und mache ihn mit Gewalt gefügig. Ich will nicht anderen predigen und selbst disqualifiziert werden.

With my soul have I desired thee in the night; yea, with my spirit within me will I seek thee early: for when thy judgments are in the earth, the inhabitants of the world will learn righteousness.

Bei Nacht sind meine Gedanken bei dir, voller Sehnsucht suche ich dich. Wenn du deine Gerichte auf der Erde vollstreckst, lernen die Menschen, was Gerechtigkeit ist.

He that believeth on him is not condemned: but he that believeth not is condemned already, because he hath not believed in the name of the only begotten Son of God.

Wer ihm vertraut, wird nicht verurteilt, wer aber nicht glaubt, ist schon verurteilt. Denn der, an dessen Namen er nicht geglaubt hat, ist der eine und einzigartige Sohn Gottes.

For the wages of sin is death; but the gift of God is eternal life through Jesus Christ our Lord.

Denn der Lohn, den die Sünde ihren Sklaven zahlt, ist der Tod; das Gnadengeschenk Gottes aber ist das ewige Leben in Jesus Christus, unserem Herrn.

But above all things, my brethren, swear not, neither by heaven, neither by the earth, neither by any other oath: but let your yea be yea; and your nay, nay; lest ye fall into condemnation.

Vor allem aber lasst das Schwören, liebe Geschwister. Schwört weder beim Himmel noch bei der Erde noch sonst einen Eid. Lasst vielmehr euer Ja ein Ja sein und euer Nein ein Nein! Ihr wollt doch nicht dem Gericht verfallen!

He that believeth and is baptized shall be saved; but he that believeth not shall be damned.

Wer glaubt und sich taufen lässt, wird gerettet werden. Wer aber ungläubig bleibt, wird von Gott verurteilt werden.

The Lord knoweth how to deliver the godly out of temptations, and to reserve the unjust unto the day of judgment to be punished.

Ihr seht also, dass der Herr weiß, wie er die Gottesfürchtigen aus der Versuchung retten, die Ungerechten aber bis zum Tag des Gerichts festhalten kann, wo sie bestraft werden.

I have fought a good fight, I have finished my course, I have kept the faith: Henceforth there is laid up for me a crown of righteousness, which the Lord, the righteous judge, shall give me at that day: and not to me only, but unto all them also that love his appearing.

Ich habe den guten Kampf gekämpft, das Ziel erreicht und den Glauben unversehrt bewahrt. Jetzt liegt der Ehrenkranz für mich bereit, die Gerechtigkeit, die der Herr als gerechter Richter mir an jenem großen Tag zuerkennen wird - aber nicht nur mir, sondern auch allen anderen, die sich auf sein sichtbares Wiederkommen freuen.
And this is the confidence that we have in him, that, if we ask any thing according to his will, he heareth us.
Personal Bible reading plan
Create an account to configure your Bible reading plan and you will see your progress and the next chapter to read here!
Read more...