Mark 7:20-23
And He said, "What comes out of a man, that defiles a man. For from within, out of the heart of men, proceed evil thoughts, adulteries, fornications, murders, thefts, covetousness, wickedness, deceit, lewdness, an evil eye, blasphemy, pride, foolishness. All these evil things come from within and defile a man."
Read this Bible chapter online, click
here
to read.
New Internation Version (NIV)
He went on: "What comes out of a person is what defiles them. For it is from within, out of a person's heart, that evil thoughts come—sexual immorality, theft, murder, adultery, greed, malice, deceit, lewdness, envy, slander, arrogance and folly. All these evils come from inside and defile a person."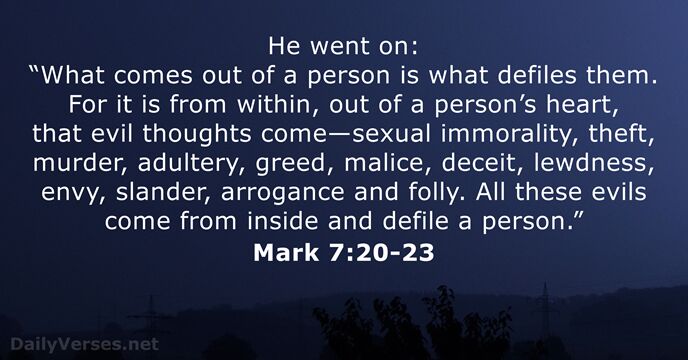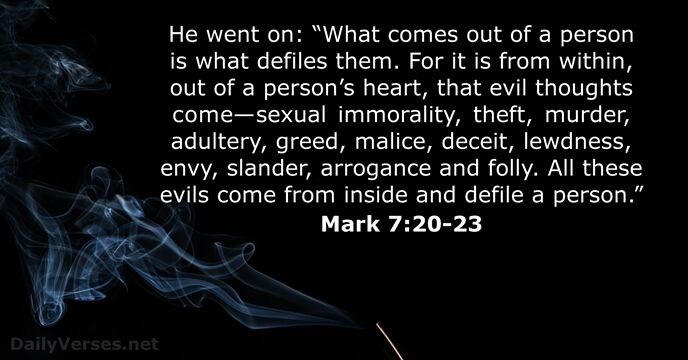 King James Version (KJV)
And he said, That which cometh out of the man, that defileth the man. For from within, out of the heart of men, proceed evil thoughts, adulteries, fornications, murders, Thefts, covetousness, wickedness, deceit, lasciviousness, an evil eye, blasphemy, pride, foolishness: All these evil things come from within, and defile the man.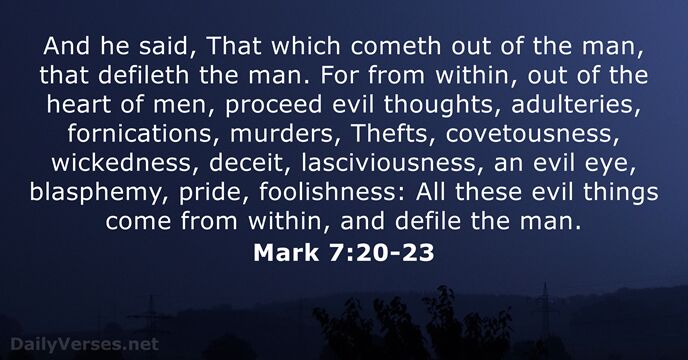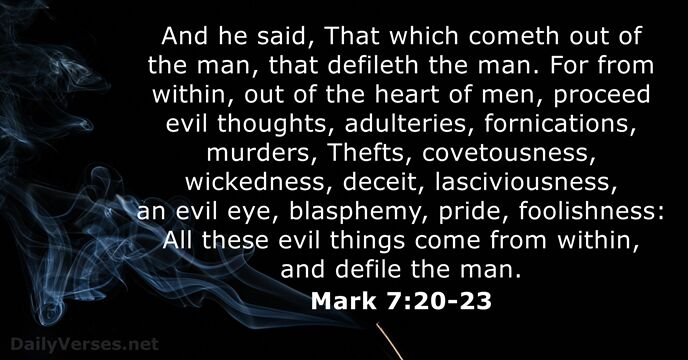 English Standard Version (ESV)
And he said, "What comes out of a person is what defiles him. For from within, out of the heart of man, come evil thoughts, sexual immorality, theft, murder, adultery, coveting, wickedness, deceit, sensuality, envy, slander, pride, foolishness. All these evil things come from within, and they defile a person."
Bible verse of the day
Read more