Matthew 18:21-22
Then Peter came to Him and said, "Lord, how often shall my brother sin against me, and I forgive him? Up to seven times?"
Jesus said to him, "I do not say to you, up to seven times, but up to seventy times seven."
Read this Bible chapter online, click
here
to read.
New Internation Version (NIV)
Then Peter came to Jesus and asked, "Lord, how many times shall I forgive my brother or sister who sins against me? Up to seven times?" Jesus answered, "I tell you, not seven times, but seventy-seven times."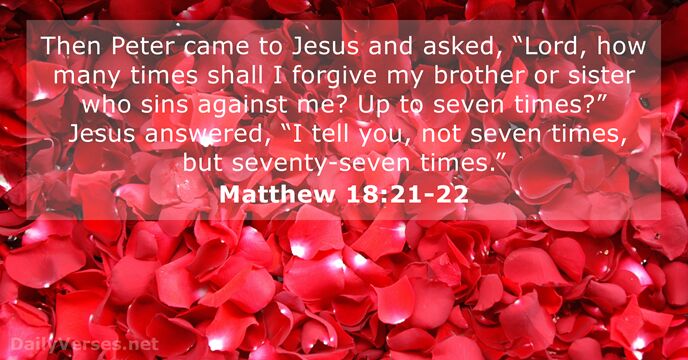 King James Version (KJV)
Then came Peter to him, and said, Lord, how oft shall my brother sin against me, and I forgive him? till seven times? Jesus saith unto him, I say not unto thee, Until seven times: but, Until seventy times seven.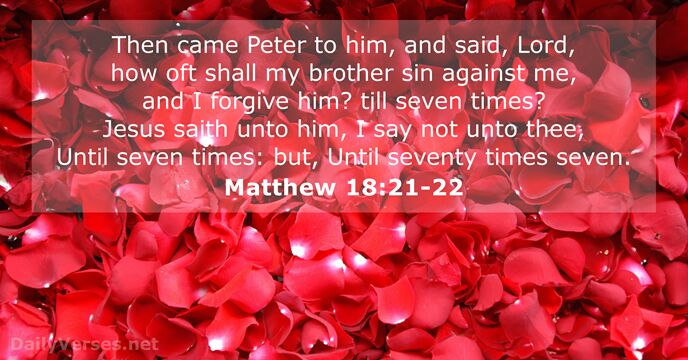 English Standard Version (ESV)
Then Peter came up and said to him, "Lord, how often will my brother sin against me, and I forgive him? As many as seven times?" Jesus said to him, "I do not say to you seven times, but seventy-seven times."
Bible verse of the day
Read more