Bible Verses about Prophecy
«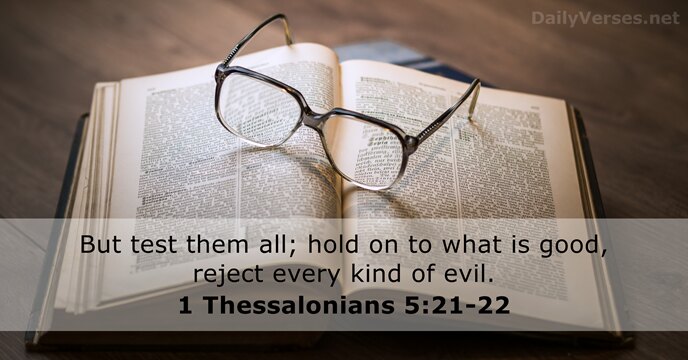 »
But test them all; hold on to what is good, reject every kind of evil.

Ga bij alle dingen na of het klopt en bewaar dat wat goed was. Doe niets wat ook maar een béétje verkeerd is.

If I have the gift of prophecy and can fathom all mysteries and all knowledge, and if I have a faith that can move mountains, but do not have love, I am nothing.

Stel dat ik kon profeteren, al Gods verborgen plannen kende, alles wist wat er te weten valt en zoveel geloof had dat ik bergen kon verplaatsen. Maar als ik dat zonder liefde deed, stelde ik niets voor.

For prophecy never had its origin in the human will, but prophets, though human, spoke from God as they were carried along by the Holy Spirit.

Profetieën zijn geen woorden die mensen zelf hebben bedacht. Maar doordat de Heilige Geest zijn woorden aan mensen gaf, hebben die mensen namens God gesproken.

Dear friends, do not believe every spirit, but test the spirits to see whether they are from God, because many false prophets have gone out into the world.

Lieve broeders en zusters, geloof niet zomaar iedereen. Ga bij iedereen na of zijn boodschap wel echt van God komt. Want er lopen heel veel bedriegers op de wereld rond.

Surely the Sovereign L

ord

does nothing without revealing his plan to his servants the prophets.

Maar als Ik iets ga doen, doe Ik dat nooit onverwachts. Altijd maak Ik mijn plannen eerst aan mijn profeten bekend.

Go back and tell Hezekiah, the ruler of my people, 'This is what the L

ord

, the God of your father David, says: I have heard your prayer and seen your tears; I will heal you. On the third day from now you will go up to the temple of the L

ord

.'

Ga terug en zeg tegen Hizkia, de koning van mijn volk: Dit zegt de Heer, de God van uw voorvader David: Ik heb uw gebed gehoord en uw tranen gezien. Ik zal u genezen. Over drie dagen zult u naar de tempel van de Heer gaan.

Watch out for false prophets. They come to you in sheep's clothing, but inwardly they are ferocious wolves.

Jezus zei tegen zijn leerlingen: "Pas op voor leugen-profeten. Zij beweren dat ze namens God spreken terwijl dat helemaal niet zo is. Je kan hen vergelijken met wolven die zich vermomd hebben als schapen. Ze zien er onschuldig uit, maar van binnen zijn ze verslindende wolven."

So in everything, do to others what you would have them do to you, for this sums up the Law and the Prophets.

Behandel de mensen zoals jullie door hen behandeld zouden willen worden. Want dat is wat de Boeken van de Wet en de Profeten bedoelen.

You, dear children, are from God and have overcome them, because the one who is in you is greater than the one who is in the world.

Jullie zijn uit God geboren, kinderen, en jullie hebben de vijanden van Christus overwonnen. Want Hij die in jullie is, is machtiger dan hij die in de wereld heerst.

Consequently, you are no longer foreigners and strangers, but fellow citizens with God's people and also members of his household, built on the foundation of the apostles and prophets, with Christ Jesus himself as the chief cornerstone.

Zo zijn jullie nu dus niet langer vreemdelingen en buitenstaanders. Jullie horen nu bij het volk van God en bij het gezin van God. Jullie staan nu stevig in het geloof, zoals een gebouw stevig staat op een goed fundament. Het fundament van jullie geloof is door de boodschappers van God en de profeten gelegd. En Jezus Christus is de belangrijkste bouwsteen van het gebouw.

On hearing this, they were baptized in the name of the Lord Jesus. When Paul placed his hands on them, the Holy Spirit came on them, and they spoke in tongues and prophesied.

Toen ze dat hoorden, lieten ze zich dopen in de naam van de Heer Jezus. En toen Paulus hun de handen oplegde, kwam de Heilige Geest over hen. Ze begonnen in nieuwe talen van de Geest te spreken en te profeteren.

Therefore the Lord himself will give you a sign: The virgin will conceive and give birth to a son, and will call him Immanuel.

U wil God niet om een teken vragen. Daarom zal de Heer u ongevraagd een teken geven: het meisje dat nog maagd is, zal in verwachting raken en een zoon krijgen. Ze zal hem Immanuël (= 'God met ons') noemen.

But now apart from the law the righteousness of God has been made known, to which the Law and the Prophets testify. This righteousness is given through faith in Jesus Christ to all who believe. There is no difference between Jew and Gentile.

Nu heeft God een manier gegeven om de mensen vrij te spreken van hun schuld. Maar buiten de wet om. In de wet van Mozes en in de boeken van de profeten wordt daar al over gesproken. Iedereen kan nu vrijgesproken worden, door te geloven in Jezus Christus. Het maakt voor God niet uit wie of wat je bent.

Rejoice greatly, Daughter Zion! Shout, Daughter Jerusalem! See, your king comes to you, righteous and victorious, lowly and riding on a donkey, on a colt, the foal of a donkey.

De Heer zegt: "Jubel en juich, bewoners van Jeruzalem! Kijk, jullie koning komt naar jullie toe. Hij is rechtvaardig en Hij zal jullie redden. Hij is bescheiden en rijdt op een jonge ezel."

All this took place to fulfill what the Lord had said through the prophet: "The virgin will conceive and give birth to a son, and they will call him Immanuel" (which means "God with us").

Dit is gebeurd zodat zou uitkomen wat de Heer God van tevoren door de profeet Jesaja heeft gezegd: "Het meisje dat nog maagd is zal in verwachting raken en een zoon krijgen. De mensen zullen Hem Immanuël noemen. Dat betekent: 'God is met ons.' "

Do not think that I have come to abolish the Law or the Prophets; I have not come to abolish them but to fulfill them.

Jezus zei tegen zijn leerlingen: "Denk niet dat Ik ben gekomen om de Boeken van de Wet en de Profeten af te schaffen. Ik ben niet gekomen om ze af te schaffen, maar om alles te doen wat er in staat."

But you, Bethlehem Ephrathah, though you are small among the clans of Judah, out of you will come for me one who will be ruler over Israel, whose origins are from of old, from ancient times.

De Heer zegt: En jij, Betlehem, bent wel één van de kleinste dorpen in Juda, maar in jou zal mijn Koning geboren worden. Hij zal over Israël heersen. Hij is er altijd al geweest, al van eeuwigheid af aan.
Love does no harm to a neighbor. Therefore love is the fulfillment of the law.
Personal Bible reading plan
Create an account to configure your Bible reading plan and you will see your progress and the next chapter to read here!
Read more...