17 Bible Verses about Prophecy
«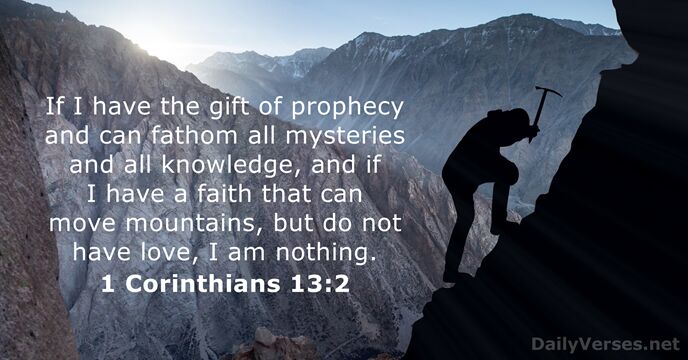 »
If I have the gift of prophecy and can fathom all mysteries and all knowledge, and if I have a faith that can move mountains, but do not have love, I am nothing.

Y si tuviese profecía, y entendiese todos los misterios y toda ciencia, y si tuviese toda la fe, de tal manera que trasladase los montes, y no tengo amor, nada soy.

But test them all; hold on to what is good, reject every kind of evil.

Examinadlo todo; retened lo bueno. Absteneos de toda especie de mal.

For prophecy never had its origin in the human will, but prophets, though human, spoke from God as they were carried along by the Holy Spirit.

Porque nunca la profecía fue traída por voluntad humana, sino que los santos hombres de Dios hablaron siendo inspirados por el Espíritu Santo.

Dear friends, do not believe every spirit, but test the spirits to see whether they are from God, because many false prophets have gone out into the world.

Amados, no creáis a todo espíritu, sino probad los espíritus si son de Dios; porque muchos falsos profetas han salido por el mundo.

Surely the Sovereign L

ord

does nothing without revealing his plan to his servants the prophets.

Porque no hará nada Jehová el Señor, sin que revele su secreto a sus siervos los profetas.

Go back and tell Hezekiah, the ruler of my people, 'This is what the L

ord

, the God of your father David, says: I have heard your prayer and seen your tears; I will heal you. On the third day from now you will go up to the temple of the L

ord

.'

Vuelve, y di a Ezequías, príncipe de mi pueblo: Así dice Jehová, el Dios de David tu padre: Yo he oído tu oración, y he visto tus lágrimas; he aquí que yo te sano; al tercer día subirás a la casa de Jehová.

Watch out for false prophets. They come to you in sheep's clothing, but inwardly they are ferocious wolves.

Guardaos de los falsos profetas, que vienen a vosotros con vestidos de ovejas, pero por dentro son lobos rapaces.

So in everything, do to others what you would have them do to you, for this sums up the Law and the Prophets.

Así que, todas las cosas que queráis que los hombres hagan con vosotros, así también haced vosotros con ellos; porque esto es la ley y los profetas.

You, dear children, are from God and have overcome them, because the one who is in you is greater than the one who is in the world.

Hijitos, vosotros sois de Dios, y los habéis vencido; porque mayor es el que está en vosotros, que el que está en el mundo.

Consequently, you are no longer foreigners and strangers, but fellow citizens with God's people and also members of his household, built on the foundation of the apostles and prophets, with Christ Jesus himself as the chief cornerstone.

Así que ya no sois extranjeros ni advenedizos, sino conciudadanos de los santos, y miembros de la familia de Dios, edificados sobre el fundamento de los apóstoles y profetas, siendo la principal piedra del ángulo Jesucristo mismo.

On hearing this, they were baptized in the name of the Lord Jesus. When Paul placed his hands on them, the Holy Spirit came on them, and they spoke in tongues and prophesied.

Cuando oyeron esto, fueron bautizados en el nombre del Señor Jesús. Y habiéndoles impuesto Pablo las manos, vino sobre ellos el Espíritu Santo; y hablaban en lenguas, y profetizaban.

Therefore the Lord himself will give you a sign: The virgin will conceive and give birth to a son, and will call him Immanuel.

Por tanto, el Señor mismo os dará señal: He aquí que la virgen concebirá, y dará a luz un hijo, y llamará su nombre Emanuel.

Rejoice greatly, Daughter Zion! Shout, Daughter Jerusalem! See, your king comes to you, righteous and victorious, lowly and riding on a donkey, on a colt, the foal of a donkey.

Alégrate mucho, hija de Sion; da voces de júbilo, hija de Jerusalén; he aquí tu rey vendrá a ti, justo y salvador, humilde, y cabalgando sobre un asno, sobre un pollino hijo de asna.

But now apart from the law the righteousness of God has been made known, to which the Law and the Prophets testify. This righteousness is given through faith in Jesus Christ to all who believe. There is no difference between Jew and Gentile.

Pero ahora, aparte de la ley, se ha manifestado la justicia de Dios, testificada por la ley y por los profetas; la justicia de Dios por medio de la fe en Jesucristo, para todos los que creen en él. Porque no hay diferencia.

All this took place to fulfill what the Lord had said through the prophet: "The virgin will conceive and give birth to a son, and they will call him Immanuel" (which means "God with us").

Todo esto aconteció para que se cumpliese lo dicho por el Señor por medio del profeta, cuando dijo: He aquí, una virgen concebirá y dará a luz un hijo, Y llamarás su nombre Emanuel, m que traducido es: Dios con nosotros.

Do not think that I have come to abolish the Law or the Prophets; I have not come to abolish them but to fulfill them.

No penséis que he venido para abrogar la ley o los profetas; no he venido para abrogar, sino para cumplir.

But you, Bethlehem Ephrathah, though you are small among the clans of Judah, out of you will come for me one who will be ruler over Israel, whose origins are from of old, from ancient times.

Pero tú, Belén Efrata, pequeña para estar entre las familias de Judá, de ti me saldrá el que será Señor en Israel; y sus salidas son desde el principio, desde los días de la eternidad.
This is the message we have heard from him and declare to you: God is light; in him there is no darkness at all.
God is our refuge and strength,
an ever-present help in trouble.
Read more
This is the message we have heard from him and declare to you: God is light; in him there is no darkness at all.
Personal Bible reading plan
Create an account to configure your Bible reading plan and you will see your progress and the next chapter to read here!
Read more...