18 Versículos da Bíblia sobre Salvador
«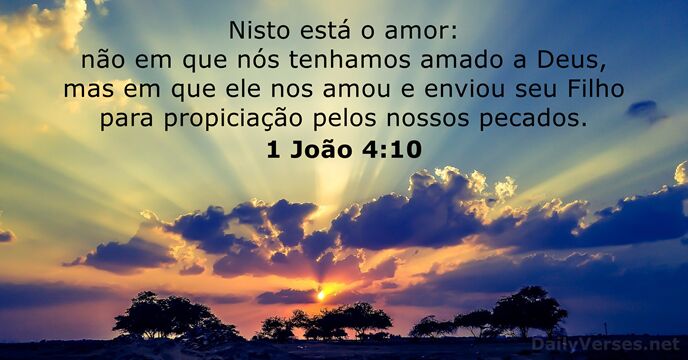 »
Nisto está o amor: não em que nós tenhamos amado a Deus, mas em que ele nos amou e enviou seu Filho para propiciação pelos nossos pecados.

This is love: not that we loved God, but that he loved us and sent his Son as an atoning sacrifice for our sins.

Porque eu sei que o meu Redentor vive, e que por fim se levantará sobre a terra.

I know that my redeemer lives, and that in the end he will stand on the earth.

E ele é a propiciação pelos nossos pecados e não somente pelos nossos, mas também pelos de todo o mundo.

He is the atoning sacrifice for our sins, and not only for ours but also for the sins of the whole world.

Pois, na cidade de Davi, vos nasceu hoje o Salvador, que é Cristo, o Senhor.

Today in the town of David a Savior has been born to you; he is the Messiah, the Lord.

Já estou crucificado com Cristo; e vivo, não mais eu, mas Cristo vive em mim; e a vida que agora vivo na carne vivo-a na fé do Filho de Deus, o qual me amou e se entregou a si mesmo por mim.

I have been crucified with Christ and I no longer live, but Christ lives in me. The life I now live in the body, I live by faith in the Son of God, who loved me and gave himself for me.

Que, sendo em forma de Deus, não teve por usurpação ser igual a Deus. Mas aniquilou-se a si mesmo, tomando a forma de servo, fazendo-se semelhante aos homens; e, achado na forma de homem, humilhou-se a si mesmo, sendo obediente até à morte e morte de cruz.

Who, being in very nature God, did not consider equality with God something to be used to his own advantage; rather, he made himself nothing by taking the very nature of a servant, being made in human likeness. And being found in appearance as a man, he humbled himself by becoming obedient to death— even death on a cross!

Porque todos pecaram e destituídos estão da glória de Deus, sendo justificados gratuitamente pela sua graça, pela redenção que há em Cristo Jesus.

For all have sinned and fall short of the glory of God, and all are justified freely by his grace through the redemption that came by Christ Jesus.

Em quem temos a redenção pelo seu sangue, a remissão das ofensas, segundo as riquezas da sua graça.

In him we have redemption through his blood, the forgiveness of sins, in accordance with the riches of God's grace.

Portanto, pode também salvar perfeitamente os que por ele se chegam a Deus, vivendo sempre para interceder por eles.

Therefore he is able to save completely those who come to God through him, because he always lives to intercede for them.

Olhando para Jesus, autor e consumador da fé, o qual, pelo gozo que lhe estava proposto, suportou a cruz, desprezando a afronta, e assentou-se à destra do trono de Deus.

Fixing our eyes on Jesus, the pioneer and perfecter of faith. For the joy set before him he endured the cross, scorning its shame, and sat down at the right hand of the throne of God.

Sabendo que não foi com coisas corruptíveis, como prata ou ouro, que fostes resgatados da vossa vã maneira de viver que, por tradição, recebestes dos vossos pais, mas com o precioso sangue de Cristo, como de um cordeiro imaculado e incontaminado.

For you know that it was not with perishable things such as silver or gold that you were redeemed from the empty way of life handed down to you from your ancestors, but with the precious blood of Christ, a lamb without blemish or defect.

Todavia, eu sou o S

enhor

, teu Deus, desde a terra do Egito; portanto, não reconhecerás outro deus além de mim, porque não há Salvador, senão eu.
But I have been the L

ord

your God ever since you came out of Egypt. You shall acknowledge no God but me, no Savior except me.

E, sendo ele consumado, veio a ser a causa de eterna salvação para todos os que lhe obedecem.

And, once made perfect, he became the source of eternal salvation for all who obey him.

Porque, se nós, sendo inimigos, fomos reconciliados com Deus pela morte de seu Filho, muito mais, estando já reconciliados, seremos salvos pela sua vida.

For if, while we were God's enemies, we were reconciled to him through the death of his Son, how much more, having been reconciled, shall we be saved through his life!

Mas o anjo, respondendo, disse às mulheres: Não tenhais medo; pois eu sei que buscai a Jesus, que foi crucificado. Ele não está aqui, porque já ressuscitou, como tinha dito. Vinde e vede o lugar onde o Senhor jazia.

The angel said to the women, "Do not be afraid, for I know that you are looking for Jesus, who was crucified. He is not here; he has risen, just as he said. Come and see the place where he lay."

E, por isso, é Mediador de um novo testamento, para que, intervindo a morte para remissão das transgressões que havia debaixo do primeiro testamento, os chamados recebam a promessa da herança eterna.

For this reason Christ is the mediator of a new covenant, that those who are called may receive the promised eternal inheritance—now that he has died as a ransom to set them free from the sins committed under the first covenant.

Mas, alcançando socorro de Deus, ainda até ao dia de hoje permaneço, dando testemunho, tanto a pequenos como a grandes, não dizendo nada mais do que o que os profetas e Moisés disseram que devia acontecer, isto é, que o Cristo devia padecer e, sendo o primeiro da ressurreição dos mortos, devia anunciar a luz a este povo e aos gentios.

But God has helped me to this very day; so I stand here and testify to small and great alike. I am saying nothing beyond what the prophets and Moses said would happen— that the Messiah would suffer and, as the first to rise from the dead, would bring the message of light to his own people and to the Gentiles.

Ele nos tirou da potestade das trevas e nos transportou para o Reino do Filho do seu amor, em quem temos a redenção pelo seu sangue, a saber, a remissão dos pecados.

For he has rescued us from the dominion of darkness and brought us into the kingdom of the Son he loves, in whom we have redemption, the forgiveness of sins.
Por que estás abatida, ó minha alma,
e por que te perturbas dentro de mim?
Espera em Deus, pois ainda o louvarei.
Ele é a salvação da minha face e o meu Deus.
Não te desamparem a benignidade e a fidelidade;
ata-as ao teu pescoço;
escreve-as na tábua do teu coração
e acharás graça e bom entendimento
aos olhos de Deus e dos homens.
Leia mais
Por que estás abatida, ó minha alma, e por que te perturbas dentro de mim? Espera em Deus, pois ainda o louvarei. Ele é a salvação da minha face e o meu Deus.
Plano de leitura da Bíblia pessoal
Registrar
para configurar seu plano de leitura da Bíblia e ver o seu progresso.