Bible Verses about 'Been'
«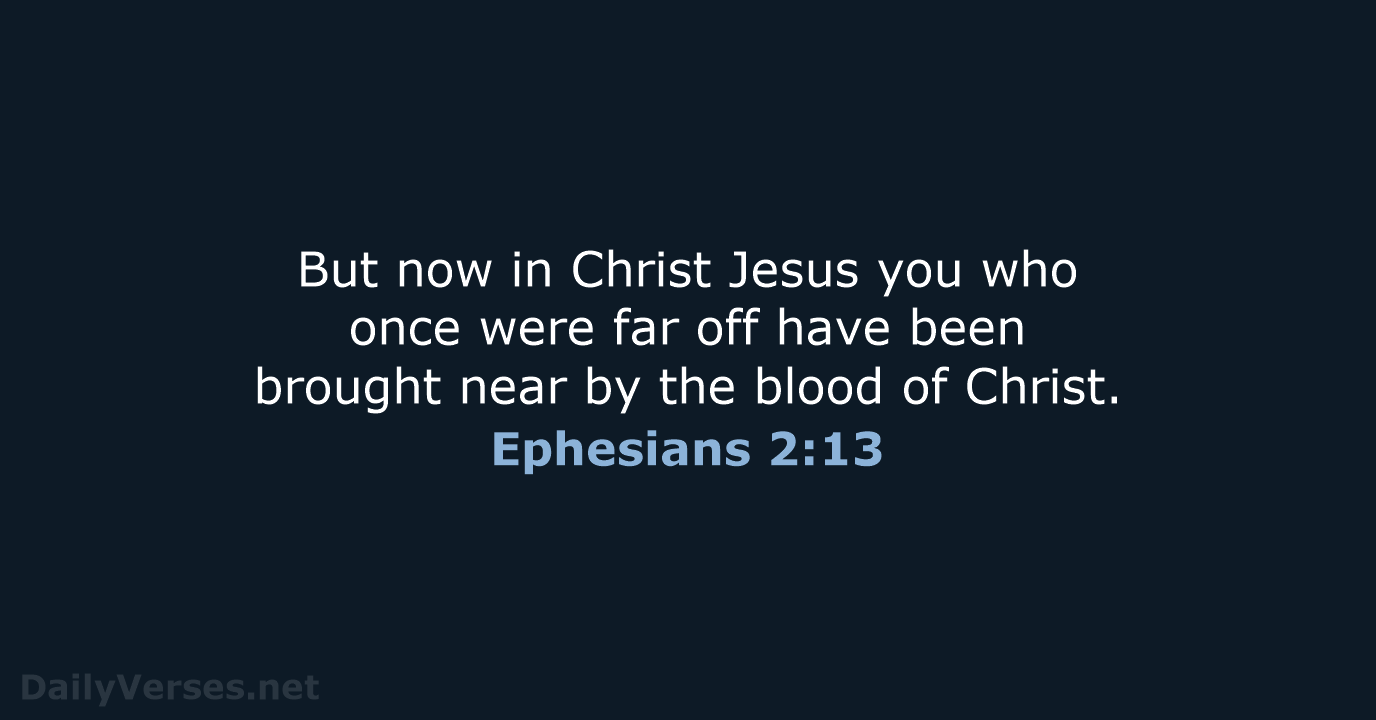 »
But now in Christ Jesus you who once were far off have been brought near by the blood of Christ.

Now hope does not disappoint, because the love of God has been poured out in our hearts by the Holy Spirit who was given to us.

Therefore, having been justified by faith, we have peace with God through our Lord Jesus Christ.

Having been born again, not of corruptible seed but incorruptible, through the word of God which lives and abides forever.

But I will sing of Your power;
Yes, I will sing aloud of Your mercy in the morning;
For You have been my defense
And refuge in the day of my trouble.

For to you it has been granted on behalf of Christ, not only to believe in Him, but also to suffer for His sake.

But now having been set free from sin, and having become slaves of God, you have your fruit to holiness, and the end, everlasting life.

And having been perfected, He became the author of eternal salvation to all who obey Him.

For you, brethren, have been called to liberty; only do not use liberty as an opportunity for the flesh, but through love serve one another.
For by grace you have been saved through faith, and that not of yourselves; it is the gift of God, not of works, lest anyone should boast.

But he who did not know, yet committed things deserving of stripes, shall be beaten with few. For everyone to whom much is given, from him much will be required; and to whom much has been committed, of him they will ask the more.

But God, who is rich in mercy, because of His great love with which He loved us, even when we were dead in trespasses, made us alive together with Christ (by grace you have been saved).

For by one Spirit we were all baptized into one body—whether Jews or Greeks, whether slaves or free—and have all been made to drink into one Spirit.

Now no chastening seems to be joyful for the present, but painful; nevertheless, afterward it yields the peaceable fruit of righteousness to those who have been trained by it.

Since you were precious in My sight,
You have been honored,
And I have loved you;
Therefore I will give men for you,
And people for your life.
For if we have been united together in the likeness of His death, certainly we also shall be in the likeness of His resurrection, knowing this, that our old man was crucified with Him, that the body of sin might be done away with, that we should no longer be slaves of sin.

For if when we were enemies we were reconciled to God through the death of His Son, much more, having been reconciled, we shall be saved by His life.

His lord said to him, 'Well done, good and faithful servant; you were faithful over a few things, I will make you ruler over many things. Enter into the joy of your lord.'
I have been crucified with Christ; it is no longer I who live, but Christ lives in me; and the life which I now live in the flesh I live by faith in the Son of God, who loved me and gave Himself for me.

There is no fear in love; but perfect love casts out fear, because fear involves torment. But he who fears has not been made perfect in love.

No one has seen God at any time. If we love one another, God abides in us, and His love has been perfected in us.

"And I will sanctify My great name, which has been profaned among the nations, which you have profaned in their midst; and the nations shall know that I am the L

ord

," says the Lord G

od

, "when I am hallowed in you before their eyes."

You are already clean because of the word which I have spoken to you.

Now after Jesus was born in Bethlehem of Judea in the days of Herod the king, behold, wise men from the East came to Jerusalem, saying, "Where is He who has been born King of the Jews? For we have seen His star in the East and have come to worship Him."

For since the creation of the world His invisible attributes are clearly seen, being understood by the things that are made, even His eternal power and Godhead, so that they are without excuse.
The wicked man does deceptive work, But he who sows righteousness will have a sure reward.
Personal Bible reading plan
Create an account to configure your Bible reading plan and you will see your progress and the next chapter to read here!
Read more...