Bible Verses about 'Enter'
«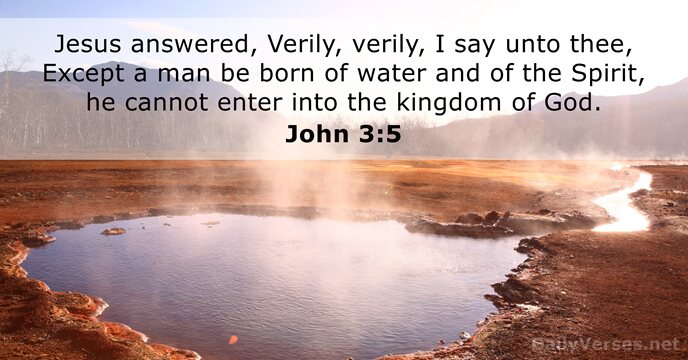 »
Let us labour therefore to enter into that rest, lest any man fall after the same example of unbelief.

Procuremos, pois, entrar naquele repouso, para que ninguém caia no mesmo exemplo de desobediência.

A fool's lips enter into contention, and his mouth calleth for strokes.

Os lábios do tolo entram na contenda, e a sua boca brada por açoites.

Jesus answered, Verily, verily, I say unto thee, Except a man be born of water and of the Spirit, he cannot enter into the kingdom of God.

Jesus respondeu: Na verdade, na verdade te digo que aquele que não nascer da água e do Espírito não pode entrar no Reino de Deus.

Watch and pray, that ye enter not into temptation: the spirit indeed is willing, but the flesh is weak.

Vigiai e orai, para que não entreis em tentação; na verdade, o espírito está pronto, mas a carne é fraca.

Not every one that saith unto me, Lord, Lord, shall enter into the kingdom of heaven; but he that doeth the will of my Father which is in heaven.

Nem todo o que me diz: Senhor, Senhor! entrará no Reino dos céus, mas aquele que faz a vontade de meu Pai, que está nos céus.

I am the door: by me if any man enter in, he shall be saved, and shall go in and out, and find pasture.

Eu sou a porta; se alguém entrar por mim, salvar-se-á, e entrará, e sairá, e achará pastagens.

Enter ye in at the strait gate: for wide is the gate, and broad is the way, that leadeth to destruction, and many there be which go in thereat: Because strait is the gate, and narrow is the way, which leadeth unto life, and few there be that find it.

Entrai pela porta estreita, porque larga é a porta, e espaçoso, o caminho que conduz à perdição, e muitos são os que entram por ela; E porque estreita é a porta, e apertado, o caminho que leva à vida, e poucos há que a encontrem.

Let brotherly love continue. Be not forgetful to entertain strangers: for thereby some have entertained angels unawares.

Permaneça o amor fraternal. Não vos esqueçais da hospitalidade, porque, por ela, alguns, não o sabendo, hospedaram anjos.

No man, when he hath lighted a candle, covereth it with a vessel, or putteth it under a bed; but setteth it on a candlestick, that they which enter in may see the light.

E ninguém, acendendo uma candeia, a cobre com algum vaso ou a põe debaixo da cama; mas põe-na no velador, para que os que entram vejam a luz.

His lord said unto him, Well done, thou good and faithful servant: thou hast been faithful over a few things, I will make thee ruler over many things: enter thou into the joy of thy lord.

E o seu senhor lhe disse: Bem está, servo bom e fiel. Sobre o pouco foste fiel, sobre muito te colocarei; entra no gozo do teu senhor.

But thou, when thou prayest, enter into thy closet, and when thou hast shut thy door, pray to thy Father which is in secret; and thy Father which seeth in secret shall reward thee openly.

Mas tu, quando orares, entra no teu aposento e, fechando a tua porta, ora a teu Pai, que vê o que está oculto; e teu Pai, que vê o que está oculto, te recompensará.

There remaineth therefore a rest to the people of God. For he that is entered into his rest, he also hath ceased from his own works, as God did from his.

Portanto, resta ainda um repouso para o povo de Deus. Porque aquele que entrou no seu repouso, ele próprio repousou de suas obras, como Deus das suas.

But as it is written, Eye hath not seen, nor ear heard, neither have entered into the heart of man, the things which God hath prepared for them that love him.

Mas, como está escrito: As coisas que o olho não viu, e o ouvido não ouviu, e não subiram ao coração do homem são as que Deus preparou para os que o amam.

I came forth from the Father, and am come into the world: again, I leave the world, and go to the Father.

Saí do Pai e vim ao mundo; outra vez, deixo o mundo e vou para o Pai.

I ate no pleasant bread, neither came flesh nor wine in my mouth, neither did I anoint myself at all, till three whole weeks were fulfilled.

Manjar desejável não comi, nem carne nem vinho entraram na minha boca, nem me ungi com unguento, até que se cumpriram as três semanas.

In that I command thee this day to love the L

ord

thy God, to walk in his ways, and to keep his commandments and his statutes and his judgments, that thou mayest live and multiply: and the L

ord

thy God shall bless thee in the land whither thou goest to possess it.
Porquanto te ordeno, hoje, que ames o S

enhor

, teu Deus, que andes nos seus caminhos e que guardes os seus mandamentos, e os seus estatutos, e os seus juízos, para que vivas e te multipliques, e o S

enhor

, teu Deus, te abençoe na terra, a qual passas a possuir.

And it came to pass, that he went through the corn fields on the sabbath day; and his disciples began, as they went, to pluck the ears of corn. And the Pharisees said unto him, Behold, why do they on the sabbath day that which is not lawful? And he said unto them, Have ye never read what David did, when he had need, and was an hungred, he, and they that were with him? How he went into the house of God in the days of Abiathar the high priest, and did eat the shewbread, which is not lawful to eat but for the priests, and gave also to them which were with him? And he said unto them, The sabbath was made for man, and not man for the sabbath: Therefore the Son of man is Lord also of the sabbath.

E aconteceu que, passando ele num sábado pelas searas, os seus discípulos, caminhando, começaram a colher espigas. E os fariseus lhe disseram: Vês? Por que fazem no sábado o que não é lícito? Mas ele disse-lhes: Nunca lestes o que fez Davi, quando estava em necessidade e teve fome, ele e os que com ele estavam? Como entrou na Casa de Deus, no tempo de Abiatar, sumo sacerdote, e comeu os pães da proposição, dos quais não era lícito comer senão aos sacerdotes, dando também aos que com ele estavam? E disse-lhes: O sábado foi feito por causa do homem, e não o homem, por causa do sábado. Assim, o Filho do Homem até do sábado é senhor.
Beware of false prophets, which come to you in sheep's clothing, but inwardly they are ravening wolves.
Personal Bible reading plan
Create an account to configure your Bible reading plan and you will see your progress and the next chapter to read here!
Read more...