Bible Verses about 'Hands'
«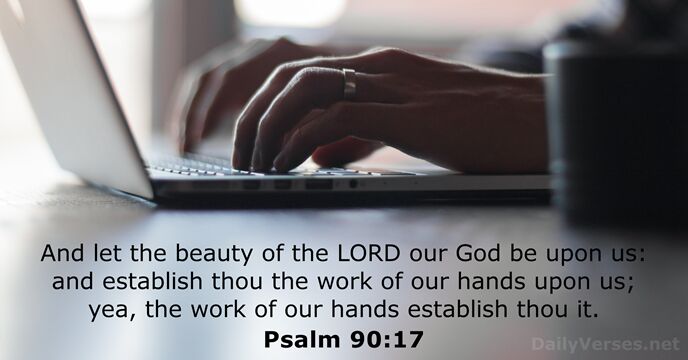 »
And let the beauty of the L

ord

our God be upon us: and establish thou the work of our hands upon us; yea, the work of our hands establish thou it.

E seja sobre nós a graça do Senhor, nosso Deus; e confirma sobre nós a obra das nossas mãos; sim, confirma a obra das nossas mãos.

And when they had fasted and prayed, and laid their hands on them, they sent them away.

Então, jejuando, e orando, e pondo sobre eles as mãos, os despediram.
I stretch forth my hands unto thee: my soul thirsteth after thee, as a thirsty land. Selah.
Estendo para ti as minhas mãos; a minha alma tem sede de ti como terra sedenta. (Selá)

Draw nigh to God, and he will draw nigh to you. Cleanse your hands, ye sinners; and purify your hearts, ye double minded.

Chegai-vos a Deus, e ele se chegará a vós. Limpai as mãos, pecadores; e, vós de duplo ânimo, purificai o coração.

The L

ord

will perfect that which concerneth me: thy mercy, O L

ord

, endureth for ever: forsake not the works of thine own hands.
O S

enhor

aperfeiçoará o que me concerne; a tua benignidade, ó S

enhor

, é para sempre; não desampares as obras das tuas mãos.

And when Jesus had cried with a loud voice, he said, Father, into thy hands I commend my spirit: and having said thus, he gave up the ghost.

E, clamando Jesus com grande voz, disse: Pai, nas tuas mãos entrego o meu espírito. E, havendo dito isso, expirou.

Because thy lovingkindness is better than life, my lips shall praise thee. Thus will I bless thee while I live: I will lift up my hands in thy name.

Porque a tua benignidade é melhor do que a vida; os meus lábios te louvarão. Assim, eu te bendirei enquanto viver; em teu nome levantarei as minhas mãos.

For we know that if our earthly house of this tabernacle were dissolved, we have a building of God, an house not made with hands, eternal in the heavens.

Porque sabemos que, se a nossa casa terrestre deste tabernáculo se desfizer, temos de Deus um edifício, uma casa não feita por mãos, eterna, nos céus.

And he led them out as far as to Bethany, and he lifted up his hands, and blessed them. And it came to pass, while he blessed them, he was parted from them, and carried up into heaven.

E levou-os fora, até Betânia; e, levantando as mãos, os abençoou. E aconteceu que, abençoando-os ele, se apartou deles e foi elevado ao céu.

When they heard this, they were baptized in the name of the Lord Jesus. And when Paul had laid his hands upon them, the Holy Ghost came on them; and they spake with tongues, and prophesied.

E os que ouviram foram batizados em nome do Senhor Jesus. E, impondo-lhes Paulo as mãos, veio sobre eles o Espírito Santo; e falavam línguas e profetizavam.

He is not here, but is risen: remember how he spake unto you when he was yet in Galilee, Saying, The Son of man must be delivered into the hands of sinful men, and be crucified, and the third day rise again.

Não está aqui, mas ressuscitou. Lembrai-vos como vos falou, estando ainda na Galileia, dizendo: Convém que o Filho do Homem seja entregue nas mãos de homens pecadores, e seja crucificado, e, ao terceiro dia, ressuscite.

Can a woman forget her sucking child, that she should not have compassion on the son of her womb? yea, they may forget, yet will I not forget thee. Behold, I have graven thee upon the palms of my hands; thy walls are continually before me.

Pode uma mulher esquecer-se tanto do filho que cria, que se não compadeça dele, do filho do seu ventre? Mas, ainda que esta se esquecesse, eu, todavia, me não esquecerei de ti. Eis que, na palma das minhas mãos, te tenho gravado; os teus muros estão continuamente perante mim.

Woe unto him that striveth with his Maker! Let the potsherd strive with the potsherds of the earth. Shall the clay say to him that fashioneth it, What makest thou? or thy work, He hath no hands?

Ai daquele que contende com o seu Criador, caco entre outros cacos de barro! Porventura, dirá o barro ao que o formou: Que fazes? Ou a tua obra: Não tens mãos?

My times are in thy hand: deliver me from the hand of mine enemies, and from them that persecute me.

Os meus tempos estão nas tuas mãos; livra-me das mãos dos meus inimigos e dos que me perseguem.

The hand of the diligent shall bear rule: but the slothful shall be under tribute.

A mão dos diligentes dominará, mas os enganadores serão tributários.

For the customs of the people are vain: for one cutteth a tree out of the forest, the work of the hands of the workman, with the axe. They deck it with silver and with gold; they fasten it with nails and with hammers, that it move not. They are upright as the palm tree, but speak not: they must needs be borne, because they cannot go. Be not afraid of them; for they cannot do evil, neither also is it in them to do good.

Porque os costumes dos povos são vaidade; pois cortam do bosque um madeiro, obra das mãos do artífice, com machado. Com prata e com ouro o enfeitam, com pregos e com martelos o firmam, para que não se mova. São como a palmeira, obra torneada, mas não podem falar; necessitam de quem os leve, porquanto não podem andar; não tenhais receio deles, pois não podem fazer mal, nem tampouco têm poder de fazer bem.

Both riches and honour come of thee, and thou reignest over all; and in thine hand is power and might; and in thine hand it is to make great, and to give strength unto all.

E riquezas e glória vêm de diante de ti, e tu dominas sobre tudo, e na tua mão há força e poder; e na tua mão está o engrandecer e dar força a tudo.

And he was teaching in one of the synagogues on the sabbath. And, behold, there was a woman which had a spirit of infirmity eighteen years, and was bowed together, and could in no wise lift up herself. And when Jesus saw her, he called her to him, and said unto her, Woman, thou art loosed from thine infirmity. And he laid his hands on her: and immediately she was made straight, and glorified God. And the ruler of the synagogue answered with indignation, because that Jesus had healed on the sabbath day, and said unto the people, There are six days in which men ought to work: in them therefore come and be healed, and not on the sabbath day. The Lord then answered him, and said, Thou hypocrite, doth not each one of you on the sabbath loose his ox or his ass from the stall, and lead him away to watering? And ought not this woman, being a daughter of Abraham, whom Satan hath bound, lo, these eighteen years, be loosed from this bond on the sabbath day? And when he had said these things, all his adversaries were ashamed: and all the people rejoiced for all the glorious things that were done by him.

E ensinava no sábado, numa das sinagogas. E eis que estava ali uma mulher que tinha um espírito de enfermidade havia já dezoito anos; e andava curvada e não podia de modo algum endireitar-se. E, vendo-a Jesus, chamou-a a si, e disse-lhe: Mulher, estás livre da tua enfermidade. E impôs as mãos sobre ela, e logo se endireitou e glorificava a Deus. E, tomando a palavra o príncipe da sinagoga, indignado porque Jesus curava no sábado, disse à multidão: Seis dias há em que é mister trabalhar; nestes, pois, vinde para serdes curados e não no dia de sábado. Respondeu-lhe, porém, o Senhor e disse: Hipócrita, no sábado não desprende da manjedoura cada um de vós o seu boi ou jumento e não o leva a beber água? E não convinha soltar desta prisão, no dia de sábado, esta filha de Abraão, a qual há dezoito anos Satanás mantinha presa? E, dizendo ele isso, todos os seus adversários ficaram envergonhados, e todo o povo se alegrava por todas as coisas gloriosas que eram feitas por ele.

The heavens declare the glory of God; and the firmament sheweth his handywork. Day unto day uttereth speech, and night unto night sheweth knowledge.

Os céus manifestam a glória de Deus e o firmamento anuncia a obra das suas mãos. Um dia faz declaração a outro dia, e uma noite mostra sabedoria a outra noite.

As he came forth of his mother's womb, naked shall he return to go as he came, and shall take nothing of his labour, which he may carry away in his hand.

Como saiu do ventre de sua mãe, assim nu voltará, indo-se como veio; e nada tomará do seu trabalho, que possa levar na sua mão.
And this is the confidence that we have in him, that, if we ask any thing according to his will, he heareth us.
Personal Bible reading plan
Create an account to configure your Bible reading plan and you will see your progress and the next chapter to read here!
Read more...