Bible Verses about 'Multitude'
«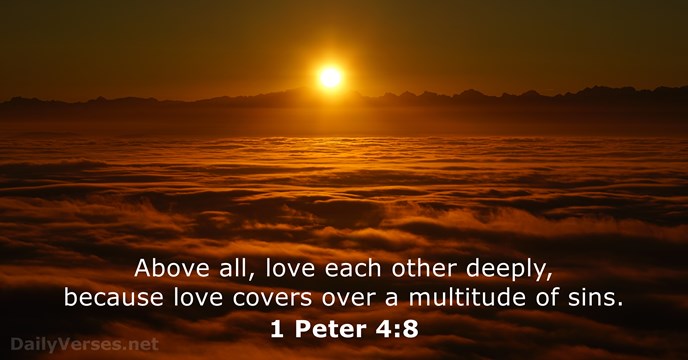 »
Above all, love each other deeply, because love covers over a multitude of sins.

When anxiety was great within me,
your consolation brought me joy.
Sin is not ended by multiplying words,
but the prudent hold their tongues.
Plans fail for lack of counsel,
but with many advisers they succeed.

All the believers were one in heart and mind. No one claimed that any of their possessions was their own, but they shared everything they had.

Have mercy on me, O God,
according to your unfailing love;
according to your great compassion
blot out my transgressions.
Wash away all my iniquity
and cleanse me from my sin.

Taking the five loaves and the two fish and looking up to heaven, he gave thanks and broke them. Then he gave them to the disciples to distribute to the people. They all ate and were satisfied, and the disciples picked up twelve basketfuls of broken pieces that were left over.

The crowds that went ahead of him and those that followed shouted,
"Hosanna to the Son of David!"
"Blessed is he who comes in the name of the Lord!"
"Hosanna in the highest heaven!"

On a Sabbath Jesus was teaching in one of the synagogues, and a woman was there who had been crippled by a spirit for eighteen years. She was bent over and could not straighten up at all. When Jesus saw her, he called her forward and said to her, "Woman, you are set free from your infirmity." Then he put his hands on her, and immediately she straightened up and praised God. Indignant because Jesus had healed on the Sabbath, the synagogue leader said to the people, "There are six days for work. So come and be healed on those days, not on the Sabbath." The Lord answered him, "You hypocrites! Doesn't each of you on the Sabbath untie your ox or donkey from the stall and lead it out to give it water? Then should not this woman, a daughter of Abraham, whom Satan has kept bound for eighteen long years, be set free on the Sabbath day from what bound her?" When he said this, all his opponents were humiliated, but the people were delighted with all the wonderful things he was doing.
For the entire law is fulfilled in keeping this one command: "Love your neighbor as yourself."
Personal Bible reading plan
Create an account to configure your Bible reading plan and you will see your progress and the next chapter to read here!
Read more...