Bible Verses about 'Multitude'
«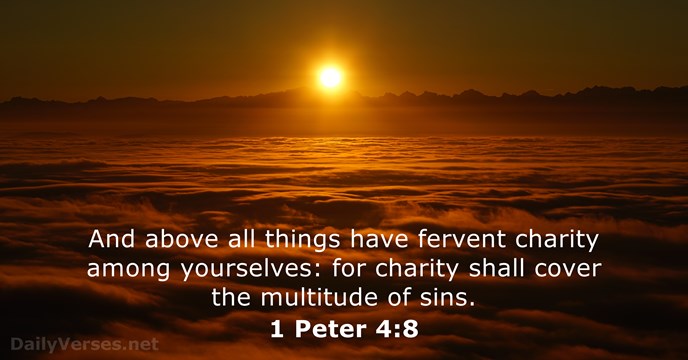 »
And above all things have fervent charity among yourselves: for charity shall cover the multitude of sins.

In the multitude of my thoughts within me
thy comforts delight my soul.
In the multitude of words there wanteth not sin:
but he that refraineth his lips is wise.
Without counsel purposes are disappointed:
but in the multitude of counsellors they are established.

And the multitude of them that believed were of one heart and of one soul: neither said any of them that ought of the things which he possessed was his own; but they had all things common.

Have mercy upon me, O God,
according to thy lovingkindness:
according unto the multitude of thy tender mercies
blot out my transgressions.
Wash me throughly from mine iniquity,
and cleanse me from my sin.

Then he took the five loaves and the two fishes, and looking up to heaven, he blessed them, and brake, and gave to the disciples to set before the multitude. And they did eat, and were all filled: and there was taken up of fragments that remained to them twelve baskets.

And the multitudes that went before, and that followed, cried, saying, Hosanna to the son of David: Blessed is he that cometh in the name of the Lord; Hosanna in the highest.

And he was teaching in one of the synagogues on the sabbath. And, behold, there was a woman which had a spirit of infirmity eighteen years, and was bowed together, and could in no wise lift up herself. And when Jesus saw her, he called her to him, and said unto her, Woman, thou art loosed from thine infirmity. And he laid his hands on her: and immediately she was made straight, and glorified God. And the ruler of the synagogue answered with indignation, because that Jesus had healed on the sabbath day, and said unto the people, There are six days in which men ought to work: in them therefore come and be healed, and not on the sabbath day. The Lord then answered him, and said, Thou hypocrite, doth not each one of you on the sabbath loose his ox or his ass from the stall, and lead him away to watering? And ought not this woman, being a daughter of Abraham, whom Satan hath bound, lo, these eighteen years, be loosed from this bond on the sabbath day? And when he had said these things, all his adversaries were ashamed: and all the people rejoiced for all the glorious things that were done by him.
He that spared not his own Son, but delivered him up for us all, how shall he not with him also freely give us all things?
Personal Bible reading plan
Create an account to configure your Bible reading plan and you will see your progress and the next chapter to read here!
Read more...