Bible Verses about 'Seed'
«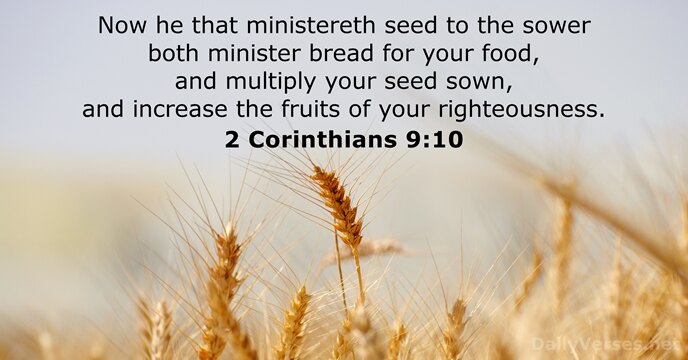 »
Now he that ministereth seed to the sower both minister bread for your food, and multiply your seed sown, and increase the fruits of your righteousness.

And God said, Behold, I have given you every herb bearing seed, which is upon the face of all the earth, and every tree, in the which is the fruit of a tree yielding seed; to you it shall be for meat.

Being born again, not of corruptible seed, but of incorruptible, by the word of God, which liveth and abideth for ever.

And I will make thy seed to multiply as the stars of heaven, and will give unto thy seed all these countries; and in thy seed shall all the nations of the earth be blessed; Because that Abraham obeyed my voice, and kept my charge, my commandments, my statutes, and my laws.

He also that received seed among the thorns is he that heareth the word; and the care of this world, and the deceitfulness of riches, choke the word, and he becometh unfruitful.

And Jesus said unto them, Because of your unbelief: for verily I say unto you, If ye have faith as a grain of mustard seed, ye shall say unto this mountain, Remove hence to yonder place; and it shall remove; and nothing shall be impossible unto you.

Through faith also Sara herself received strength to conceive seed, and was delivered of a child when she was past age, because she judged him faithful who had promised.

For the L

ord

loveth judgment,
and forsaketh not his saints;
they are preserved for ever:
but the seed of the wicked shall be cut off.

There is neither Jew nor Greek, there is neither bond nor free, there is neither male nor female: for ye are all one in Christ Jesus. And if ye be Christ's, then are ye Abraham's seed, and heirs according to the promise.
A prudent man foreseeth the evil, and hideth himself; but the simple pass on, and are punished.
Personal Bible reading plan
Create an account to configure your Bible reading plan and you will see your progress and the next chapter to read here!
Read more...