Bible Verses about 'Woman'
«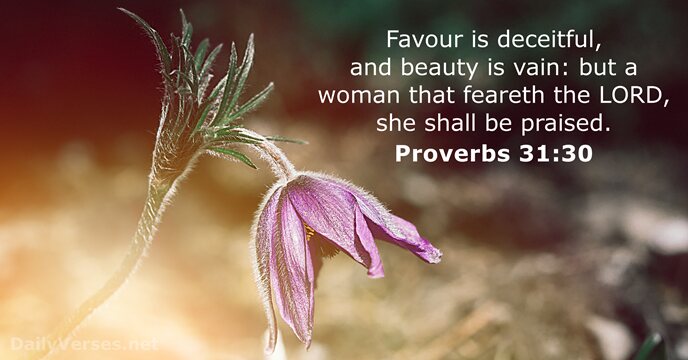 »
Favour is deceitful, and beauty is vain: but a woman that feareth the L

ord

, she shall be praised.
Enganosa é a graça, e vaidade, a formosura, mas a mulher que teme ao S

enhor

, essa será louvada.

Nevertheless, to avoid fornication, let every man have his own wife, and let every woman have her own husband.

Mas, por causa da prostituição, cada um tenha a sua própria mulher, e cada uma tenha o seu próprio marido.

Who can find a virtuous woman? for her price is far above rubies.

Mulher virtuosa, quem a achará? O seu valor muito excede o de rubins.

And the rib, which the L

ord

God had taken from man, made he a woman, and brought her unto the man. And Adam said, This is now bone of my bones, and flesh of my flesh: she shall be called Woman, because she was taken out of Man. Therefore shall a man leave his father and his mother, and shall cleave unto his wife: and they shall be one flesh.
E da costela que o S

enhor

Deus tomou do homem formou uma mulher; e trouxe-a a Adão. E disse Adão: Esta é agora osso dos meus ossos e carne da minha carne; esta será chamada varoa, porquanto do varão foi tomada. Portanto, deixará o varão o seu pai e a sua mãe e apegar-se-á à sua mulher, e serão ambos uma carne.

Ye have heard that it was said by them of old time, Thou shalt not commit adultery: But I say unto you, That whosoever looketh on a woman to lust after her hath committed adultery with her already in his heart.

Ouvistes que foi dito aos antigos: Não cometerás adultério. Eu porém, vos digo que qualquer que atentar numa mulher para a cobiçar já em seu coração cometeu adultério com ela.

I made a covenant with mine eyes; why then should I think upon a maid?

Fiz concerto com os meus olhos; como, pois, os fixaria numa virgem?

Can a woman forget her sucking child, that she should not have compassion on the son of her womb? yea, they may forget, yet will I not forget thee. Behold, I have graven thee upon the palms of my hands; thy walls are continually before me.

Pode uma mulher esquecer-se tanto do filho que cria, que se não compadeça dele, do filho do seu ventre? Mas, ainda que esta se esquecesse, eu, todavia, me não esquecerei de ti. Eis que, na palma das minhas mãos, te tenho gravado; os teus muros estão continuamente perante mim.

And he was teaching in one of the synagogues on the sabbath. And, behold, there was a woman which had a spirit of infirmity eighteen years, and was bowed together, and could in no wise lift up herself. And when Jesus saw her, he called her to him, and said unto her, Woman, thou art loosed from thine infirmity. And he laid his hands on her: and immediately she was made straight, and glorified God. And the ruler of the synagogue answered with indignation, because that Jesus had healed on the sabbath day, and said unto the people, There are six days in which men ought to work: in them therefore come and be healed, and not on the sabbath day. The Lord then answered him, and said, Thou hypocrite, doth not each one of you on the sabbath loose his ox or his ass from the stall, and lead him away to watering? And ought not this woman, being a daughter of Abraham, whom Satan hath bound, lo, these eighteen years, be loosed from this bond on the sabbath day? And when he had said these things, all his adversaries were ashamed: and all the people rejoiced for all the glorious things that were done by him.

E ensinava no sábado, numa das sinagogas. E eis que estava ali uma mulher que tinha um espírito de enfermidade havia já dezoito anos; e andava curvada e não podia de modo algum endireitar-se. E, vendo-a Jesus, chamou-a a si, e disse-lhe: Mulher, estás livre da tua enfermidade. E impôs as mãos sobre ela, e logo se endireitou e glorificava a Deus. E, tomando a palavra o príncipe da sinagoga, indignado porque Jesus curava no sábado, disse à multidão: Seis dias há em que é mister trabalhar; nestes, pois, vinde para serdes curados e não no dia de sábado. Respondeu-lhe, porém, o Senhor e disse: Hipócrita, no sábado não desprende da manjedoura cada um de vós o seu boi ou jumento e não o leva a beber água? E não convinha soltar desta prisão, no dia de sábado, esta filha de Abraão, a qual há dezoito anos Satanás mantinha presa? E, dizendo ele isso, todos os seus adversários ficaram envergonhados, e todo o povo se alegrava por todas as coisas gloriosas que eram feitas por ele.

As thou knowest not what is the way of the spirit, nor how the bones do grow in the womb of her that is with child: even so thou knowest not the works of God who maketh all.

Assim como tu não sabes qual o caminho do vento, nem como se formam os ossos no ventre da que está grávida, assim também não sabes as obras de Deus, que faz todas as coisas.

Likewise, ye husbands, dwell with them according to knowledge, giving honour unto the wife, as unto the weaker vessel, and as being heirs together of the grace of life; that your prayers be not hindered.

Igualmente vós, maridos, coabitai com ela com entendimento, dando honra à mulher, como vaso mais fraco; como sendo vós os seus coerdeiros da graça da vida; para que não sejam impedidas as vossas orações.
Beware of false prophets, which come to you in sheep's clothing, but inwardly they are ravening wolves.
Personal Bible reading plan
Create an account to configure your Bible reading plan and you will see your progress and the next chapter to read here!
Read more...