Bible Verses about Temptation
«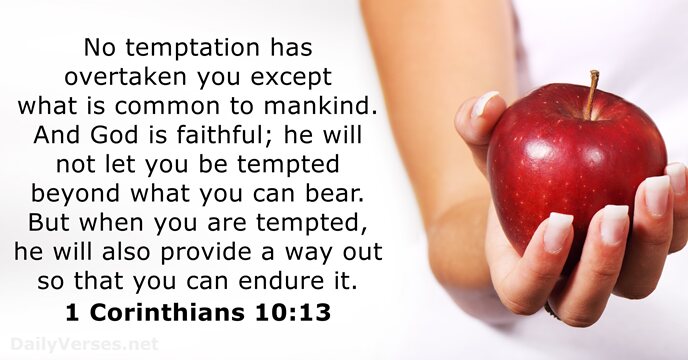 »
| | |
| --- | --- |
| No temptation has overtaken you except what is common to mankind. And God is faithful; he will not let you be tempted beyond what you can bear. But when you are tempted, he will also provide a way out so that you can endure it. | Maar als je in de verleiding komt om iets verkeerds te doen, bedenk dan dit. Geen één verleiding is zó groot, dat je er niet tegenop zou kunnen. Want God laat je nooit in de steek. Hij zal niet toestaan dat je het zó moeilijk krijgt, dat je het niet meer aankan. Want Hij zal, als er verleidingen komen, ook voor de oplossing zorgen. Daardoor zul je sterk genoeg zijn om de juiste beslissingen te nemen. |
| Blessed is the one who perseveres under trial because, having stood the test, that person will receive the crown of life that the Lord has promised to those who love him. | Als je in de verleiding komt om verkeerde keuzes te maken, is het heerlijk voor je als je toch voor het goede kiest en aan je geloof vasthoudt. Want dan zal de Heer je het eeuwige leven geven. Dat is de beloning die Hij heeft beloofd aan de mensen die van Hem houden. |
| Can a man walk on hot coals without his feet being scorched? | Kun je op gloeiende kolen lopen, zonder dat je je voeten brandt? |
| Watch and pray so that you will not fall into temptation. The spirit is willing, but the flesh is weak. | Blijf wakker en bid dat je niet verleid wordt om het verkeerde te doen. Je wíl wel graag het goede doen, maar dat is wel heel erg moeilijk. |
| He went on: "What comes out of a person is what defiles them. For it is from within, out of a person's heart, that evil thoughts come—sexual immorality, theft, murder, adultery, greed, malice, deceit, lewdness, envy, slander, arrogance and folly. All these evils come from inside and defile a person." | "Wat uít je mond komt, maakt je onrein. Want dat komt van binnenuit, uit je hart. Daar vandaan komen de slechte gedachten, verkeerde dingen op het gebied van seks, moord, diefstal, ontrouw aan je man of vrouw, hebzucht, slechtheid, bedrog, gebrek aan zelfbeheersing, roddel, kwaadsprekerij, trots, onverstandigheid. Al die slechte dingen komen van binnenuit naar buiten en maken je onrein." |
| When tempted, no one should say, "God is tempting me." For God cannot be tempted by evil, nor does he tempt anyone. | Maar je mag nooit zeggen dat Gód jou op de proef stelt. Want God kan niet door het kwaad verleid worden om iets slechts te doen. En Hij doet Zelf ook niemand kwaad om iemands geloof op de proef te stellen. |
| All my longings lie open before you, Lord; my sighing is not hidden from you. | Heer, U weet waar ik naar verlang. U hoort hoe ik kreun. |
| And lead us not into temptation, but deliver us from the evil one. | En stel ons niet op de proef, maar red ons van het kwaad. Want van U is het Koninkrijk en alle kracht en alle macht en alle hemelse majesteit, tot in eeuwigheid. Amen. Zo is het! |
| Jesus, full of the Holy Spirit, left the Jordan and was led by the Spirit into the wilderness, where for forty days he was tempted by the devil. He ate nothing during those days, and at the end of them he was hungry. | Vol van de Heilige Geest ging Jezus weg van de Jordaan. De Heilige Geest bracht Hem naar de woestijn. Daar werd Hij 40 dagen lang door de duivel uitgedaagd. Al die tijd at Hij niets. Toen er 40 dagen voorbij waren, had Hij honger. |
| Because you know that the testing of your faith produces perseverance. | Want daardoor zul je leren geduld te hebben. |
| Brothers and sisters, if someone is caught in a sin, you who live by the Spirit should restore that person gently. But watch yourselves, or you also may be tempted. | Broeders en zusters, stel dat jullie merken dat iemand iets slechts heeft gedaan. Dan moeten jullie je door de Geest laten leiden en hem weer op het rechte pad brengen. Doe dat op een vriendelijke manier. Doe niet alsof je beter bent dan hij. Je moet eraan denken dat je zelf óók in de verleiding kan komen om ongehoorzaam aan God te zijn. |
| For we do not have a high priest who is unable to empathize with our weaknesses, but we have one who has been tempted in every way, just as we are—yet he did not sin. | We hebben een Hogepriester die ons kan begrijpen als we zwak zijn. Want we hebben een Hogepriester die op dezelfde manier als wij met het kwaad te maken heeft gekregen. Maar Híj werd nooit ongehoorzaam aan God. |
| The seed falling among the thorns refers to someone who hears the word, but the worries of this life and the deceitfulness of wealth choke the word, making it unfruitful. | Er zijn ook mensen die het woord horen, maar hun geloof wordt verstikt door de zorgen van de wereld en het verlangen naar geld. Er groeit geen vrucht aan hen. Zij zijn het zaad dat in de distels is gezaaid. |
| If this is so, then the Lord knows how to rescue the godly from trials and to hold the unrighteous for punishment on the day of judgment. | Dus de mensen die leven zoals God het wil, worden door Hem gered uit de moeilijkheden die hun geloof op de proef stellen. Maar de mensen die zich niets van Hem aantrekken, worden door Hem gevangen gehouden tot de dag dat Hij over hen zal rechtspreken. Dan zal Hij hen straffen. |
| Therefore put on the full armor of God, so that when the day of evil comes, you may be able to stand your ground, and after you have done everything, to stand. | Doe daarom de hele wapenrusting van God aan. Dan kun je je verdedigen als het kwaad je aanvalt. En dan kun je ook blijven staan als je alles hebt gedaan wat je moest doen. |
| Rather, clothe yourselves with the Lord Jesus Christ, and do not think about how to gratify the desires of the flesh. | Laat je leven leiden door de Heer Jezus Christus, en doe niet meer waar je maar zin in hebt. Dan ga je ook niet verlangen naar dingen die niet goed zijn. |
If either of them falls down, one can help the other up. But pity anyone who falls and has no one to help them up.
Personal Bible reading plan
Create an account to configure your Bible reading plan and you will see your progress and the next chapter to read here!
Read more...