Bible Verses about Christmas
«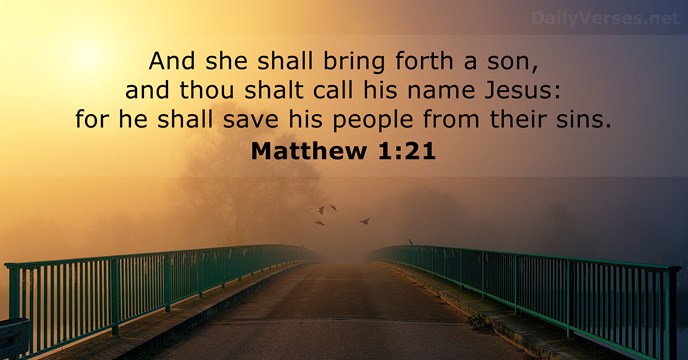 »
| | |
| --- | --- |
| And she shall bring forth a son, and thou shalt call his name Jesus: for he shall save his people from their sins. | Dará a luz un hijo, y le pondrás por nombre Jesús, porque él salvará a su pueblo de sus pecados. |
| For unto you is born this day in the city of David a Saviour, which is Christ the Lord. | Hoy les ha nacido en la ciudad de David un Salvador, que es Cristo el Señor. |
| Glory to God in the highest, and on earth peace, good will toward men. | Gloria a Dios en las alturas, y en la tierra paz a los que gozan de su buena voluntad. |
| And the angel said unto them, Fear not: for, behold, I bring you good tidings of great joy, which shall be to all people. | Pero el ángel les dijo: «No tengan miedo. Miren que les traigo buenas noticias que serán motivo de mucha alegría para todo el pueblo». |
| And so it was, that, while they were there, the days were accomplished that she should be delivered. And she brought forth her firstborn son, and wrapped him in swaddling clothes, and laid him in a manger; because there was no room for them in the inn. | Y, mientras estaban allí, se le cumplió el tiempo. Así que dio a luz a su hijo primogénito. Lo envolvió en pañales y lo acostó en un pesebre, porque no había lugar para ellos en la posada. |
| Now all this was done, that it might be fulfilled which was spoken of the Lord by the prophet, saying, Behold, a virgin shall be with child, and shall bring forth a son, and they shall call his name Emmanuel, which being interpreted is, God with us. | Todo esto sucedió para que se cumpliera lo que el Señor había dicho por medio del profeta: «La virgen concebirá y dará a luz un hijo, y lo llamarán Emanuel» (que significa «Dios con nosotros»). |
| For unto us a child is born, unto us a son is given: and the government shall be upon his shoulder: and his name shall be called Wonderful, Counsellor, The mighty God, The everlasting Father, The Prince of Peace. | Porque nos ha nacido un niño, se nos ha concedido un hijo; la soberanía reposará sobre sus hombros, y se le darán estos nombres: Consejero admirable, Dios fuerte, Padre eterno, Príncipe de paz. |
| Therefore the Lord himself shall give you a sign; Behold, a virgin shall conceive, and bear a son, and shall call his name Immanuel. | Por eso, el Señor mismo les dará una señal: La virgen concebirá y dará a luz un hijo, y lo llamará Emanuel. |
| And the shepherds returned, glorifying and praising God for all the things that they had heard and seen, as it was told unto them. | Los pastores regresaron glorificando y alabando a Dios por lo que habían visto y oído, pues todo sucedió tal como se les había dicho. |
| And Joseph also went up from Galilee, out of the city of Nazareth, into Judaea, unto the city of David, which is called Bethlehem; (because he was of the house and lineage of David:) To be taxed with Mary his espoused wife, being great with child. | También José, que era descendiente del rey David, subió de Nazaret, ciudad de Galilea, a Judea. Fue a Belén, la ciudad de David, para inscribirse junto con María su esposa. Ella se encontraba encinta. |
| But while he thought on these things, behold, the angel of the Lord appeared unto him in a dream, saying, Joseph, thou son of David, fear not to take unto thee Mary thy wife: for that which is conceived in her is of the Holy Ghost. | Pero, cuando él estaba considerando hacerlo, se le apareció en sueños un ángel del Señor y le dijo: «José, hijo de David, no temas recibir a María por esposa, porque ella ha concebido por obra del Espíritu Santo.» |
| For the customs of the people are vain: for one cutteth a tree out of the forest, the work of the hands of the workman, with the axe. They deck it with silver and with gold; they fasten it with nails and with hammers, that it move not. They are upright as the palm tree, but speak not: they must needs be borne, because they cannot go. Be not afraid of them; for they cannot do evil, neither also is it in them to do good. | Las costumbres de los pueblos no tienen valor alguno. Cortan un tronco en el bosque, y un artífice lo labra con un cincel. Lo adornan con oro y plata, y lo afirman con clavos y martillo para que no se tambalee. Sus ídolos no pueden hablar; ¡parecen espantapájaros en un campo sembrado de melones! Tienen que ser transportados, porque no pueden caminar. No les tengan miedo, que ningún mal pueden hacerles, pero tampoco ningún bien. |
| And the angel answered and said unto her, The Holy Ghost shall come upon thee, and the power of the Highest shall overshadow thee: therefore also that holy thing which shall be born of thee shall be called the Son of God. | —El Espíritu Santo vendrá sobre ti, y el poder del Altísimo te cubrirá con su sombra. Así que al santo niño que va a nacer lo llamarán Hijo de Dios. |
| And the angel said unto her, Fear not, Mary: for thou hast found favour with God. And, behold, thou shalt conceive in thy womb, and bring forth a son, and shalt call his name Jesus. | No tengas miedo, María; Dios te ha concedido su favor —le dijo el ángel—. Quedarás encinta y darás a luz un hijo, y le pondrás por nombre Jesús. |
| Now the birth of Jesus Christ was on this wise: When as his mother Mary was espoused to Joseph, before they came together, she was found with child of the Holy Ghost. | El nacimiento de Jesús, el Cristo, fue así: Su madre, María, estaba comprometida para casarse con José, pero, antes de unirse a él, resultó que estaba encinta por obra del Espíritu Santo. |
| But thou, Bethlehem Ephratah, though thou be little among the thousands of Judah, yet out of thee shall he come forth unto me that is to be ruler in Israel; whose goings forth have been from of old, from everlasting. | Pero de ti, Belén Efrata, pequeña entre los clanes de Judá, saldrá el que gobernará a Israel; sus orígenes se remontan hasta la antigüedad, hasta tiempos inmemoriales. |
| Now when Jesus was born in Bethlehem of Judaea in the days of Herod the king, behold, there came wise men from the east to Jerusalem, Saying, Where is he that is born King of the Jews? for we have seen his star in the east, and are come to worship him. | Después de que Jesús nació en Belén de Judea en tiempos del rey Herodes, llegaron a Jerusalén unos sabios procedentes del Oriente. —¿Dónde está el que ha nacido rey de los judíos? —preguntaron—. Vimos levantarse su estrella y hemos venido a adorarlo. |
Let us hear the conclusion of the whole matter: Fear God, and keep his commandments: for this is the whole duty of man.
Personal Bible reading plan
Create an account to configure your Bible reading plan and you will see your progress and the next chapter to read here!
Read more...