Bible Verses about Clothing
«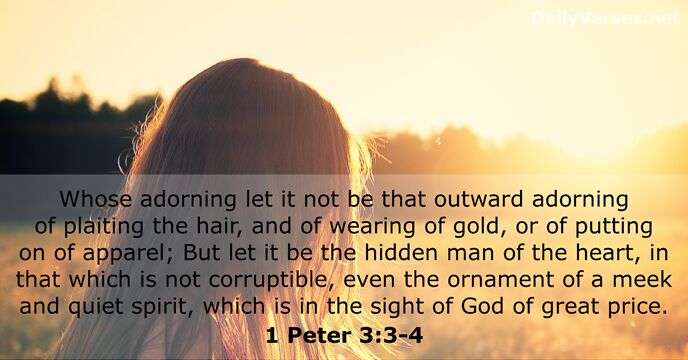 »
Whose adorning let it not be that outward adorning of plaiting the hair, and of wearing of gold, or of putting on of apparel; But let it be the hidden man of the heart, in that which is not corruptible, even the ornament of a meek and quiet spirit, which is in the sight of God of great price.

Vrouwen, onthoud dat het er niet om gaat dat jullie er van buiten mooi uitzien, met schitterende kapsels, dure sieraden en mooie kleren. Zorg er liever voor dat jullie van binnen mooi zijn. Dat is veel belangrijker. Je bent pas werkelijk mooi als je vriendelijk en rustig bent. Dat is schoonheid die niet verdwijnt. God houdt van zulke schoonheid.

In like manner also, that women adorn themselves in modest apparel, with shamefacedness and sobriety; not with broided hair, or gold, or pearls, or costly array; But (which becometh women professing godliness) with good works.

Ook wil ik dat de vrouwen zich fatsoenlijk kleden, keurig en bescheiden. Ze moeten niet willen opvallen door ingewikkelde kapsels, veel sieraden en mooie kleren. Het is beter als ze mooi en aantrekkelijk zijn door goed te zijn voor anderen, zoals dat past bij vrouwen die zeggen dat ze God dienen.

Put on therefore, as the elect of God, holy and beloved, bowels of mercies, kindness, humbleness of mind, meekness, longsuffering.

Jullie zijn door God uitgekozen. Jullie zijn van Hem en Hij houdt heel veel van jullie. Wees daarom zelf ook vol medelijden, goedheid, bescheidenheid, vriendelijkheid en geduld.

For ye are all the children of God by faith in Christ Jesus. For as many of you as have been baptized into Christ have put on Christ.

Want door jullie geloof in Jezus Christus zijn jullie allemaal kinderen van God geworden. Want alle mensen die in Christus zijn gedoopt, worden met Christus bedekt. Hij bedekt je zoals een kledingstuk je bedekt.

I will greatly rejoice in the L

ord

, my soul shall be joyful in my God; for he hath clothed me with the garments of salvation, he hath covered me with the robe of righteousness, as a bridegroom decketh himself with ornaments, and as a bride adorneth herself with her jewels.
Jeruzalem zegt: "Ik ben heel erg blij met de Heer. Ik juich over wie God is. Want Hij heeft mij gered. Hij is voor mij opgekomen. Daardoor ben ik nu net zo mooi als een bruidegom in zijn feestkleren, of als een bruid met al haar sieraden om."

Therefore I say unto you, Take no thought for your life, what ye shall eat, or what ye shall drink; nor yet for your body, what ye shall put on. Is not the life more than meat, and the body than raiment?

Jezus zei tegen zijn leerlingen: "Daarom zeg Ik jullie: maak je nergens zorgen over. Niet of je wel eten en drinken zal hebben. Ook niet of je wel kleren zal hebben om aan te trekken. Het leven is toch belangrijker dan het eten? En het lichaam is toch belangrijker dan de kleren?"
Unto Adam also and to his wife did the L

ord

God make coats of skins, and clothed them.

De Heer God maakte voor de mens en zijn vrouw kleren van dierenhuiden. Daarmee kleedde Hij hen aan.

He that overcometh, the same shall be clothed in white raiment; and I will not blot out his name out of the book of life, but I will confess his name before my Father, and before his angels.

Als je overwint, zul je witte kleren krijgen. En Ik zal je naam niet weghalen uit het Boek van het Leven. Maar Ik zal tegen mijn Vader en zijn engelen zeggen dat je bij Mij hoort.

Take no thought for your life, what ye shall eat; neither for the body, what ye shall put on. The life is more than meat, and the body is more than raiment.

Maak je nergens zorgen over. Niet of je wel te eten zal hebben. Ook niet of je wel kleren zal hebben om aan te trekken. Het leven is toch belangrijker dan het eten? En het lichaam is toch belangrijker dan de kleding?

For we brought nothing into this world, and it is certain we can carry nothing out. And having food and raiment let us be therewith content.

Want we hebben niets op de wereld meegebracht toen we geboren werden, en het is duidelijk dat we ook niets uit de wereld kunnen meenemen als we sterven. Als we onderdak, eten, drinken en kleren hebben, moeten we tevreden zijn.

Beware of false prophets, which come to you in sheep's clothing, but inwardly they are ravening wolves.

Jezus zei tegen zijn leerlingen: "Pas op voor leugen-profeten. Zij beweren dat ze namens God spreken terwijl dat helemaal niet zo is. Je kan hen vergelijken met wolven die zich vermomd hebben als schapen. Ze zien er onschuldig uit, maar van binnen zijn ze verslindende wolven."

And the eyes of them both were opened, and they knew that they were naked; and they sewed fig leaves together, and made themselves aprons.

Toen zagen ze de waarheid: ze zagen dat ze naakt waren. Daarom maakten ze twee schorten van de bladeren van een vijgenboom. Zo hadden ze iets om aan te trekken.

And the same John had his raiment of camel's hair, and a leathern girdle about his loins; and his meat was locusts and wild honey.

Johannes droeg een mantel die van kameelhaar was gemaakt, met een leren gordel om zijn middel. Hij leefde van sprinkhanen en honing van wilde bijen.

He answereth and saith unto them, He that hath two coats, let him impart to him that hath none; and he that hath meat, let him do likewise.

Hij antwoordde: "Als je twee stel kleren hebt, moet je één stel geven aan iemand die geen kleren heeft. En als je eten in huis hebt, moet je dat delen met iemand die niets heeft."
And the Lord, he it is that doth go before thee; he will be with thee, he will not fail thee, neither forsake thee: fear not, neither be dismayed.
Personal Bible reading plan
Create an account to configure your Bible reading plan and you will see your progress and the next chapter to read here!
Read more...