Bible Verses about Death
«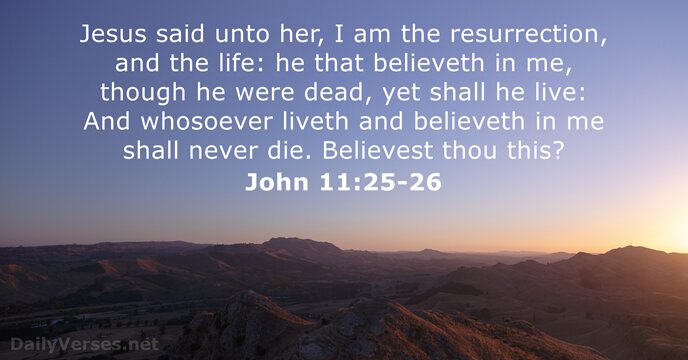 »
Jesus said unto her, I am the resurrection, and the life: he that believeth in me, though he were dead, yet shall he live: And whosoever liveth and believeth in me shall never die. Believest thou this?

Da sagte Jesus: "Ich bin die Auferstehung und das Leben. Wer an mich glaubt, wird leben, auch wenn er stirbt. Und wer lebt und an mich glaubt, wird niemals sterben. Glaubst du das?"

For whether we live, we live unto the Lord; and whether we die, we die unto the Lord: whether we live therefore, or die, we are the Lord's.

Wenn wir leben, leben wir für den Herrn, und wenn wir sterben, gehören wir dem Herrn. Im Leben und im Tod gehören wir dem Herrn.

For the Lord himself shall descend from heaven with a shout, with the voice of the archangel, and with the trump of God: and the dead in Christ shall rise first: Then we which are alive and remain shall be caught up together with them in the clouds, to meet the Lord in the air: and so shall we ever be with the Lord.

Denn der Herr selbst wird vom Himmel herabkommen. Ein Kommando wird gerufen; und die Stimme eines Engelfürsten und der Schall der Posaune Gottes werden zu hören sein. Dann werden zuerst die Menschen auferstehen, die im Glauben an Christus gestorben sind. Danach werden wir, die noch am Leben sind, mit ihnen zusammen in Wolken fortgerissen werden zur Begegnung mit dem Herrn in der Luft. Und dann werden wir für immer bei ihm sein.

Yea, though I walk through the valley of the shadow of death, I will fear no evil: for thou art with me; thy rod and thy staff they comfort me.

Selbst auf dem Weg durch das dunkelste Tal fürchte ich mich nicht, denn du bist bei mir. Dein Wehrstock und dein Hirtenstab, sie trösten und ermutigen mich.

For to me to live is Christ, and to die is gain.

Denn das Leben heißt für mich Christus und das Sterben Gewinn!

It is a faithful saying: For if we be dead with him, we shall also live with him.

Es ist ein wahres Wort: Wenn wir mit Christus gestorben sind, werden wir auch mit ihm leben.

Set me as a seal upon thine heart, as a seal upon thine arm: for love is strong as death; jealousy is cruel as the grave: the coals thereof are coals of fire, which hath a most vehement flame.

Leg mich an dein Herz wie ein Siegel, wie ein Siegel an deinen Arm. Stark wie der Tod ist die Liebe, hart wie das Totenreich die Leidenschaft. Feuerglut ist ihre Glut, eine Flamme von Jah.

For as in Adam all die, even so in Christ shall all be made alive.

Denn wie durch die Verbindung mit Adam alle sterben, so werden durch die Verbindung mit Christus alle lebendig gemacht werden.

For I am persuaded, that neither death, nor life, nor angels, nor principalities, nor powers, nor things present, nor things to come, Nor height, nor depth, nor any other creature, shall be able to separate us from the love of God, which is in Christ Jesus our Lord.

Denn ich bin überzeugt: Weder Tod noch Leben, weder Engel noch Teufel, weder Gegenwärtiges noch Zukünftiges, weder hohe Kräfte noch tiefe Gewalten - nichts in der ganzen Schöpfung kann uns von der Liebe Gottes trennen, die uns verbürgt ist in Jesus Christus, unserem Herrn.

For I have no pleasure in the death of him that dieth, saith the Lord G

od

: wherefore turn yourselves, and live ye.

Mir gefällt es nicht, wenn ein Mensch sterben muss, spricht Jahwe, der Herr. Kehrt also um, damit ihr am Leben bleibt!

And I heard a great voice out of heaven saying, Behold, the tabernacle of God is with men, and he will dwell with them, and they shall be his people, and God himself shall be with them, and be their God. And God shall wipe away all tears from their eyes; and there shall be no more death, neither sorrow, nor crying, neither shall there be any more pain: for the former things are passed away.

Und vom Thron her hörte ich eine laute Stimme rufen: "Jetzt ist Gottes Wohnung bei den Menschen. Unter ihnen wird er wohnen und sie alle werden seine Völker sein. Gott selbst wird als ihr Gott bei ihnen sein. Jede Träne wird er von ihren Augen wischen. Es wird keinen Tod mehr geben und auch keine Traurigkeit, keine Klage, keinen Schmerz. Was früher war, ist für immer vorbei."

For I am in a strait betwixt two, having a desire to depart, and to be with Christ; which is far better: Nevertheless to abide in the flesh is more needful for you.

Ich fühle mich hin- und hergerissen. Einerseits sehne ich mich danach, hinüberzugehen und bei Christus zu sein, denn das wäre bei weitem das Beste; andererseits ist es euretwegen nötiger, am Leben zu bleiben.

For since by man came death, by man came also the resurrection of the dead.

Weil durch einen Menschen der Tod kam, kommt auch die Auferstehung vom Tod durch einen Menschen.

For whosoever will save his life shall lose it: and whosoever will lose his life for my sake shall find it.

Denn wer sein Leben unbedingt bewahren will, wird es verlieren. Wer sein Leben aber meinetwegen verliert, der wird es gewinnen.

Whither shall I go from thy spirit? or whither shall I flee from thy presence? If I ascend up into heaven, thou art there: if I make my bed in hell, behold, thou art there.

Wohin sollte ich gehen, um dir zu entkommen, wohin fliehen, dass du mich nicht siehst? Stiege ich zum Himmel hinauf, so bist du da, legte ich mich zu den Toten, da wärst du auch.

And in hell he lift up his eyes, being in torments, and seeth Abraham afar off, and Lazarus in his bosom. And he cried and said, Father Abraham, have mercy on me, and send Lazarus, that he may dip the tip of his finger in water, and cool my tongue; for I am tormented in this flame.

Als er in der Hölle wieder zu sich kam und Folterqualen litt, sah er in weiter Ferne Abraham und Lazarus an seiner Seite. Da rief er: 'Vater Abraham, hab Erbarmen mit mir! Schick mir doch Lazarus! Lass ihn seine Fingerspitze ins Wasser tauchen und meine Zunge kühlen, denn ich werde in der Glut dieser Flammen sehr gequält.'

And when Jesus had cried with a loud voice, he said, Father, into thy hands I commend my spirit: and having said thus, he gave up the ghost.

Jesus schrie: "Vater, in deine Hände gebe ich meinen Geist." Mit diesen Worten starb er.

And fear not them which kill the body, but are not able to kill the soul: but rather fear him which is able to destroy both soul and body in hell.

Habt keine Angst vor denen, die nur den Leib töten, der Seele aber nichts anhaben können. Fürchtet aber den, der Seele und Leib dem Verderben in der Hölle ausliefern kann.

For we know that if our earthly house of this tabernacle were dissolved, we have a building of God, an house not made with hands, eternal in the heavens.

Wir wissen ja: Wenn unser irdisches Haus, unser Körper, einmal wie ein Zelt abgebrochen wird, erhalten wir eine Wohnung von Gott, ein nicht von Menschen gebautes ewiges Haus im Himmel.

For scarcely for a righteous man will one die: yet peradventure for a good man some would even dare to die. But God commendeth his love toward us, in that, while we were yet sinners, Christ died for us.

Nun wird sich kaum jemand finden, der für einen Gerechten stirbt; eher noch würde sich jemand für eine gute Sache opfern. Aber Gott hat seine Liebe zu uns dadurch bewiesen, dass Christus für uns starb, als wir noch Sünder waren.

Blessed and holy is he that hath part in the first resurrection: on such the second death hath no power, but they shall be priests of God and of Christ, and shall reign with him a thousand years.

Alle, die an dieser ersten Auferstehung teilhaben dürfen, sind glücklich zu preisen. Sie gehören zu Gottes heiligem Volk und der zweite Tod wird keine Macht über sie haben. Sie werden Gott und Christus als Priester dienen und die tausend Jahre zusammen mit Christus regieren.

And, behold, this day I am going the way of all the earth: and ye know in all your hearts and in all your souls, that not one thing hath failed of all the good things which the L

ord

your God spake concerning you; all are come to pass unto you, and not one thing hath failed thereof.

Ich werde bald den Weg alles Irdischen gehen. Doch ihr habt ja mit Herz und Seele erkannt, dass all die guten Worte, die Jahwe, euer Gott, euch gesagt hat, eingetroffen sind; kein einziges davon ist ausgeblieben.

Ye are of your father the devil, and the lusts of your father ye will do. He was a murderer from the beginning, and abode not in the truth, because there is no truth in him. When he speaketh a lie, he speaketh of his own: for he is a liar, and the father of it.

Euer Vater ist nämlich der Teufel, und ihr wollt das tun, was euer Vater will. Er war von Anfang an ein Mörder und hat die Wahrheit immer gehasst, weil keine Wahrheit in ihm ist. Wenn er lügt, entspricht das seinem ureigensten Wesen. Er ist der Lügner schlechthin und der Vater jeder Lüge.
But Jesus beheld them, and said unto them, With men this is impossible; but with God all things are possible.
Personal Bible reading plan
Create an account to configure your Bible reading plan and you will see your progress and the next chapter to read here!
Read more...