54 Versículos de la Biblia sobre la Confianza
«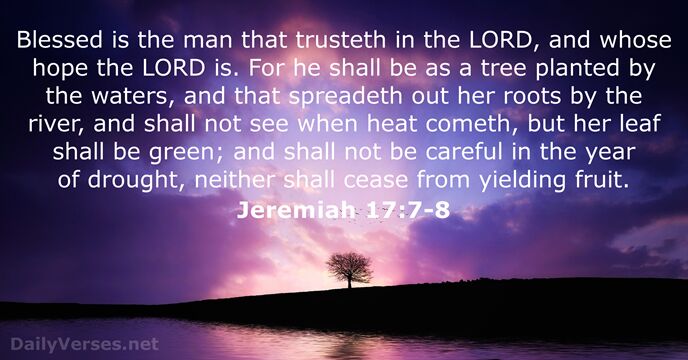 »
¡Bendito el hombre que confía en Jehová, cuya confianza está puesta en Jehová!, porque será como el árbol plantado junto a las aguas, que junto a la corriente echará sus raíces. No temerá cuando llegue el calor, sino que su hoja estará verde. En el año de sequía no se inquietará ni dejará de dar fruto.

Blessed is the man that trusteth in the L

ord

, and whose hope the L

ord

is. For he shall be as a tree planted by the waters, and that spreadeth out her roots by the river, and shall not see when heat cometh, but her leaf shall be green; and shall not be careful in the year of drought, neither shall cease from yielding fruit.

Confía en Jehová con todo tu corazón y no te apoyes en tu propia prudencia. Reconócelo en todos tus caminos y él hará derechas tus veredas.

Trust in the L

ord

with all thine heart; and lean not unto thine own understanding. In all thy ways acknowledge him, and he shall direct thy paths.

En el día que temo, yo en ti confío.

What time I am afraid, I will trust in thee.

Encomienda a Jehová tus obras y tus pensamientos serán afirmados.

Commit thy works unto the L

ord

, and thy thoughts shall be established.

Cuando pases por las aguas, yo estaré contigo; y si por los ríos, no te anegarán. Cuando pases por el fuego, no te quemarás ni la llama arderá en ti.

When thou passest through the waters, I will be with thee; and through the rivers, they shall not overflow thee: when thou walkest through the fire, thou shalt not be burned; neither shall the flame kindle upon thee.

Hazme oír por la mañana tu misericordia, porque en ti he confiado. Hazme saber el camino por donde ande, porque hacia ti he elevado mi alma.

Cause me to hear thy lovingkindness in the morning; for in thee do I trust: cause me to know the way wherein I should walk; for I lift up my soul unto thee.

Ésta es la confianza que tenemos en él, que si pedimos alguna cosa conforme a su voluntad, él nos oye.

And this is the confidence that we have in him, that, if we ask any thing according to his will, he heareth us.

El que habita al abrigo del Altísimo morará bajo la sombra del Omnipotente. Diré yo a Jehová: «Esperanza mía y castillo mío; mi Dios, en quien confiaré.»

He that dwelleth in the secret place of the most High shall abide under the shadow of the Almighty. I will say of the L

ord

, He is my refuge and my fortress: my God; in him will I trust.

Porque por fe andamos, no por vista.

For we walk by faith, not by sight.

En Dios está mi salvación y mi gloria; en Dios está mi roca fuerte y mi refugio.

In God is my salvation and my glory: the rock of my strength, and my refuge, is in God.

Pero pida con fe, no dudando nada, porque el que duda es semejante a la onda del mar, que es arrastrada por el viento y echada de una parte a otra.

But let him ask in faith, nothing wavering. For he that wavereth is like a wave of the sea driven with the wind and tossed.

No dará tu pie al resbaladero ni se dormirá el que te guarda.

He will not suffer thy foot to be moved: he that keepeth thee will not slumber.

Mirad las aves del cielo, que no siembran, ni siegan, ni recogen en graneros; y, sin embargo, vuestro Padre celestial las alimenta. ¿No valéis vosotros mucho más que ellas?

Behold the fowls of the air: for they sow not, neither do they reap, nor gather into barns; yet your heavenly Father feedeth them. Are ye not much better than they?

Cercano está Jehová a todos los que lo invocan, a todos los que lo invocan de veras.

The L

ord

is nigh unto all them that call upon him, to all that call upon him in truth.

Así que podemos decir confiadamente: «El Señor es mi ayudador; no temeré lo que me pueda hacer el hombre.»

So that we may boldly say, The Lord is my helper, and I will not fear what man shall do unto me.

El temor del hombre le pone trampas; el que confía en Jehová está a salvo.

The fear of man bringeth a snare: but whoso putteth his trust in the L

ord

shall be safe.

¿A quién tengo yo en los cielos sino a ti? Y fuera de ti nada deseo en la tierra.

Whom have I in heaven but thee? and there is none upon earth that I desire beside thee.

Mi Dios, pues, suplirá todo lo que os falta conforme a sus riquezas en gloria en Cristo Jesús.

But my God shall supply all your need according to his riches in glory by Christ Jesus.

Sean vuestras costumbres sin avaricia, contentos con lo que tenéis ahora, pues él dijo: «No te desampararé ni te dejaré.»

Let your conversation be without covetousness; and be content with such things as ye have: for he hath said, I will never leave thee, nor forsake thee.

El entendido en la palabra hallará el bien; el que confía en Jehová es bienaventurado.

He that handleth a matter wisely shall find good: and whoso trusteth in the L

ord

, happy is he.

Y nosotros hemos conocido y creído el amor que Dios tiene para con nosotros. Dios es amor, y el que permanece en amor permanece en Dios y Dios en él.

And we have known and believed the love that God hath to us. God is love; and he that dwelleth in love dwelleth in God, and God in him.

En Dios, cuya palabra alabo, en Dios he confiado. No temeré. ¿Qué puede hacerme el hombre?

In God I will praise his word, in God I have put my trust; I will not fear what flesh can do unto me.

Confía en Jehová y haz el bien; habitarás en la tierra y te apacentarás de la verdad.

Trust in the L

ord

, and do good; so shalt thou dwell in the land, and verily thou shalt be fed.

Amados, no creáis a todo espíritu, sino probad los espíritus si son de Dios, porque muchos falsos profetas han salido por el mundo.

Beloved, believe not every spirit, but try the spirits whether they are of God: because many false prophets are gone out into the world.

¡Cuán grande es tu bondad, que has guardado para los que te temen, que has mostrado a los que esperan en ti, delante de los hijos de los hombres!

Oh how great is thy goodness, which thou hast laid up for them that fear thee; which thou hast wrought for them that trust in thee before the sons of men!
El que ama el dinero no se saciará de dinero;
y el que ama la riqueza no sacará fruto.
También esto es vanidad.
Vestíos de toda la armadura de Dios, para que podáis estar firmes contra las asechanzas del diablo.
El que ama el dinero no se saciará de dinero; y el que ama la riqueza no sacará fruto. También esto es vanidad.
Plan de lectura de la Biblia
Registrar y configurar su plan de lectura de la Biblia que desea ver su progreso y el siguiente capítulo para leer aquí!