Versículos de la Biblia sobre la Confianza
«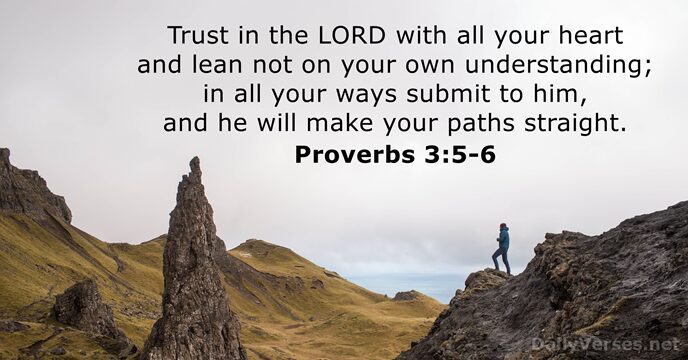 »
Confía en Jehová con todo tu corazón y no te apoyes en tu propia prudencia. Reconócelo en todos tus caminos y él hará derechas tus veredas.

Trust in the L

ord

with all your heart and lean not on your own understanding; in all your ways submit to him, and he will make your paths straight.

¡Bendito el hombre que confía en Jehová, cuya confianza está puesta en Jehová!, porque será como el árbol plantado junto a las aguas, que junto a la corriente echará sus raíces. No temerá cuando llegue el calor, sino que su hoja estará verde. En el año de sequía no se inquietará ni dejará de dar fruto.

But blessed is the one who trusts in the L

ord

, whose confidence is in him. They will be like a tree planted by the water that sends out its roots by the stream. It does not fear when heat comes; its leaves are always green. It has no worries in a year of drought and never fails to bear fruit.

En el día que temo, yo en ti confío.

When I am afraid, I put my trust in you.

Encomienda a Jehová tus obras y tus pensamientos serán afirmados.

Commit to the L

ord

whatever you do, and he will establish your plans.

Cuando pases por las aguas, yo estaré contigo; y si por los ríos, no te anegarán. Cuando pases por el fuego, no te quemarás ni la llama arderá en ti.

When you pass through the waters, I will be with you; and when you pass through the rivers, they will not sweep over you. When you walk through the fire, you will not be burned; the flames will not set you ablaze.

Hazme oír por la mañana tu misericordia, porque en ti he confiado. Hazme saber el camino por donde ande, porque hacia ti he elevado mi alma.

Let the morning bring me word of your unfailing love, for I have put my trust in you. Show me the way I should go, for to you I entrust my life.

Ésta es la confianza que tenemos en él, que si pedimos alguna cosa conforme a su voluntad, él nos oye.

This is the confidence we have in approaching God: that if we ask anything according to his will, he hears us.

El que habita al abrigo del Altísimo morará bajo la sombra del Omnipotente. Diré yo a Jehová: «Esperanza mía y castillo mío; mi Dios, en quien confiaré.»

Whoever dwells in the shelter of the Most High will rest in the shadow of the Almighty. I will say of the L

ord

, "He is my refuge and my fortress, my God, in whom I trust."

Porque por fe andamos, no por vista.

For we live by faith, not by sight.

En Dios está mi salvación y mi gloria; en Dios está mi roca fuerte y mi refugio.

My salvation and my honor depend on God; he is my mighty rock, my refuge.

Pero pida con fe, no dudando nada, porque el que duda es semejante a la onda del mar, que es arrastrada por el viento y echada de una parte a otra.

But when you ask, you must believe and not doubt, because the one who doubts is like a wave of the sea, blown and tossed by the wind.

No dará tu pie al resbaladero ni se dormirá el que te guarda.

He will not let your foot slip— he who watches over you will not slumber.

Mirad las aves del cielo, que no siembran, ni siegan, ni recogen en graneros; y, sin embargo, vuestro Padre celestial las alimenta. ¿No valéis vosotros mucho más que ellas?

Look at the birds of the air; they do not sow or reap or store away in barns, and yet your heavenly Father feeds them. Are you not much more valuable than they?

Cercano está Jehová a todos los que lo invocan, a todos los que lo invocan de veras.

The L

ord

is near to all who call on him, to all who call on him in truth.

Así que podemos decir confiadamente: «El Señor es mi ayudador; no temeré lo que me pueda hacer el hombre.»

So we say with confidence, "The Lord is my helper; I will not be afraid. What can mere mortals do to me?"

El temor del hombre le pone trampas; el que confía en Jehová está a salvo.

Fear of man will prove to be a snare, but whoever trusts in the L

ord

is kept safe.

¿A quién tengo yo en los cielos sino a ti? Y fuera de ti nada deseo en la tierra.

Whom have I in heaven but you? And earth has nothing I desire besides you.

Mi Dios, pues, suplirá todo lo que os falta conforme a sus riquezas en gloria en Cristo Jesús.

And my God will meet all your needs according to the riches of his glory in Christ Jesus.

El entendido en la palabra hallará el bien; el que confía en Jehová es bienaventurado.

Whoever gives heed to instruction prospers, and blessed is the one who trusts in the L

ord

.

Sean vuestras costumbres sin avaricia, contentos con lo que tenéis ahora, pues él dijo: «No te desampararé ni te dejaré.»

Keep your lives free from the love of money and be content with what you have, because God has said, "Never will I leave you; never will I forsake you."

Confía en Jehová y haz el bien; habitarás en la tierra y te apacentarás de la verdad.

Trust in the L

ord

and do good; dwell in the land and enjoy safe pasture.

Y nosotros hemos conocido y creído el amor que Dios tiene para con nosotros. Dios es amor, y el que permanece en amor permanece en Dios y Dios en él.

And so we know and rely on the love God has for us. God is love. Whoever lives in love lives in God, and God in them.

Encomienda a Jehová tu camino, confía en él y él hará. Exhibirá tu justicia como la luz y tu derecho como el mediodía.

Commit your way to the L

ord

; trust in him and he will do this: He will make your righteous reward shine like the dawn, your vindication like the noonday sun.

En Dios, cuya palabra alabo, en Dios he confiado. No temeré. ¿Qué puede hacerme el hombre?

In God, whose word I praise— in God I trust and am not afraid. What can mere mortals do to me?

¡Cuán grande es tu bondad, que has guardado para los que te temen, que has mostrado a los que esperan en ti, delante de los hijos de los hombres!

How abundant are the good things that you have stored up for those who fear you, that you bestow in the sight of all, on those who take refuge in you.
Porque no nos ha dado Dios espíritu de cobardía, sino de poder, de amor y de dominio propio.
Plan de lectura de la Biblia
Registrar y configurar su plan de lectura de la Biblia que desea ver su progreso y el siguiente capítulo para leer aquí!