12 Versículos de la Biblia sobre la Cosecha
«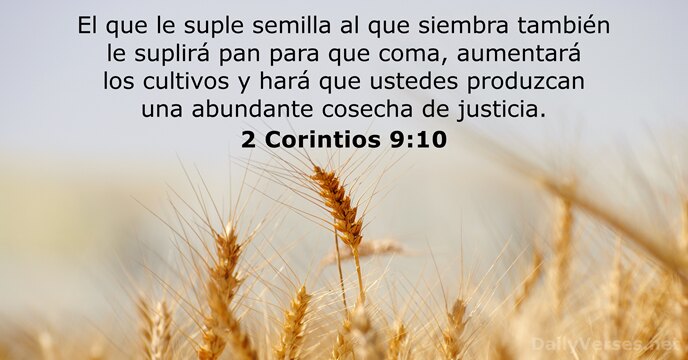 »
El que le suple semilla al que siembra también le suplirá pan para que coma, aumentará los cultivos y hará que ustedes produzcan una abundante cosecha de justicia.

He who supplies seed to the sower and bread for food will supply and multiply your seed for sowing and increase the harvest of your righteousness.

No nos cansemos de hacer el bien, porque a su debido tiempo cosecharemos si no nos damos por vencidos.

And let us not grow weary of doing good, for in due season we will reap, if we do not give up.

No se engañen: de Dios nadie se burla. Cada uno cosecha lo que siembra.

Do not be deceived: God is not mocked, for whatever one sows, that will he also reap.

Aunque la higuera no florezca, ni haya frutos en las vides; aunque falle la cosecha del olivo, y los campos no produzcan alimentos; aunque en el aprisco no haya ovejas, ni ganado alguno en los establos; aun así, yo me regocijaré en el S

eñor

, ¡me alegraré en Dios, mi libertador!
Though the fig tree should not blossom, nor fruit be on the vines, the produce of the olive fail and the fields yield no food, the flock be cut off from the fold and there be no herd in the stalls, yet I will rejoice in the L

ord

; I will take joy in the God of my salvation.
Honra al S

eñor

con tus riquezas y con los primeros frutos de tus cosechas.
Honor the L

ord

with your wealth and with the firstfruits of all your produce.

Fíjense en las aves del cielo: no siembran ni cosechan ni almacenan en graneros; sin embargo, el Padre celestial las alimenta. ¿No valen ustedes mucho más que ellas?

Look at the birds of the air: they neither sow nor reap nor gather into barns, and yet your heavenly Father feeds them. Are you not of more value than they?

Ciertamente, ninguna disciplina, en el momento de recibirla, parece agradable, sino más bien penosa; sin embargo, después produce una cosecha de justicia y paz para quienes han sido entrenados por ella.

For the moment all discipline seems painful rather than pleasant, but later it yields the peaceful fruit of righteousness to those who have been trained by it.

El que siembra para agradar a su naturaleza pecaminosa, de esa misma naturaleza cosechará destrucción; el que siembra para agradar al Espíritu, del Espíritu cosechará vida eterna.

For the one who sows to his own flesh will from the flesh reap corruption, but the one who sows to the Spirit will from the Spirit reap eternal life.

En fin, el fruto de la justicia se siembra en paz para los que hacen la paz.

And a harvest of righteousness is sown in peace by those who make peace.

Traigan íntegro el diezmo para los fondos del templo, y así habrá alimento en mi casa. Pruébenme en esto —dice el S

eñor

Todopoderoso—, y vean si no abro las compuertas del cielo y derramo sobre ustedes bendición hasta que sobreabunde.
Bring the full tithe into the storehouse, that there may be food in my house. And thereby put me to the test, says the L

ord

of hosts, if I will not open the windows of heaven for you and pour down for you a blessing until there is no more need.

Si se conducen según mis estatutos, y obedecen fielmente mis mandamientos, yo les enviaré lluvia a su tiempo, y la tierra y los árboles del campo darán sus frutos.

If you walk in my statutes and observe my commandments and do them, then I will give you your rains in their season, and the land shall yield its increase, and the trees of the field shall yield their fruit.

La vid se marchitó; languideció la higuera; se marchitaron los granados, las palmeras, los manzanos, ¡todos los árboles del campo! ¡Y hasta la alegría de la gente acabó por marchitarse!

The vine dries up; the fig tree languishes. Pomegranate, palm, and apple, all the trees of the field are dried up, and gladness dries up from the children of man.
También escogió Dios lo más bajo y despreciado, y lo que no es nada, para anular lo que es, a fin de que en su presencia nadie pueda jactarse.
El corazón del hombre traza su rumbo,
pero sus pasos los dirige el S

eñor

.
También escogió Dios lo más bajo y despreciado, y lo que no es nada, para anular lo que es, a fin de que en su presencia nadie pueda jactarse.
Plan de lectura de la Biblia
Registrar y configurar su plan de lectura de la Biblia que desea ver su progreso y el siguiente capítulo para leer aquí!