Versículos de la Biblia sobre los Niños
«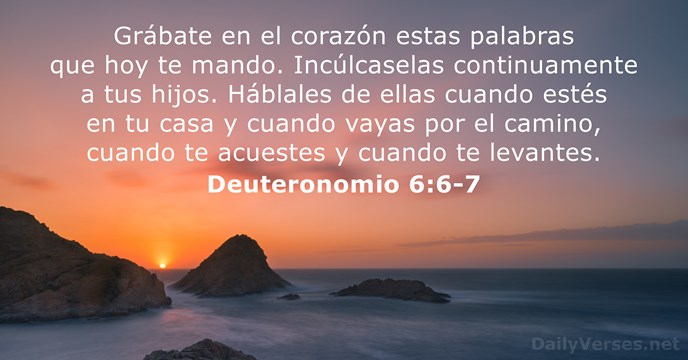 »
Grábate en el corazón estas palabras que hoy te mando. Incúlcaselas continuamente a tus hijos. Háblales de ellas cuando estés en tu casa y cuando vayas por el camino, cuando te acuestes y cuando te levantes.

And these words which I command you today shall be in your heart. You shall teach them diligently to your children, and shall talk of them when you sit in your house, when you walk by the way, when you lie down, and when you rise up.

Jesús dijo: «Dejen que los niños vengan a mí, y no se lo impidan, porque el reino de los cielos es de quienes son como ellos».

But Jesus said, "Let the little children come to Me, and do not forbid them; for of such is the kingdom of heaven."

Instruye al niño en el camino correcto, y aun en su vejez no lo abandonará.

Train up a child in the way he should go, And when he is old he will not depart from it.

¿Puede una madre olvidar a su niño de pecho, y dejar de amar al hijo que ha dado a luz? Aun cuando ella lo olvidara, ¡yo no te olvidaré! Grabada te llevo en las palmas de mis manos; tus muros siempre los tengo presentes.

Can a woman forget her nursing child, And not have compassion on the son of her womb? Surely they may forget, Yet I will not forget you. See, I have inscribed you on the palms of My hands; Your walls are continually before Me.

Ciertamente, ninguna disciplina, en el momento de recibirla, parece agradable, sino más bien penosa; sin embargo, después produce una cosecha de justicia y paz para quienes han sido entrenados por ella.

Now no chastening seems to be joyful for the present, but painful; nevertheless, afterward it yields the peaceable fruit of righteousness to those who have been trained by it.

Y ustedes, padres, no hagan enojar a sus hijos, sino críenlos según la disciplina e instrucción del Señor.

And you, fathers, do not provoke your children to wrath, but bring them up in the training and admonition of the Lord.

La corona del anciano son sus nietos; el orgullo de los hijos son sus padres.

Children's children are the crown of old men, And the glory of children is their father.

Queridos hijos, apártense de los ídolos.

Little children, keep yourselves from idols. Amen.

Por tanto, imiten a Dios, como hijos muy amados.

Therefore be imitators of God as dear children.

Dichosos los que trabajan por la paz, porque serán llamados hijos de Dios.

Blessed are the peacemakers, For they shall be called sons of God.

Cree en el Señor Jesús; así tú y tu familia serán salvos —le contestaron.

So they said, "Believe on the Lord Jesus Christ, and you will be saved, you and your household."

Todos ustedes son hijos de Dios mediante la fe en Cristo Jesús, porque todos los que han sido bautizados en Cristo se han revestido de Cristo.

For you are all sons of God through faith in Christ Jesus. For as many of you as were baptized into Christ have put on Christ.

El necio desdeña la corrección de su padre; el que la acepta demuestra prudencia.

A fool despises his father's instruction, But he who receives correction is prudent.

Porque todos los que son guiados por el Espíritu de Dios son hijos de Dios.

For as many as are led by the Spirit of God, these are sons of God.

¡Fíjense qué gran amor nos ha dado el Padre, que se nos llame hijos de Dios! ¡Y lo somos! El mundo no nos conoce, precisamente porque no lo conoció a él.

Behold what manner of love the Father has bestowed on us, that we should be called children of God! Therefore the world does not know us, because it did not know Him.

Nada me produce más alegría que oír que mis hijos practican la verdad.

I have no greater joy than to hear that my children walk in truth.

El que no provee para los suyos, y sobre todo para los de su propia casa, ha negado la fe y es peor que un incrédulo.

But if anyone does not provide for his own, and especially for those of his household, he has denied the faith and is worse than an unbeliever.

Mas a cuantos lo recibieron, a los que creen en su nombre, les dio el derecho de ser hijos de Dios.

But as many as received Him, to them He gave the right to become children of God, to those who believe in His name.

La creación aguarda con ansiedad la revelación de los hijos de Dios.

For the earnest expectation of the creation eagerly waits for the revealing of the sons of God.

Y ustedes no recibieron un espíritu que de nuevo los esclavice al miedo, sino el Espíritu que los adopta como hijos y les permite clamar: «¡Abba! ¡Padre!»

For you did not receive the spirit of bondage again to fear, but you received the Spirit of adoption by whom we cry out, "Abba, Father."

Queridos hermanos, ahora somos hijos de Dios, pero todavía no se ha manifestado lo que habremos de ser. Sabemos, sin embargo, que cuando Cristo venga seremos semejantes a él, porque lo veremos tal como él es. Todo el que tiene esta esperanza en Cristo se purifica a sí mismo, así como él es puro.

Beloved, now we are children of God; and it has not yet been revealed what we shall be, but we know that when He is revealed, we shall be like Him, for we shall see Him as He is. And everyone who has this hope in Him purifies himself, just as He is pure.

El Espíritu mismo le asegura a nuestro espíritu que somos hijos de Dios.

The Spirit Himself bears witness with our spirit that we are children of God.

Obedece sus preceptos y normas que hoy te mando cumplir. De este modo a ti y a tus descendientes les irá bien, y permanecerán mucho tiempo en la tierra que el S

eñor

su Dios les da para siempre.
You shall therefore keep His statutes and His commandments which I command you today, that it may go well with you and with your children after you, and that you may prolong your days in the land which the L

ord

your God is giving you for all time.

¡Ojalá su corazón esté siempre dispuesto a temerme y a cumplir todos mis mandamientos, para que a ellos y a sus hijos siempre les vaya bien!

Oh, that they had such a heart in them that they would fear Me and always keep all My commandments, that it might be well with them and with their children forever!
Humíllense, pues, bajo la poderosa mano de Dios, para que él los exalte a su debido tiempo.
Plan de lectura de la Biblia
Registrar y configurar su plan de lectura de la Biblia que desea ver su progreso y el siguiente capítulo para leer aquí!