12 Versículos de la Biblia sobre el Descanso
«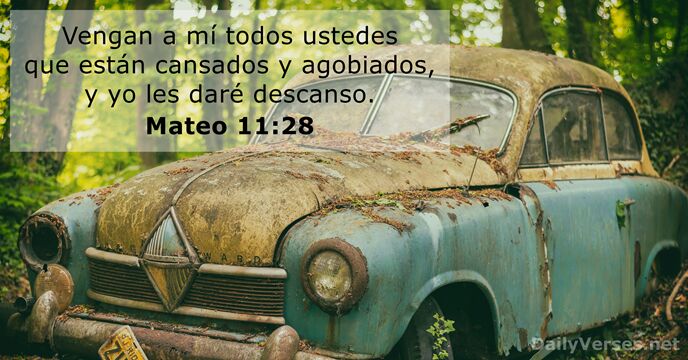 »
Vengan a mí todos ustedes que están cansados y agobiados, y yo les daré descanso.

Come unto me, all ye that labour and are heavy laden, and I will give you rest.

Sólo en Dios halla descanso mi alma; de él viene mi salvación.

Truly my soul waiteth upon God: from him cometh my salvation.

En paz me acuesto y me duermo, porque solo tú, S

eñor

, me haces vivir confiado.
I will both lay me down in peace, and sleep: for thou, L

ord

, only makest me dwell in safety.
Así dice el S

eñor

: Deténganse en los caminos y miren; pregunten por los senderos antiguos. Pregunten por el buen camino, y no se aparten de él. Así hallarán el descanso anhelado. Pero ellos dijeron: "No lo seguiremos".
Thus saith the L

ord

, Stand ye in the ways, and see, and ask for the old paths, where is the good way, and walk therein, and ye shall find rest for your souls. But they said, We will not walk therein.
El S

eñor

es mi pastor, nada me falta; en verdes pastos me hace descansar. Junto a tranquilas aguas me conduce.
The L

ord

is my shepherd; I shall not want. He maketh me to lie down in green pastures: he leadeth me beside the still waters.
El que habita al abrigo del Altísimo se acoge a la sombra del Todopoderoso. Yo le digo al S

eñor

: «Tú eres mi refugio, mi fortaleza, el Dios en quien confío».
He that dwelleth in the secret place of the most High shall abide under the shadow of the Almighty. I will say of the L

ord

, He is my refuge and my fortress: my God; in him will I trust.
Prueben y vean que el S

eñor

es bueno; dichosos los que en él se refugian.
O taste and see that the L

ord

is good: blessed is the man that trusteth in him.

Carguen con mi yugo y aprendan de mí, pues yo soy apacible y humilde de corazón, y encontrarán descanso para su alma. Porque mi yugo es suave y mi carga es liviana.

Take my yoke upon you, and learn of me; for I am meek and lowly in heart: and ye shall find rest unto your souls. For my yoke is easy, and my burden is light.

Por consiguiente, queda todavía un reposo especial para el pueblo de Dios; porque el que entra en el reposo de Dios descansa también de sus obras, así como Dios descansó de las suyas.

There remaineth therefore a rest to the people of God. For he that is entered into his rest, he also hath ceased from his own works, as God did from his.

Esforcémonos, pues, por entrar en ese reposo, para que nadie caiga al seguir aquel ejemplo de desobediencia.

Let us labour therefore to enter into that rest, lest any man fall after the same example of unbelief.

Ya se acerca el fin de todas las cosas. Así que, para orar bien, manténganse sobrios y con la mente despejada.

But the end of all things is at hand: be ye therefore sober, and watch unto prayer.

Observa el día sábado, y conságraselo al S

eñor

tu Dios, tal como él te lo ha ordenado. Trabaja seis días, y haz en ellos todo lo que tengas que hacer, pero observa el séptimo día como día de reposo para honrar al S

eñor

tu Dios. No hagas en ese día ningún trabajo, ni tampoco tu hijo, ni tu hija, ni tu esclavo, ni tu esclava, ni tu buey, ni tu burro, ni ninguno de tus animales, ni tampoco los extranjeros que vivan en tus ciudades. De ese modo podrán descansar tu esclavo y tu esclava, lo mismo que tú.
Keep the sabbath day to sanctify it, as the L

ord

thy God hath commanded thee. Six days thou shalt labour, and do all thy work: But the seventh day is the sabbath of the L

ord

thy God: in it thou shalt not do any work, thou, nor thy son, nor thy daughter, nor thy manservant, nor thy maidservant, nor thine ox, nor thine ass, nor any of thy cattle, nor thy stranger that is within thy gates; that thy manservant and thy maidservant may rest as well as thou.
Éste es el mensaje que hemos oído de él y que les anunciamos: Dios es luz y en él no hay ninguna oscuridad.
El que le suple semilla al que siembra también le suplirá pan para que coma, aumentará los cultivos y hará que ustedes produzcan una abundante cosecha de justicia.
Éste es el mensaje que hemos oído de él y que les anunciamos: Dios es luz y en él no hay ninguna oscuridad.
Plan de lectura de la Biblia
Registrar y configurar su plan de lectura de la Biblia que desea ver su progreso y el siguiente capítulo para leer aquí!