Bible Verses about Eternal Life
«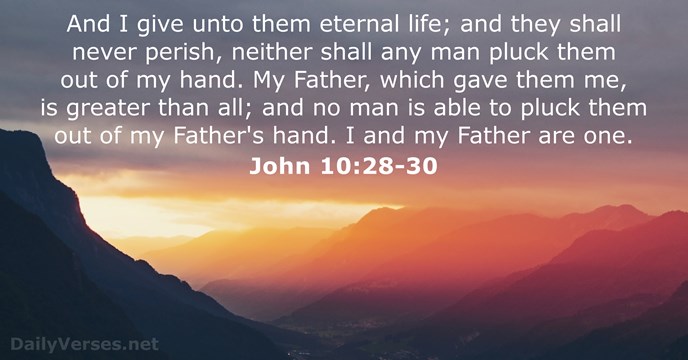 »
And I give unto them eternal life; and they shall never perish, neither shall any man pluck them out of my hand. My Father, which gave them me, is greater than all; and no man is able to pluck them out of my Father's hand. I and my Father are one.

Yo les doy vida eterna y no perecerán jamás, ni nadie las arrebatará de mi mano. Mi Padre, que me las dio, mayor que todos es, y nadie las puede arrebatar de la mano de mi Padre. El Padre y yo uno somos.

For whoso findeth me findeth life, and shall obtain favour of the L

ord

.

Porque el que me halle, hallará la vida y alcanzará el favor de Jehová.

But the God of all grace, who hath called us unto his eternal glory by Christ Jesus, after that ye have suffered a while, make you perfect, stablish, strengthen, settle you.

Pero el Dios de toda gracia, que nos llamó a su gloria eterna en Jesucristo, después que hayáis padecido un poco de tiempo, él mismo os perfeccione, afirme, fortalezca y establezca.

And the world passeth away, and the lust thereof: but he that doeth the will of God abideth for ever.

Y el mundo pasa, y sus deseos, pero el que hace la voluntad de Dios permanece para siempre.

While we look not at the things which are seen, but at the things which are not seen: for the things which are seen are temporal; but the things which are not seen are eternal.

No mirando nosotros las cosas que se ven, sino las que no se ven, pues las cosas que se ven son temporales, pero las que no se ven son eternas.

And this is the record, that God hath given to us eternal life, and this life is in his Son.

Y éste es el testimonio: que Dios nos ha dado vida eterna y esta vida está en su Hijo.

For God so loved the world, that he gave his only begotten Son, that whosoever believeth in him should not perish, but have everlasting life.

De tal manera amó Dios al mundo, que ha dado a su Hijo unigénito, para que todo aquel que en él cree no se pierda, sino que tenga vida eterna.

For our light affliction, which is but for a moment, worketh for us a far more exceeding and eternal weight of glory.

Pues esta leve tribulación momentánea produce en nosotros un cada vez más excelente y eterno peso de gloria.

These things have I written unto you that believe on the name of the Son of God; that ye may know that ye have eternal life, and that ye may believe on the name of the Son of God.

Estas cosas os he escrito a vosotros que creéis en el nombre del Hijo de Dios, para que sepáis que tenéis vida eterna y para que creáis en el nombre del Hijo de Dios.

Search me, O God, and know my heart: try me, and know my thoughts: And see if there be any wicked way in me, and lead me in the way everlasting.

Examíname, Dios, y conoce mi corazón; pruébame y conoce mis pensamientos. Ve si hay en mí camino de perversidad y guíame en el camino eterno.

And this is life eternal, that they might know thee the only true God, and Jesus Christ, whom thou hast sent.

Y ésta es la vida eterna: que te conozcan a ti, el único Dios verdadero, y a Jesucristo, a quien has enviado.

For the wages of sin is death; but the gift of God is eternal life through Jesus Christ our Lord.

Porque la paga del pecado es muerte, pero la dádiva de Dios es vida eterna en Cristo Jesús, Señor nuestro.

He that believeth on the Son hath everlasting life: and he that believeth not the Son shall not see life; but the wrath of God abideth on him.

El que cree en el Hijo tiene vida eterna; pero el que se niega a creer en el Hijo no verá la vida, sino que la ira de Dios está sobre él.

And I heard a great voice out of heaven saying, Behold, the tabernacle of God is with men, and he will dwell with them, and they shall be his people, and God himself shall be with them, and be their God. And God shall wipe away all tears from their eyes; and there shall be no more death, neither sorrow, nor crying, neither shall there be any more pain: for the former things are passed away.

Y oí una gran voz del cielo, que decía: «El tabernáculo de Dios está ahora con los hombres. Él morará con ellos, ellos serán su pueblo y Dios mismo estará con ellos como su Dios. Enjugará Dios toda lágrima de los ojos de ellos; y ya no habrá más muerte, ni habrá más llanto ni clamor ni dolor, porque las primeras cosas ya pasaron.»

Enter ye in at the strait gate: for wide is the gate, and broad is the way, that leadeth to destruction, and many there be which go in thereat: Because strait is the gate, and narrow is the way, which leadeth unto life, and few there be that find it.

Entrad por la puerta angosta, porque ancha es la puerta y espacioso el camino que lleva a la perdición, y muchos son los que entran por ella; pero angosta es la puerta y angosto el camino que lleva a la vida, y pocos son los que la hallan.

Fight the good fight of faith, lay hold on eternal life, whereunto thou art also called, and hast professed a good profession before many witnesses.

Pelea la buena batalla de la fe, echa mano de la vida eterna, a la cual asimismo fuiste llamado, habiendo hecho la buena profesión delante de muchos testigos.

For I reckon that the sufferings of this present time are not worthy to be compared with the glory which shall be revealed in us.

Tengo por cierto que las aflicciones del tiempo presente no son comparables con la gloria venidera que en nosotros ha de manifestarse.

But whosoever drinketh of the water that I shall give him shall never thirst; but the water that I shall give him shall be in him a well of water springing up into everlasting life.

Pero el que beba del agua que yo le daré no tendrá sed jamás, sino que el agua que yo le daré será en él una fuente de agua que salte para vida eterna.

He that findeth his life shall lose it: and he that loseth his life for my sake shall find it.

El que halle su vida, la perderá; y el que pierda su vida por causa de mí, la hallará.

I am Alpha and Omega, the beginning and the ending, saith the Lord, which is, and which was, and which is to come, the Almighty.

«Yo soy el Alfa y la Omega, principio y fin», dice el Señor, el que es y que era y que ha de venir, el Todopoderoso.

For he that soweth to his flesh shall of the flesh reap corruption; but he that soweth to the Spirit shall of the Spirit reap life everlasting.

Porque el que siembra para su carne, de la carne segará corrupción; pero el que siembra para el Espíritu, del Espíritu segará vida eterna.

Howbeit for this cause I obtained mercy, that in me first Jesus Christ might shew forth all longsuffering, for a pattern to them which should hereafter believe on him to life everlasting.

Pero por esto fui recibido a misericordia, para que Jesucristo mostrara en mí el primero toda su clemencia, para ejemplo de los que habrían de creer en él para vida eterna.

Wherefore he is able also to save them to the uttermost that come unto God by him, seeing he ever liveth to make intercession for them.

Por eso puede también salvar perpetuamente a los que por él se acercan a Dios, viviendo siempre para interceder por ellos.

That as sin hath reigned unto death, even so might grace reign through righteousness unto eternal life by Jesus Christ our Lord.

Porque así como el pecado reinó para muerte, así también la gracia reinará por la justicia para vida eterna mediante Jesucristo, Señor nuestro.

For the L

ord

loveth judgment, and forsaketh not his saints; they are preserved for ever: but the seed of the wicked shall be cut off.

Porque Jehová ama la rectitud y no desampara a sus santos. Para siempre serán guardados, mas la descendencia de los impíos será destruida.
Defend the poor and fatherless: do justice to the afflicted and needy.
Personal Bible reading plan
Create an account to configure your Bible reading plan and you will see your progress and the next chapter to read here!
Read more...