«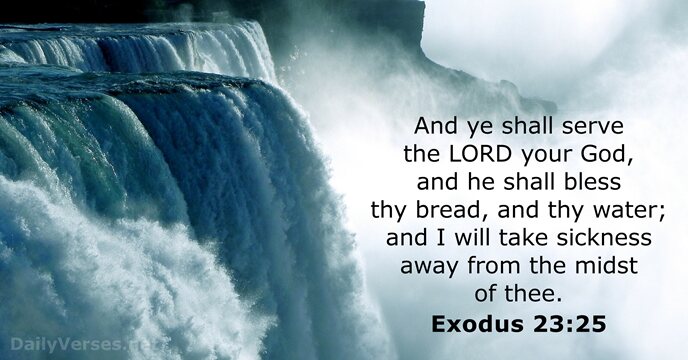 »
And ye shall serve the L

ord

your God, and he shall bless thy bread, and thy water; and I will take sickness away from the midst of thee.

Dient Jahwe, eurem Gott! Dann wird er dein Brot und Wasser segnen. Ich werde Krankheiten von dir fernhalten.

The L

ord

shall fight for you, and ye shall hold your peace.

Jahwe wird für euch kämpfen, ihr selbst braucht gar nichts zu tun.

Honour thy father and thy mother: that thy days may be long upon the land which the L

ord

thy God giveth thee.

Ehre deinen Vater und deine Mutter! Dann wirst du lange in dem Land leben, das Jahwe, dein Gott, dir gibt.

If thou wilt diligently hearken to the voice of the L

ord

thy God, and wilt do that which is right in his sight, and wilt give ear to his commandments, and keep all his statutes, I will put none of these diseases upon thee, which I have brought upon the Egyptians: for I am the L

ord

that healeth thee.

Er sagte: "Wenn du auf Jahwe, deinen Gott, hörst und tust, was ihm gefällt, wenn du seinen Geboten folgst und dich an seine Vorschriften hältst, dann werde ich dir keine von den Krankheiten schicken, die ich den Ägyptern auferlegt habe. Denn ich bin Jahwe, dein Arzt."

Remember the sabbath day, to keep it holy. Six days shalt thou labour, and do all thy work: But the seventh day is the sabbath of the L

ord

thy God: in it thou shalt not do any work, thou, nor thy son, nor thy daughter, thy manservant, nor thy maidservant, nor thy cattle, nor thy stranger that is within thy gates: For in six days the L

ord

made heaven and earth, the sea, and all that in them is, and rested the seventh day: wherefore the L

ord

blessed the sabbath day, and hallowed it.

Denk an den Sabbattag und überlass ihn Gott! Sechs Tage hast du, um all deine Arbeit zu tun, aber der siebte Tag ist Sabbat für Jahwe, deinen Gott. An diesem Tag sollst du nicht arbeiten, weder du noch dein Sohn oder deine Tochter, weder dein Sklave noch deine Sklavin, nicht einmal dein Vieh oder der Fremde, der in deinem Ort wohnt. Denn in sechs Tagen hat Jahwe den Himmel und die Erde gemacht, das Meer und alles, was dazugehört. Am siebten Tag aber ruhte er. Deshalb hat er den Sabbattag gesegnet und für sich bestimmt.

Thou shalt not covet thy neighbour's house, thou shalt not covet thy neighbour's wife, nor his manservant, nor his maidservant, nor his ox, nor his ass, nor any thing that is thy neighbour's.

Begehre nichts, was zu deinem Mitmenschen gehört, weder seine Frau noch seinen Sklaven oder seine Sklavin, sein Rind oder seinen Esel oder sonst etwas, das ihm gehört!

And he was there with the L

ord

forty days and forty nights; he did neither eat bread, nor drink water. And he wrote upon the tables the words of the covenant, the ten commandments.

Vierzig Tage und Nächte blieb Mose dort bei Jahwe, und dieser schrieb die zehn Gebote des Bundes auf die Steintafeln. Während der ganzen Zeit aß und trank Mose nichts.

Ye shall not make with me gods of silver, neither shall ye make unto you gods of gold.

Darum sollt ihr keine selbst gemachten Götter neben mich stellen, weder aus Silber noch aus Gold.

Now therefore, if ye will obey my voice indeed, and keep my covenant, then ye shall be a peculiar treasure unto me above all people: for all the earth is mine.

Wenn ihr nun auf mich hört und meinen Bund haltet, dann sollt ihr unter allen Völkern mein persönliches Eigentum sein. Denn mir gehört die ganze Erde.

Ye shall not afflict any widow, or fatherless child. If thou afflict them in any wise, and they cry at all unto me, I will surely hear their cry; And my wrath shall wax hot, and I will kill you with the sword; and your wives shall be widows, and your children fatherless.

Keine Witwe oder Waise dürft ihr benachteiligen. Wenn du sie dennoch in irgendeiner Weise bedrückst und sie zu mir um Hilfe schreien, werde ich bestimmt auf sie hören. Dann wird mein Zorn auflodern und ich werde euch durch das Schwert umkommen lassen. Eure Frauen werden dann zu Witwen werden und eure Kinder zu Waisen.
But as many as received him, to them gave he power to become the sons of God, even to them that believe on his name.
Personal Bible reading plan
Create an account to configure your Bible reading plan and you will see your progress and the next chapter to read here!
Read more...