Bible Verses about Heaven
«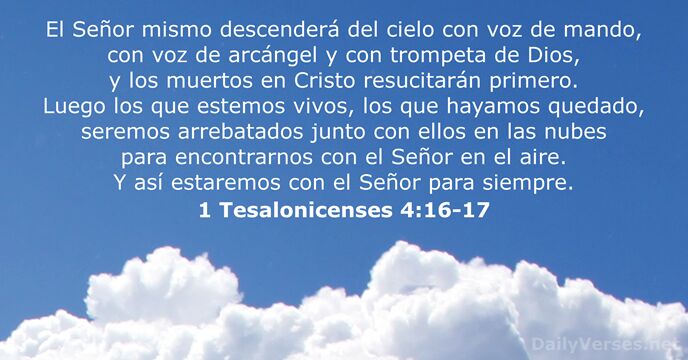 »
For the Lord himself will descend from heaven with a cry of command, with the voice of an archangel, and with the sound of the trumpet of God. And the dead in Christ will rise first. Then we who are alive, who are left, will be caught up together with them in the clouds to meet the Lord in the air, and so we will always be with the Lord.

El Señor mismo descenderá del cielo con voz de mando, con voz de arcángel y con trompeta de Dios, y los muertos en Cristo resucitarán primero. Luego los que estemos vivos, los que hayamos quedado, seremos arrebatados junto con ellos en las nubes para encontrarnos con el Señor en el aire. Y así estaremos con el Señor para siempre.

Set your minds on things that are above, not on things that are on earth.

Concentren su atención en las cosas de arriba, no en las de la tierra.

In my Father's house are many rooms. If it were not so, would I have told you that I go to prepare a place for you?

En el hogar de mi Padre hay muchas viviendas; si no fuera así, ya se lo habría dicho a ustedes. Voy a prepararles un lugar.

But our citizenship is in heaven, and from it we await a Savior, the Lord Jesus Christ.

En cambio, nosotros somos ciudadanos del cielo, de donde anhelamos recibir al Salvador, el Señor Jesucristo.

Whom have I in heaven but you? And there is nothing on earth that I desire besides you.

¿A quién tengo en el cielo sino a ti? Si estoy contigo, ya nada quiero en la tierra.

The heavens declare the glory of God, and the sky above proclaims his handiwork. Day to day pours out speech, and night to night reveals knowledge.

Los cielos cuentan la gloria de Dios, el firmamento proclama la obra de sus manos. Un día transmite al otro la noticia, una noche a la otra comparte su saber.

For everything there is a season, and a time for every matter under heaven.

Todo tiene su momento oportuno; hay un tiempo para todo lo que se hace bajo el cielo.

Do not lay up for yourselves treasures on earth, where moth and rust destroy and where thieves break in and steal, but lay up for yourselves treasures in heaven, where neither moth nor rust destroys and where thieves do not break in and steal.

No acumulen para sí tesoros en la tierra, donde la polilla y el óxido destruyen, y donde los ladrones se meten a robar. Más bien, acumulen para sí tesoros en el cielo, donde ni la polilla ni el óxido carcomen, ni los ladrones se meten a robar.

Heaven and earth will pass away, but my words will not pass away.

El cielo y la tierra pasarán, pero mis palabras jamás pasarán.

But Jesus said, "Let the little children come to me and do not hinder them, for to such belongs the kingdom of heaven."

Jesús dijo: «Dejen que los niños vengan a mí, y no se lo impidan, porque el reino de los cielos es de quienes son como ellos.»

Ah, Lord G

od

! It is you who have made the heavens and the earth by your great power and by your outstretched arm! Nothing is too hard for you.
¡Ah, S

eñor

mi Dios! Tú, con tu gran fuerza y tu brazo poderoso, has hecho los cielos y la tierra. Para ti no hay nada imposible.

The Lord will rescue me from every evil deed and bring me safely into his heavenly kingdom. To him be the glory forever and ever. Amen.

El Señor me librará de todo mal y me preservará para su reino celestial. A él sea la gloria por los siglos de los siglos. Amén.

For we brought nothing into the world, and we cannot take anything out of the world. But if we have food and clothing, with these we will be content.

Porque nada trajimos a este mundo, y nada podemos llevarnos. Así que, si tenemos ropa y comida, contentémonos con eso.

Beloved, we are God's children now, and what we will be has not yet appeared; but we know that when he appears we shall be like him, because we shall see him as he is. And everyone who thus hopes in him purifies himself as he is pure.

Queridos hermanos, ahora somos hijos de Dios, pero todavía no se ha manifestado lo que habremos de ser. Sabemos, sin embargo, que cuando Cristo venga seremos semejantes a él, porque lo veremos tal como él es. Todo el que tiene esta esperanza en Cristo se purifica a sí mismo, así como él es puro.

Be exalted, O God, above the heavens! Let your glory be over all the earth!

Tú, oh Dios, estás sobre los cielos, y tu gloria cubre toda la tierra.

And when he had said these things, as they were looking on, he was lifted up, and a cloud took him out of their sight.

Habiendo dicho esto, mientras ellos lo miraban, fue llevado a las alturas hasta que una nube lo ocultó de su vista.

Our help is in the name of the L

ord

, who made heaven and earth.
Nuestra ayuda está en el nombre del S

eñor

, creador del cielo y de la tierra.
Who builds his upper chambers in the heavens and founds his vault upon the earth; who calls for the waters of the sea and pours them out upon the surface of the earth— the L

ord

is his name.
Dios construye su excelso palacio en el cielo y pone su cimiento en la tierra, llama a las aguas del mar y las derrama sobre la superficie de la tierra: su nombre es el S

eñor

.

And he led them out as far as Bethany, and lifting up his hands he blessed them. While he blessed them, he parted from them and was carried up into heaven.

Después los llevó Jesús hasta Betania; allí alzó las manos y los bendijo. Sucedió que, mientras los bendecía, se alejó de ellos y fue llevado al cielo.

For as the heavens are higher than the earth, so are my ways higher than your ways and my thoughts than your thoughts.

Mis caminos y mis pensamientos son más altos que los de ustedes; ¡más altos que los cielos sobre la tierra!

For we do not wrestle against flesh and blood, but against the rulers, against the authorities, against the cosmic powers over this present darkness, against the spiritual forces of evil in the heavenly places.

Porque nuestra lucha no es contra seres humanos, sino contra poderes, contra autoridades, contra potestades que dominan este mundo de tinieblas, contra fuerzas espirituales malignas en las regiones celestiales.

Can a man hide himself in secret places so that I cannot see him? declares the L

ord

. Do I not fill heaven and earth? declares the L

ord

.
¿Podrá el hombre hallar un escondite donde yo no pueda encontrarlo? —afirma el S

eñor

—. ¿Acaso no soy yo el que llena los cielos y la tierra? —afirma el S

eñor

—.

Jesus said to him, "If you would be perfect, go, sell what you possess and give to the poor, and you will have treasure in heaven; and come, follow me."

—Si quieres ser perfecto, anda, vende lo que tienes y dáselo a los pobres, y tendrás tesoro en el cielo. Luego ven y sígueme.

As he came from his mother's womb he shall go again, naked as he came, and shall take nothing for his toil that he may carry away in his hand.

Tal como salió del vientre de su madre, así se irá: desnudo como vino al mundo, y sin llevarse el fruto de tanto trabajo.

In the beginning, God created the heavens and the earth. The earth was without form and void, and darkness was over the face of the deep. And the Spirit of God was hovering over the face of the waters.

Dios, en el principio, creó los cielos y la tierra. La tierra era un caos total, las tinieblas cubrían el abismo, y el Espíritu de Dios se movía sobre la superficie de las aguas.
Know this, my beloved brothers: let every person be quick to hear, slow to speak, slow to anger.
Personal Bible reading plan
Create an account to configure your Bible reading plan and you will see your progress and the next chapter to read here!
Read more...