Bible Verses about Heaven
«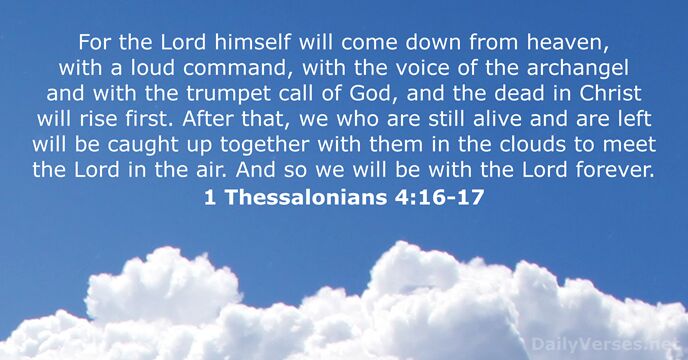 »
For the Lord himself will come down from heaven, with a loud command, with the voice of the archangel and with the trumpet call of God, and the dead in Christ will rise first. After that, we who are still alive and are left will be caught up together with them in the clouds to meet the Lord in the air. And so we will be with the Lord forever.

Denn er selbst, der Herr, wird, wenn der Ruf ertönt, wenn die Stimme des Erzengels und die Posaune Gottes erschallen, herabkommen vom Himmel, und die Toten werden in Christus auferstehen zuerst. Danach werden wir, die wir leben und übrig bleiben, zugleich mit ihnen entrückt werden auf den Wolken, dem Herrn entgegen in die Luft. Und so werden wir beim Herrn sein allezeit.

Set your minds on things above, not on earthly things.

Trachtet nach dem, was droben ist, nicht nach dem, was auf Erden ist.

My Father's house has many rooms; if that were not so, would I have told you that I am going there to prepare a place for you?

In meines Vaters Hause sind viele Wohnungen. Wenn's nicht so wäre, hätte ich dann zu euch gesagt: Ich gehe hin, euch die Stätte zu bereiten?

But our citizenship is in heaven. And we eagerly await a Savior from there, the Lord Jesus Christ.

Wir aber sind Bürger im Himmel; woher wir auch erwarten den Heiland, den Herrn Jesus Christus.

Whom have I in heaven but you? And earth has nothing I desire besides you.

Wenn ich nur dich habe, so frage ich nichts nach Himmel und Erde.

The heavens declare the glory of God; the skies proclaim the work of his hands. Day after day they pour forth speech; night after night they reveal knowledge.

Die Himmel erzählen die Ehre Gottes, und die Feste verkündigt seiner Hände Werk. Ein Tag sagt's dem andern, und eine Nacht tut's kund der andern.

There is a time for everything, and a season for every activity under the heavens.

Ein jegliches hat seine Zeit, und alles Vorhaben unter dem Himmel hat seine Stunde.

Do not store up for yourselves treasures on earth, where moths and vermin destroy, and where thieves break in and steal. But store up for yourselves treasures in heaven, where moths and vermin do not destroy, and where thieves do not break in and steal.

Ihr sollt euch nicht Schätze sammeln auf Erden, wo Motten und Rost sie fressen und wo Diebe einbrechen und stehlen. Sammelt euch aber Schätze im Himmel, wo weder Motten noch Rost sie fressen und wo Diebe nicht einbrechen und stehlen.

Heaven and earth will pass away, but my words will never pass away.

Himmel und Erde werden vergehen; aber meine Worte werden nicht vergehen.

The Lord will rescue me from every evil attack and will bring me safely to his heavenly kingdom. To him be glory for ever and ever. Amen.

Der Herr aber wird mich erlösen von allem Übel und mich retten in sein himmlisches Reich. Ihm sei Ehre von Ewigkeit zu Ewigkeit! Amen.

Jesus said, "Let the little children come to me, and do not hinder them, for the kingdom of heaven belongs to such as these."

Aber Jesus sprach: Lasset die Kinder und wehret ihnen nicht, zu mir zu kommen; denn solchen gehört das Himmelreich.

Ah, Sovereign L

ord

, you have made the heavens and the earth by your great power and outstretched arm. Nothing is too hard for you.
Ach, Herr

HERR

, siehe, du hast Himmel und Erde gemacht durch deine große Kraft und durch deinen ausgereckten Arm, und es ist kein Ding vor dir unmöglich.

Dear friends, now we are children of God, and what we will be has not yet been made known. But we know that when Christ appears, we shall be like him, for we shall see him as he is. All who have this hope in him purify themselves, just as he is pure.

Meine Lieben, wir sind schon Gottes Kinder; es ist aber noch nicht offenbar geworden, was wir sein werden. Wir wissen: Wenn es offenbar wird, werden wir ihm gleich sein; denn wir werden ihn sehen, wie er ist. Und jeder, der solche Hoffnung auf ihn hat, der reinigt sich, wie auch jener rein ist.

For we brought nothing into the world, and we can take nothing out of it. But if we have food and clothing, we will be content with that.

Denn wir haben nichts in die Welt gebracht; darum können wir auch nichts hinausbringen. Wenn wir aber Nahrung und Kleider haben, so wollen wir uns damit begnügen.

For our struggle is not against flesh and blood, but against the rulers, against the authorities, against the powers of this dark world and against the spiritual forces of evil in the heavenly realms.

Denn wir haben nicht mit Fleisch und Blut zu kämpfen, sondern mit Mächtigen und Gewaltigen, mit den Herren der Welt, die über diese Finsternis herrschen, mit den bösen Geistern unter dem Himmel.

Be exalted, O God, above the heavens; let your glory be over all the earth.

Erhebe dich, Gott, über den Himmel und deine Ehre über alle Lande!

He builds his lofty palace in the heavens and sets its foundation on the earth; he calls for the waters of the sea and pours them out over the face of the land— the L

ord

is his name.
Er ist es, der seinen Saal in den Himmel gebaut und seinen Palast über der Erde gegründet hat, der das Wasser im Meer herbeirief und auf das Erdreich schüttete. Er heißt

HERR

!
Our help is in the name of the L

ord

, the Maker of heaven and earth.
Unsre Hilfe steht im Namen des

HERRN

, der Himmel und Erde gemacht hat.

After he said this, he was taken up before their very eyes, and a cloud hid him from their sight.

Und als er das gesagt hatte, wurde er vor ihren Augen emporgehoben, und eine Wolke nahm ihn auf, weg vor ihren Augen.

When he had led them out to the vicinity of Bethany, he lifted up his hands and blessed them. While he was blessing them, he left them and was taken up into heaven.

Er führte sie aber hinaus bis nach Betanien und hob die Hände auf und segnete sie. Und es geschah, als er sie segnete, schied er von ihnen und fuhr auf gen Himmel.

As the heavens are higher than the earth, so are my ways higher than your ways and my thoughts than your thoughts.

Sondern so viel der Himmel höher ist als die Erde, so sind auch meine Wege höher als eure Wege und meine Gedanken als eure Gedanken.

"Who can hide in secret places so that I cannot see them?" declares the L

ord

. "Do not I fill heaven and earth?" declares the L

ord

.
Meinst du, dass sich jemand so heimlich verbergen könne, dass ich ihn nicht sehe?, spricht der

HERR

. Bin ich es nicht, der Himmel und Erde erfüllt?, spricht der

HERR

.

Everyone comes naked from their mother's womb, and as everyone comes, so they depart. They take nothing from their toil that they can carry in their hands.

Wie einer nackt von seiner Mutter Leib gekommen ist, so fährt er wieder dahin, wie er gekommen ist, und nichts behält er von seiner Arbeit, das er mit sich nähme.

Jesus answered, "If you want to be perfect, go, sell your possessions and give to the poor, and you will have treasure in heaven. Then come, follow me."

Jesus sprach zu ihm: Willst du vollkommen sein, so geh hin, verkaufe, was du hast, und gib's den Armen, so wirst du einen Schatz im Himmel haben; und komm und folge mir nach!

In the beginning God created the heavens and the earth. Now the earth was formless and empty, darkness was over the surface of the deep, and the Spirit of God was hovering over the waters.

Am Anfang schuf Gott Himmel und Erde. Und die Erde war wüst und leer, und Finsternis lag auf der Tiefe; und der Geist Gottes schwebte über dem Wasser.
But the Lord is faithful, and he will strengthen you and protect you from the evil one.
Personal Bible reading plan
Create an account to configure your Bible reading plan and you will see your progress and the next chapter to read here!
Read more...