Bible Verses about Idols
«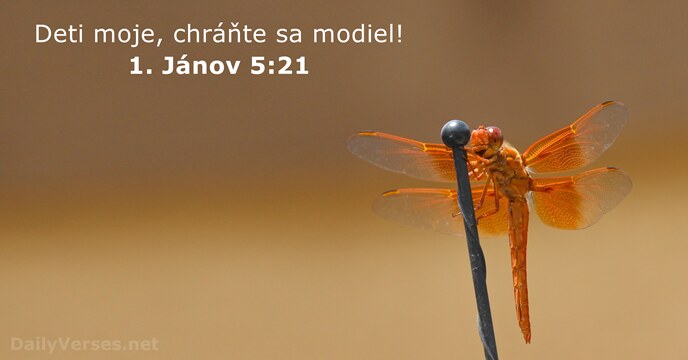 »
Little children, keep yourselves from idols. Amen.

Deti moje, chráňte sa modiel!

Do you not know that the unrighteous will not inherit the kingdom of God? Do not be deceived. Neither fornicators, nor idolaters, nor adulterers, nor homosexuals, nor sodomites, nor thieves, nor covetous, nor drunkards, nor revilers, nor extortioners will inherit the kingdom of God.

Neviete, že nespravodliví nebudú dedičmi Božieho kráľovstva? Nemýľte sa: ani smilníci, ani modloslužobníci, ani cudzoložníci, ani chlipníci, ani súložníci mužov, ani zlodeji, ani chamtivci, ani opilci, ani utŕhači, ani lupiči nebudú dedičmi Božieho kráľovstva.

You shall walk after the L

ord

your God and fear Him, and keep His commandments and obey His voice; you shall serve Him and hold fast to Him.

Pána, svojho Boha, nasledujte, jeho sa bojte a jeho príkazy zachovávajte, jeho počúvajte, jemu slúžte a k nemu sa viňte!

You shall not make anything to be with Me—gods of silver or gods of gold you shall not make for yourselves.

Neurobíte si strieborných bohov popri mne, ani zlatých bohov si neurobíte!

Therefore know this day, and consider it in your heart, that the L

ord

Himself is God in heaven above and on the earth beneath; there is no other.

Dnes teda vedz a vezmi si k srdcu, že Pán je jediný Boh hore na nebi a dolu na zemi, iného niet.

And have no fellowship with the unfruitful works of darkness, but rather expose them. For it is shameful even to speak of those things which are done by them in secret.

A nemajte účasť na jalových skutkoch tmy, radšej ich odhaľujte, lebo to, čo oni potajomky robia, je hanba aj hovoriť.

Therefore put to death your members which are on the earth: fornication, uncleanness, passion, evil desire, and covetousness, which is idolatry.

Umŕtvujte teda svoje pozemské údy: smilstvo, nečistotu, vášeň, zlú žiadostivosť a lakomstvo, čo je modloslužba!

For the customs of the peoples are futile; For one cuts a tree from the forest, The work of the hands of the workman, with the ax. They decorate it with silver and gold; They fasten it with nails and hammers So that it will not topple. They are upright, like a palm tree, And they cannot speak; They must be carried, Because they cannot go by themselves. Do not be afraid of them, For they cannot do evil, Nor can they do any good.

Veď zákony národov sú nič, je to drevo zoťaté v hore, dielo rúk umelca sekerou. Krášlia ich striebrom a zlatom, upevňujú ich klinmi a kladivom, aby sa neknísali. Sú ako mátoha na uhorkovisku: nehovoria; treba ich nosiť, lebo nechodia. Nebojte sa ich, veď neublížia, ale ani dobro konať nevládzu.

And if it seems evil to you to serve the L

ord

, choose for yourselves this day whom you will serve, whether the gods which your fathers served that were on the other side of the River, or the gods of the Amorites, in whose land you dwell. But as for me and my house, we will serve the L

ord

.

Ak sa vám však nepáči slúžiť Pánovi, tak si dnes vyvoľte, komu chcete slúžiť, či bohom, ktorým slúžili vaši otcovia na druhej strane potoka, alebo bohom Amorejčanov, v ktorých krajine bývate. Ja však a môj dom, my chceme slúžiť Pánovi.

Yet I am the L

ord

your God Ever since the land of Egypt, And you shall know no God but Me; For there is no savior besides Me.

Ja však som Pán, tvoj Boh, od egyptskej krajiny; Boha okrem mňa nepoznáš a iného záchrancu niet.

"No weapon formed against you shall prosper, And every tongue which rises against you in judgment You shall condemn. This is the heritage of the servants of the L

ord

, And their righteousness is from Me," Says the L

ord

.

Nijaká zbraň, kovaná na teba, sa nepodarí a každý jazyk, čo sa proti tebe zdvihne na súde, usvedčíš. To je údel sluhov Pánových a ich spravodlivosť u mňa - hovorí Pán.

Put on the whole armor of God, that you may be able to stand against the wiles of the devil.

Oblečte si Božiu výzbroj, aby ste mohli čeliť úkladom diabla.

For the love of money is a root of all kinds of evil, for which some have strayed from the faith in their greediness, and pierced themselves through with many sorrows.

Lebo koreňom všetkého zla je láska k peniazom; niektorí po nich pachtili, a tak zablúdili od viery a spôsobili si mnoho bolestí.

Do not be overcome by evil, but overcome evil with good.

Nedaj sa premôcť zlu, ale dobrom premáhaj zlo.

The sting of death is sin, and the strength of sin is the law.

Ostňom smrti je hriech a silou hriechu je zákon.

Depart from evil and do good; Seek peace and pursue it.

Unikaj pred zlom a dobre rob, hľadaj pokoj a usiluj sa oň.

I do not pray that You should take them out of the world, but that You should keep them from the evil one.

Neprosím, aby si ich vzal zo sveta, ale aby si ich ochránil pred Zlým.
Therefore humble yourselves under the mighty hand of God, that He may exalt you in due time.
Personal Bible reading plan
Create an account to configure your Bible reading plan and you will see your progress and the next chapter to read here!
Read more...