Bible Verses about Listening
«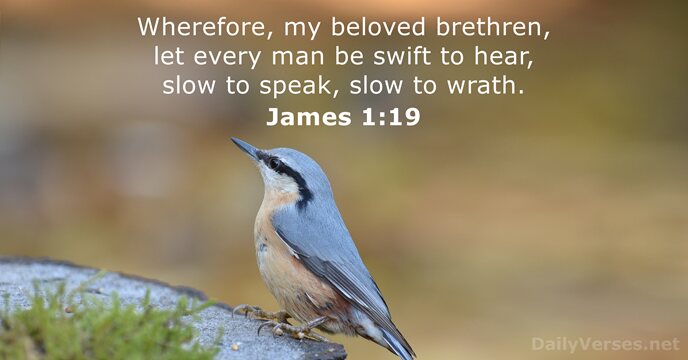 »
Wherefore, my beloved brethren, let every man be swift to hear, slow to speak, slow to wrath.

My dear brothers and sisters, take note of this: Everyone should be quick to listen, slow to speak and slow to become angry.

But he said, Yea rather, blessed are they that hear the word of God, and keep it.

He replied, "Blessed rather are those who hear the word of God and obey it."

Call unto me, and I will answer thee, and show thee great and mighty things, which thou knowest not.

Call to me and I will answer you and tell you great and unsearchable things you do not know.

But be ye doers of the word, and not hearers only, deceiving your own selves.

Do not merely listen to the word, and so deceive yourselves. Do what it says.

And this is the confidence that we have in him, that, if we ask any thing according to his will, he heareth us.

This is the confidence we have in approaching God: that if we ask anything according to his will, he hears us.

Then shall ye call upon me, and ye shall go and pray unto me, and I will hearken unto you.

Then you will call on me and come and pray to me, and I will listen to you.

He that handleth a matter wisely shall find good: and whoso trusteth in the L

ord

, happy is he.
Whoever gives heed to instruction prospers, and blessed is the one who trusts in the L

ord

.
I love the L

ord

, because he hath heard my voice and my supplications. Because he hath inclined his ear unto me, therefore will I call upon him as long as I live.
I love the L

ord

, for he heard my voice; he heard my cry for mercy. Because he turned his ear to me, I will call on him as long as I live.

Therefore whosoever heareth these sayings of mine, and doeth them, I will liken him unto a wise man, which built his house upon a rock.

Therefore everyone who hears these words of mine and puts them into practice is like a wise man who built his house on the rock.

Those things, which ye have both learned, and received, and heard, and seen in me, do: and the God of peace shall be with you.

Whatever you have learned or received or heard from me, or seen in me—put it into practice. And the God of peace will be with you.

And if we know that he hear us, whatsoever we ask, we know that we have the petitions that we desired of him.

And if we know that he hears us—whatever we ask—we know that we have what we asked of him.

Behold, I stand at the door, and knock: if any man hear my voice, and open the door, I will come in to him, and will sup with him, and he with me.

Here I am! I stand at the door and knock. If anyone hears my voice and opens the door, I will come in and eat with that person, and they with me.

In my distress I called upon the L

ord

, and cried unto my God: he heard my voice out of his temple, and my cry came before him, even into his ears.
In my distress I called to the L

ord

; I cried to my God for help. From his temple he heard my voice; my cry came before him, into his ears.

So then faith cometh by hearing, and hearing by the word of God.

Consequently, faith comes from hearing the message, and the message is heard through the word about Christ.

He is in the way of life that keepeth instruction: but he that refuseth reproof erreth.

Whoever heeds discipline shows the way to life, but whoever ignores correction leads others astray.

My voice shalt thou hear in the morning, O L

ord

; in the morning will I direct my prayer unto thee, and will look up.
In the morning, L

ord

, you hear my voice; in the morning I lay my requests before you and wait expectantly.
If ye will not hear, and if ye will not lay it to heart, to give glory unto my name, saith the L

ord

of hosts, I will even send a curse upon you, and I will curse your blessings: yea, I have cursed them already, because ye do not lay it to heart.
"If you do not listen, and if you do not resolve to honor my name," says the L

ord

Almighty, "I will send a curse on you, and I will curse your blessings. Yes, I have already cursed them, because you have not resolved to honor me."
Ye shall walk after the L

ord

your God, and fear him, and keep his commandments, and obey his voice, and ye shall serve him, and cleave unto him.
It is the L

ord

your God you must follow, and him you must revere. Keep his commands and obey him; serve him and hold fast to him.
The eyes of the L

ord

are upon the righteous, and his ears are open unto their cry.
The eyes of the L

ord

are on the righteous, and his ears are attentive to their cry.

And at midnight Paul and Silas prayed, and sang praises unto God: and the prisoners heard them.

About midnight Paul and Silas were praying and singing hymns to God, and the other prisoners were listening to them.

He therefore that ministereth to you the Spirit, and worketh miracles among you, doeth he it by the works of the law, or by the hearing of faith?

So again I ask, does God give you his Spirit and work miracles among you by the works of the law, or by your believing what you heard?

Therefore whatsoever ye have spoken in darkness shall be heard in the light; and that which ye have spoken in the ear in closets shall be proclaimed upon the housetops.

What you have said in the dark will be heard in the daylight, and what you have whispered in the ear in the inner rooms will be proclaimed from the roofs.

My son, keep thy father's commandment, and forsake not the law of thy mother.

My son, keep your father's command and do not forsake your mother's teaching.

Moreover if thy brother shall trespass against thee, go and tell him his fault between thee and him alone: if he shall hear thee, thou hast gained thy brother.

If your brother or sister sins, go and point out their fault, just between the two of you. If they listen to you, you have won them over.

But he answered and said, It is written, Man shall not live by bread alone, but by every word that proceedeth out of the mouth of God.

Jesus answered, "It is written: 'Man shall not live on bread alone, but on every word that comes from the mouth of God.'"
Sing unto God, sing praises to his name: extol him that rideth upon the heavens by his name Jah, and rejoice before him. A father of the fatherless, and a judge of the widows, is God in his holy habitation.
Personal Bible reading plan
Create an account to configure your Bible reading plan and you will see your progress and the next chapter to read here!
Read more...