Bible Verses about Miracles
«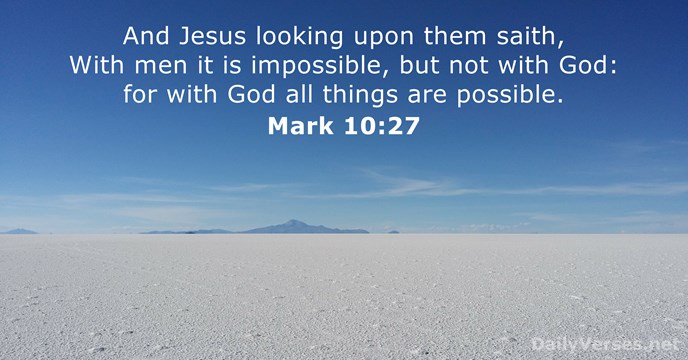 »
And Jesus looking upon them saith, With men it is impossible, but not with God: for with God all things are possible.

Para los hombres es imposible —aclaró Jesús, mirándolos fijamente—, pero no para Dios; de hecho, para Dios todo es posible.

Jesus said unto him, If thou canst believe, all things are possible to him that believeth.

—¿Cómo que si puedo? Para el que cree, todo es posible.

And he said, The things which are impossible with men are possible with God.

—Lo que es imposible para los hombres es posible para Dios —aclaró Jesús.

Behold, I am the L

ord

, the God of all flesh: is there any thing too hard for me?
Yo soy el S

eñor

, Dios de toda la humanidad. ¿Hay algo imposible para mí?

But when Jesus heard it, he answered him, saying, Fear not: believe only, and she shall be made whole.

Al oír esto, Jesús le dijo a Jairo: ―No tengas miedo; cree nada más, y ella será sanada.

For with God nothing shall be impossible.

Porque para Dios no hay nada imposible.

For thou hast possessed my reins: thou hast covered me in my mother's womb. I will praise thee; for I am fearfully and wonderfully made: marvellous are thy works; and that my soul knoweth right well.

Tú creaste mis entrañas; me formaste en el vientre de mi madre. ¡Te alabo porque soy una creación admirable! ¡Tus obras son maravillosas, y esto lo sé muy bien!

But Jesus beheld them, and said unto them, With men this is impossible; but with God all things are possible.

—Para los hombres es imposible —aclaró Jesús, mirándolos fijamente—, mas para Dios todo es posible.

And Jesus said unto them, Because of your unbelief: for verily I say unto you, If ye have faith as a grain of mustard seed, ye shall say unto this mountain, Remove hence to yonder place; and it shall remove; and nothing shall be impossible unto you.

—Porque ustedes tienen tan poca fe —les respondió—. Les aseguro que si tienen fe tan pequeña como un grano de mostaza, podrán decirle a esta montaña: "Trasládate de aquí para allá", y se trasladará. Para ustedes nada será imposible.

Then he took the five loaves and the two fishes, and looking up to heaven, he blessed them, and brake, and gave to the disciples to set before the multitude. And they did eat, and were all filled: and there was taken up of fragments that remained to them twelve baskets.

Entonces Jesús tomó los cinco panes y los dos pescados, y mirando al cielo, los bendijo. Luego los partió y se los dio a los discípulos para que se los repartieran a la gente. Todos comieron hasta quedar satisfechos, y de los pedazos que sobraron se recogieron doce canastas.

I will praise thee, O L

ord

, with my whole heart; I will shew forth all thy marvellous works.
Quiero alabarte, S

eñor

, con todo el corazón, y contar todas tus maravillas.

And he was teaching in one of the synagogues on the sabbath. And, behold, there was a woman which had a spirit of infirmity eighteen years, and was bowed together, and could in no wise lift up herself. And when Jesus saw her, he called her to him, and said unto her, Woman, thou art loosed from thine infirmity. And he laid his hands on her: and immediately she was made straight, and glorified God. And the ruler of the synagogue answered with indignation, because that Jesus had healed on the sabbath day, and said unto the people, There are six days in which men ought to work: in them therefore come and be healed, and not on the sabbath day. The Lord then answered him, and said, Thou hypocrite, doth not each one of you on the sabbath loose his ox or his ass from the stall, and lead him away to watering? And ought not this woman, being a daughter of Abraham, whom Satan hath bound, lo, these eighteen years, be loosed from this bond on the sabbath day? And when he had said these things, all his adversaries were ashamed: and all the people rejoiced for all the glorious things that were done by him.

Un sábado Jesús estaba enseñando en una de las sinagogas, y estaba allí una mujer que por causa de un demonio llevaba dieciocho años enferma. Andaba encorvada y de ningún modo podía enderezarse. Cuando Jesús la vio, la llamó y le dijo: —Mujer, quedas libre de tu enfermedad. Al mismo tiempo, puso las manos sobre ella, y al instante la mujer se enderezó y empezó a alabar a Dios. Indignado porque Jesús había sanado en sábado, el jefe de la sinagoga intervino, dirigiéndose a la gente: —Hay seis días en que se puede trabajar, así que vengan esos días para ser sanados, y no el sábado. —¡Hipócritas! —le contestó el Señor—. ¿Acaso no desata cada uno de ustedes su buey o su burro en sábado, y lo saca del establo para llevarlo a tomar agua? Sin embargo, a esta mujer, que es hija de Abraham, y a quien Satanás tenía atada durante dieciocho largos años, ¿no se le debía quitar esta cadena en sábado? Cuando razonó así, quedaron humillados todos sus adversarios, pero la gente estaba encantada de tantas maravillas que él hacía.

Jesus answered and said unto them, Verily I say unto you, If ye have faith, and doubt not, ye shall not only do this which is done to the fig tree, but also if ye shall say unto this mountain, Be thou removed, and be thou cast into the sea; it shall be done.

—Les aseguro que si tienen fe y no dudan —les respondió Jesús—, no sólo harán lo que he hecho con la higuera, sino que podrán decirle a este monte: "¡Quítate de ahí y tírate al mar!", y así se hará.

But when they saw him walking upon the sea, they supposed it had been a spirit, and cried out: For they all saw him, and were troubled. And immediately he talked with them, and saith unto them, Be of good cheer: it is I; be not afraid.

Los discípulos, al verlo caminar sobre el agua, creyeron que era un fantasma y se pusieron a gritar, llenos de miedo por lo que veían. Pero él habló en seguida con ellos y les dijo: «¡Cálmense! Soy yo. No tengan miedo.»

And I fell unto the ground, and heard a voice saying unto me, Saul, Saul, why persecutest thou me?

Caí al suelo y oí una voz que me decía: "Saulo, Saulo, ¿por qué me persigues?"

And when he had spoken these things, while they beheld, he was taken up; and a cloud received him out of their sight.

Habiendo dicho esto, mientras ellos lo miraban, fue llevado a las alturas hasta que una nube lo ocultó de su vista.

And when they had prayed, the place was shaken where they were assembled together; and they were all filled with the Holy Ghost, and they spake the word of God with boldness.

Después de haber orado, tembló el lugar en que estaban reunidos; todos fueron llenos del Espíritu Santo, y proclamaban la palabra de Dios sin temor alguno.

Therefore the Lord himself shall give you a sign; Behold, a virgin shall conceive, and bear a son, and shall call his name Immanuel.

Por eso, el Señor mismo les dará una señal: La virgen concebirá y dará a luz un hijo, y lo llamará Emanuel.

Then went in also that other disciple, which came first to the sepulchre, and he saw, and believed. For as yet they knew not the scripture, that he must rise again from the dead.

En ese momento entró también el otro discípulo, el que había llegado primero al sepulcro; y vio y creyó. Hasta entonces no habían entendido la Escritura, que dice que Jesús tenía que resucitar.

Now all this was done, that it might be fulfilled which was spoken of the Lord by the prophet, saying, Behold, a virgin shall be with child, and shall bring forth a son, and they shall call his name Emmanuel, which being interpreted is, God with us.

Todo esto sucedió para que se cumpliera lo que el Señor había dicho por medio del profeta: «La virgen concebirá y dará a luz un hijo, y lo llamarán Emanuel» (que significa «Dios con nosotros»).

Now the birth of Jesus Christ was on this wise: When as his mother Mary was espoused to Joseph, before they came together, she was found with child of the Holy Ghost.

El nacimiento de Jesús, el Cristo, fue así: Su madre, María, estaba comprometida para casarse con José, pero, antes de unirse a él, resultó que estaba encinta por obra del Espíritu Santo.
Many are the afflictions of the righteous: but the Lord delivereth him out of them all.
Personal Bible reading plan
Create an account to configure your Bible reading plan and you will see your progress and the next chapter to read here!
Read more...